HCS announces year-long roadmap for inaugural season
The HCS team announced a season long roadmap with events, dates, and a World Championship in 2022.
The Halo Championship Series (HCS) is moving right along with a brand new announcement of dates, events, and more for fans/competitors to digest.
HCS 2021-2022 Roadmap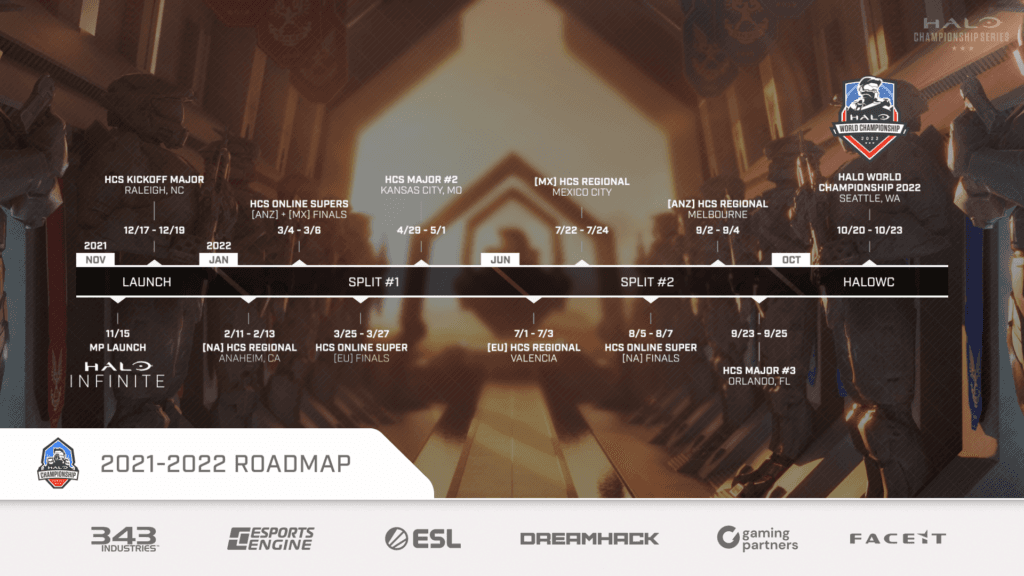 Photo Credit: 343i
In a
blogpost
, 343 laid out the groundwork for the next year of competitive Halo, and boy is it a lot to digest! The roadmap contains everything from
HCS Raleigh
to the Halo World Championship in Seattle, Washington in October 2022.
Main Events + Dates
HCS Raleigh, NC (NA) 12/17 - 12/19
HCS Anaheim, CA (NA) 2/11 - 2/13
HCS Online Super (ANZ) + (MX) 3/4 - 3/6
HCS Online Super (EU) 3/25 - 3/27
HCS Kansas City, MO (NA) 4/29 - 5/1
HCS Valencia, ESP (EU) 7/1 - 7/3
HCS Mexico City (MX) 7/22 - 7/24
HCS Online Super (NA) 8/5 - 8/7
HCS Melbourne (ANZ) 9/2 - 9/4
HCS Orlando, FL (NA) 9/23 - 9/25
HWC Seattle, WA (NA) 10/20 - 10/23
The schedule includes built-in player breaks, two competitive splits, and a mix of online and offline competition to improve the depth of each individual scene. The overall prize pool worldwide is set at $3,000,000 with $1,000,000 of that tied up in the
Halo World Championship
.
The prize pool will expand with crowdfunding as Regional, Supers, Majors and the HWC will feature crowdfunded elements and teams of course will receive proceeds on in-game item sales.
343 will be working with several regional partners to ensure this vision is played out as its laid out. DreamHack was given Europe, several unnamed partners will be leading the charge in Mexico, Esports Engine in North America, and ESL Australia in Australia and New Zealand.
Each region will receive their own in-game items to support tournament organizers, and Esports Engine will be overseeing the entire global operation. Halo also announced a partnership with Faceit to become the official online tournament platform for Infinite.
Faceit worked with Halo during Halo 5 and Halo MCC, and will feature tight integration with the game. Faceit will be launching a Pro League (FPL) for
Halo Infinite
and more later in 2022 to help create a dedicated practice space for high-level competitors.
Community Reaction
The competitive Halo community has seen some dark times since the twilight hours of Halo 5 in 2018, but Halo: Infinite has earned 343 heaps of goodwill from the community.
Not only do competitors, broadcasters, and community members seem to be enjoying the game, but players from console rival Call of Duty are green with envy over Halo's perceived trajectory as an esport.
Ezekiel Carsella
Administrator, Editor, Author, Contributor, Subscriber, SEO Manager, SEO Editor | Twitter
@jamaican116
Ezekiel Carsella is a freelance writer for Esports.gg, a former Collegiate Rocket League coach, and an alumnus of the College of Charleston.