Fortnite is back and it's hotter than ever.
The Fortnite nostalgia factor is in full effect following the release of Fortnite OG–the game's latest season. In recent months, leakers revealed Epic Games' plan to bring players back to the OG Chapter 1 map, where Fortnite enjoyed much of its initial success. Many long-time players have clamored for this, and the Fortnite player count has reflected that this was a wise decision.
Fortnite draws 44.7 million players on November 4, the biggest day in the game's history
After publishing this article, Epic Games announced that 44.7 million players dropped out to play Fortnite OG on November 4. This number shattered the game's previous record. Fortnite experienced 102 million hours of play, making the Chapter 1 throwback the most successful season launch ever.
Many have wondered whether this could lead Epic Games to keep some semblance of the Fortnite Chapter 1 map around permanently. It's unclear if that will happen, but Chapter 5 is approaching.
Fortnite player count eclipses 5 million during the OG Season launch
Image Credit: Fortnite.GG
Fortnite's return to Chapter 1 has produced expectation-shattering numbers on day one of the new season. Fortnite.GG shows that the active player count sits north of 5 million. It hovered around 3.3 million early in the day. Since then, the Fortnite concurrent players have surpassed 5 million.
Digging deeper into the numbers, from October 2023 to November 2023, Fortnite has seen a player count increase of 2.71 million–a whopping 115.8% jump from the previous month. That means more than two-and-a-half million more players have logged into play Fortnite on day one of the Fortnite OG season.
Core game modes such as Battle Royale, Ranked Battle Royale, Zero Build, and Ranked Zero Build have dominated the charts.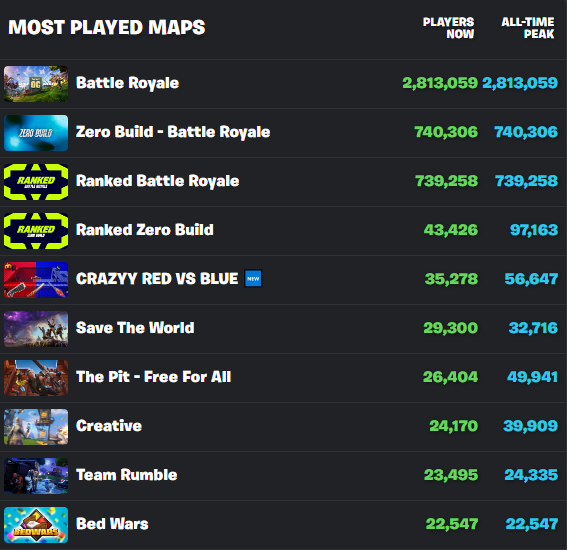 As a result, it's safe to say that Epic Games' intense marketing efforts and overall decision to return to Chapter 1 have already paid dividends. With an entire month of Fortnite OG set to unfold, it is reasonable to expect Fortnite to break even more records.
Viewers and streamers turn out for the return to Chapter 1
From a viewership perspective, Fortnite is on track for its best month in a long time. On day one of the new season, the Twitch numbers hovered above 600K viewers. Creators such as Tyler "Ninja" Blevins, David "GrefG" Cánovas Martínez, and Kyle "Mongraal" Jackson enjoyed the bulk of the attention.
It's still relatively early, and we expect the Fortnite player count and viewership numbers to only increase throughout the weekend. Still, the first impressions are promising as players and viewers have enjoyed the nostalgia trip back to Fortnite Chapter 1, including the locations, weapons, and Battle Pass.