The IEM Cologne playoffs has a competitive playing field to say the least. Who will reign supreme?
IEM Cologne is the return to LAN that the world was waiting for. The group stage delivered with tactical brilliance, raw talent, and inspiring levels of passion aplenty. Now the playoffs draw ever so close. Champions new and old look to become champions of the here and now. Let's take a deeper look at what is in store for the final six teams that duel atop the summit of Counter-Strike competition.
Virtus.Pro vs Astralis
CIS' Tireless Challengers
The underdogs of Virtus.Pro always take hits at every tournament they attend. Although they may seem much weaker than their results suggest, the Polar Bears have been resilient throughout their lineup's history. Knocked down to the lower bracket at IEM Katowice, the EPIC League CIS RMR, and IEM Summer, Dzhami "Jame" Ali's squad battled past the brink of elimination every time and shocked in the playoffs time and time again. IEM Cologne has been no different.
Taking a furtive beating from Germany's hometown heroes of BIG, it seemed like there was no saving Virtus.Pro from the caliber of IEM Cologne. The team was pushed to elimination point against Complexity and all hope seemed to have been lost. Round 26 defied all odds and Jame went nuclear to keep the CIS roster alive. From there, Virtus.Pro seemed like a completely different beast. They dogpiled the Juggernaut, stunned Nicolai "device" Reedtz's NiP, and completed their comeback in a revenge-fueled rematch against BIG.
The men who made it happen: qikert, Jame, and YEKINDAR (Photo courtesy of ESL)
Virtus.Pro paint a similar picture to their breakout IEM Katowice's campaign here in Germany. In Poland, they placed second among a field of dominance and perhaps history may repeat itself here as well.
Astralis Defy the Odds Once More
Lukas "gla1ve" Rossander has bucked the status quo for his entire career. Their first major win at ELEAGUE 2017 was unexpected after their middling group stage. Their fourth major win at the Starladder Major in Berlin had them rise above Team Liquid with an outrageous veto. Their most recent tournament win at the IEM Global Challenge even had Astralis hulk past Aleksandr "S1mple" Kostyliev and Natus Vincere. Now the Danish IGL marches to achieve the impossible yet again at Cologne.
Kicking off their IEM Cologne run, Astralis surprised against a dangerous FaZe Clan and bolted down a tight series. They shocked again in their Danish derby against Heroic dismantled any hopes for Casper "cadiaN" Moller to advance to the playoffs. The Danes didn't stop there. The titans of Na'Vi were also pushed to three maps before they could heave past Astralis to the semifinals. Gla1ve donning the AWP and the core of the organization's resurgence have led the team to a quarterfinals appearance that defies all odds.
This quarterfinal is difficult to decide who will face G2 in the semifinals. The team who can grit down and scrap through this electric playoff stage will certainly have their hands full in due time.
G2's Greatest Chance Yet
The addition of Nikola "NiKo" Kovac and the return of Audric "JaCkz" Jug has been worth its weight in gold for G2. While they have been putting up consistent results, they continue to fall just short of championships. At DreamHack Masters Spring and IEM Summer they were eliminated in the semifinals by Gambit. Robin "ropz" Kool's Mousesports and the Swedish NiP both stunned G2 out of Flashpoint 3. The BLAST Spring Finals also met the Europeans with similar results after an elimination by Na'Vi. IEM Cologne had to be different.
The team started off confidently against Complexity and swatted aside Benjamin "blameF" Bremer's men aside. They shut down any German hopes bouncing back from a 16-8 loss on Dust 2 to BIG. But where G2's story differed from its previous chapters was their challenge against Gambit. LAN had boosted the confidence of the tested stars of the organization and the squad ground down a headstrong Gambit down to the last round.
Awaiting the winners of Virtus.Pro and Astralis, Nemanja "nexa" Isakovic's men have a theoretically easier route to the Grand Finals and a prime chance to win their first title as a squad. The greatest chance for G2 is on the cards…can they finally seize glory?
Gambit vs. FaZe Clan
A Kingdom of Gold
Gambit has taken Counter-Strike by storm throughout 2021. Rumblings of an era begin to arise after the CIS Kings started with their statement tournament at IEM Katowice. From there every placing they had would be nothing short of second place. Winning the EPIC League CIS RMR, IEM Summer 2021, and the BLAST Spring Finals, the online period belonged to Gambit undoubtedly. The pressure to perform at Cologne became fever pitch and the jitters began to settle immediately.
Scare after scare Gambit slogged through their series in the group stage. It began with an upset from mousesports on Inferno and nearly fell out of Vladislav "nafany" Gorshkov's hands until a marvelous Mirage comeback bailed the stars out. Pushed again by NiP, Gambit looked mortal on Ancient and quickly mopped up in the following two maps. Slowly but surely, the kingdom of gold has begun to give way.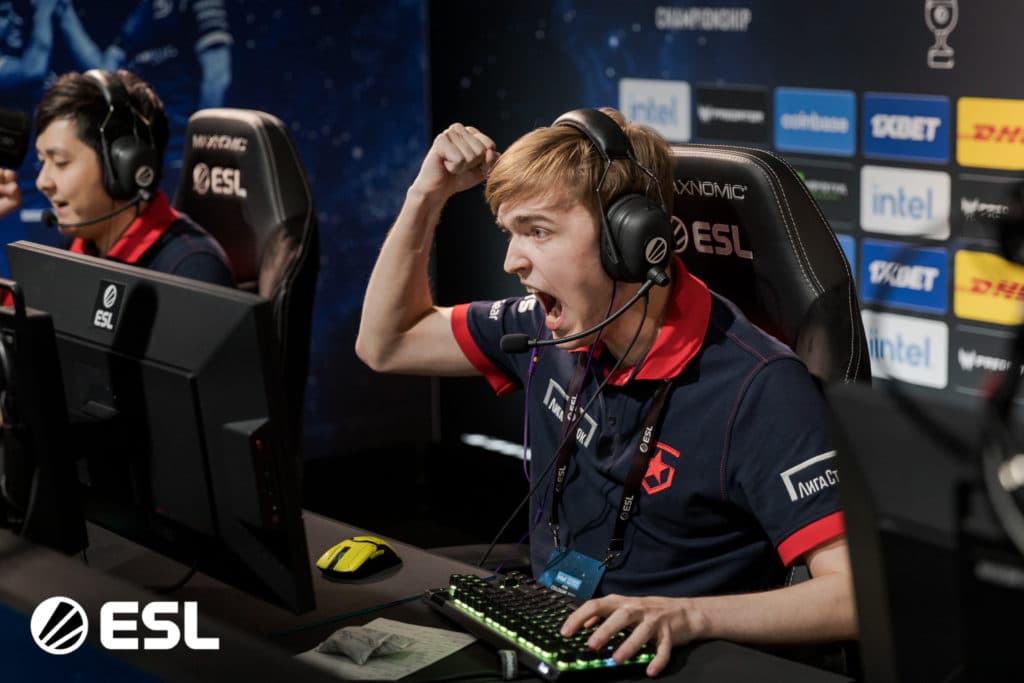 Nafany, the method behind the madness (Photo Courtesy of ESL)
The samurai of G2 ignited in their bout against Gambit and sliced through the soft gold that lay before them. A wounded CIS kingdom must rise above their stumbling group stage if they want to solidify their greatness. If they cannot, the ransacking underdogs of FaZe will be quick to finish the job.
The Ransacking of Hope
A dark period had come over the superstar organization of FaZe Clan. Constant last place crashes and nothing to show after months of preparation led to the removal of Marcelo "coldzera" David from the starting lineup. Pivoting back to Olof "olofmeister" Kajbjer, FaZe struggled at the BLAST Spring Finals yet again, but this time they had shown a little more promise.
IEM Cologne was a perfect storm unlike any other for the international roster and their ransacking of hope began with their qualification over Evil Geniuses and Complexity. From there, it seemed like things would come to halt after their loss to Astralis. But FaZe were just getting started. Spirit, Vitality, and shockingly Heroic, were all left heartbroken and eliminated by the ruthless duo of Russel "Twistzz" Van Dulken and Helvijs "broky" Saukants. Now looking to end another dream and realize their own, FaZe fight their toughest opponent for the very first time.
All signs point to Gambit pushing aside the underdog story of FaZe. However, Finn "karrigan" Andersen remains as crafty as ever and will certainly have the veil of a first meeting as an advantage.
Rest in Peace, The Undertaker is Here
Heralded as the most prestigious organization the CIS region has to offer, Natus Vincere is expected to produce greatness. Although they have provided it in spades, s1mple is not satisfied. Na'Vi has placed highly throughout the online period where they have won three titles: the BLAST Global Finals, DH Masters Spring, and the Starladder CIS RMR. Now, with the return of LAN, Na'Vi want to pick up right where IEM Katowice 2020 left off.
IEM Cologne started off rocky against the Renegades but s1mple immediately righted the ship on Dust 2. From there, it was smooth sailing for Na'Vi. Although they dropped incredibly close maps against Vitality and Astralis, Valeriy "B1T" Vakhovskiy and Denis "electronic" Sharapov were quick to defend their impressive form alongside s1mple. Who can possibly stop the CIS barrage of firepower from ascending the Cologne throne?
FaZe have struggled to take down s1mple, so the chances that they could take down both CIS titans, Gambit and Natus Vincere, are quite low. The final test on LAN most likely will be their domestic rivals, Gambit. Although their record against nafany's men continue to be fickle, their most recent meeting had a reverse sweep in Na'Vi's favor. The route to the grand final will be turbulent, but if anyone can deliver it will always be the Undertaker.