Minnesota Timberwolves NBA Center Karl Anthony-Towns will join Luminosity Gaming as the esports organization increases its ongoing list of athletes.
Minnesota Timberwolves NBA Center Karl Anthony-Towns will join Luminosity Gaming as the esports organization increases its ongoing list of athletes.
The twitter video starts by showing a city view of Luminosity's headquarters in Toronto, Ontario. Here, the esports organization is shown to draft Towns with the first draft pick, welcoming him to the team.
Traditional Athletes Crossover as KAT Joins Luminosity Gaming
The esports organization will continue their athlete expedition as NBA Star Karl Anthony-Towns joins Luminosity Gaming.
Luminosity Gaming is becoming a pioneer for athletes joining esports organization. In September 2019, NFL cornerback Richard Sherman joined Luminosity as a shareholder and ambassador. Around the same time, the organization added Philadelphia Eagles star Darius Slay in a similar role.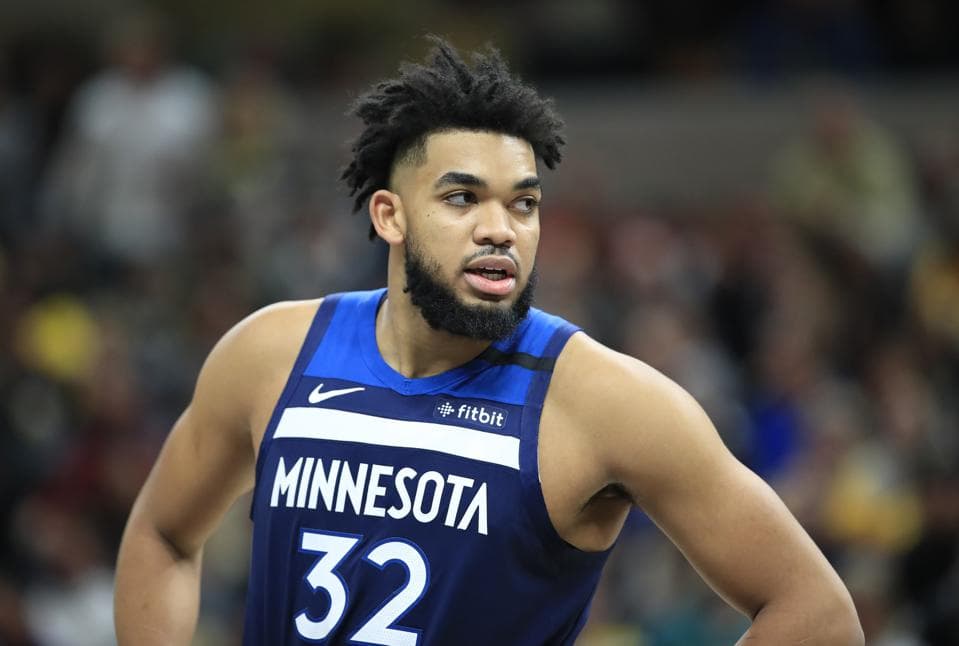 Karl Anthony-Towns is the star of the Minnesota Timberwolves. Image via Forbes.
Aside from NFL athletes, Luminosity Gaming also is represented through the MLB with Mets Pitcher Trevor May.
May, who famously played lots of Fortnite with Ninja while holding a job as an MLB pitcher, is also an ambassador and shareholder in Luminosity, according to the organization's website.
Aside from Luminosity Gaming, many other esports organizations are beginning to sign athletes. FaZe Clan is another organization known to sign athletes and celebrity personalities. The organization is currently hosting the likes Ben Simmons, LeBron James Jr., Lil' Yachty and most recently Kyler Murray.
The traditional sports crossover into esports is now becoming a normality. However, Luminosity Gaming are a widespread organization with multiple different ventures.
Luminosity Gaming Attracting a Wide Variety of Support
On top of their ventures into traditional sports partnerships, Luminosity are also attracting stock investors as well. The gaming organization is currently on the Toronto Exchange and NASDAQ through their parent company, Enthusiast Gaming.
Vancouver Titans are an Overwatch League Franchise.
The company backs a number of major esports brands alongside Luminosity Gaming. The organization currently holds franchise spots in Overwatch and Call of Duty, owning Vancouver Titans and Seattle Surge. The company is becoming widespread in the gaming industry and it seems like many people are noticing it.
KAT Joins Luminosity Gaming As Streamer
Towns is currently the franchise player for the Minnesota Timberwolves. The NBA center was the NBA Rookie of the year in the 2015-2016 season. Furthermore, he is a two time NBA All Star, both times as a reserve for the Minnesota Timberwolves.
"I'm so excited to be joining my new teammates Darius Slay and Richard Sherman on Luminosity Gaming," Towns said in the introduction video. "It's an amazing adventure to get to this point, and I can't wait for you guys to see the rest we have in store for you."
Towns is now a part of the Luminosity Gaming family, but what are your thoughts on the new acquisition. Are you a fan of sports athletes crossing over into esports? Are you a fan of this move for the progression of esports? Let us know how you feel!
Until then, you can follow Karl Anthony-Towns through his Twitch Channel where he currently is at 60k followers. While primarily a Fortnite streamer, the NBA Center is branching out into different esports titles. With his introduction into Luminosity Gaming, it is also likely the new addition will also begin posting on his YouTube channel.

For more esports news like this, make sure to stay updated with esports.gg.