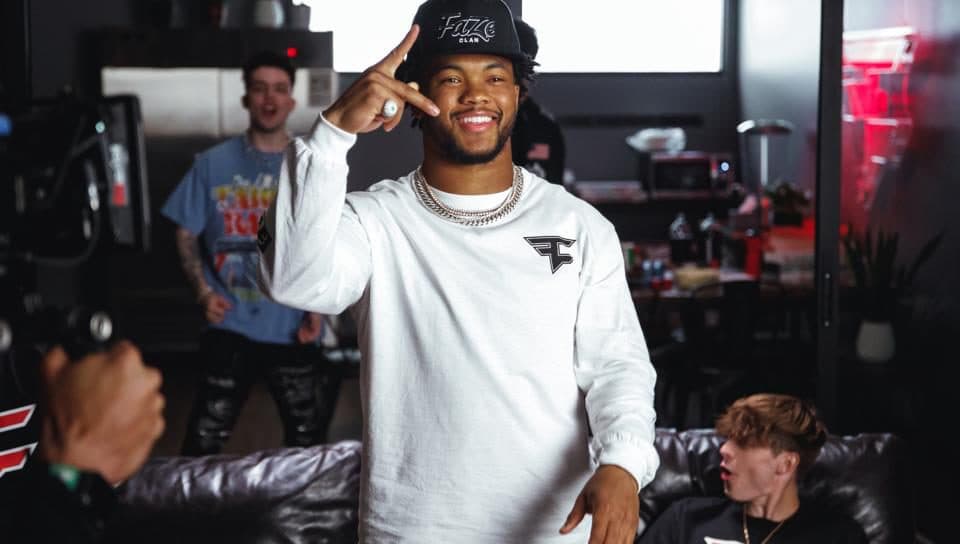 NFL's Kyler Murray joins FaZe Clan as an official member known as FaZe K1
Arizona Cardinals quarterback and first overall pick in the 2019 NFL Draft Kyler Murray will be joining FaZe Clan as a streamer, known as FaZe K1.
Kyler Murray / FaZe K1: "To be a part of the family, it's a blessing, it's an honor"
FaZe Clan will continue to expand their reign in esports as NFL Quarterback Kyler Murray joins the popular esports organization as FaZe K1. The video starts with Kyler Murray and FaZe members sitting on a couch as FaZe Banks appears on the tv. Here, Banks announces that FaZe will be selecting Kyler Murray with the first pick to join the team. The FaZe members celebrate as Murray speaks of his excitement joining the esports organization.
"I grew up playing video games my whole life," Murray said in the announcement. "To be drafted by FaZe, to be a part of the family, it's a blessing, it's an honor."
The Cardinals quarterback The newest FaZe Clan member will go by the gamer tag FaZe K1. FaZe Clan and Kyler Murray will also team up to create merchandise as part of their collaboration.
Samples of the new FaZe K1 merchandise that will drop. Image via Forbes article
Kyler Murray, A Multifaceted Athlete
FaZe K1 is a highly talented athlete. Aside from an NFL Career, the quarterback was also a first round draft pick for the Oakland Athletics. In fact, he even agreed to join the Athletics before the Cardinals swooped in.
Kyler Murray was selected first overall by the Arizona Cardinals in the 2019 NFL Draft.
Similar to his career, the NFL quarterback is planning on being a part of FaZe through multiple ways. Currently, Murray is a streamer and investor in the organization. However, FaZe K1 is a huge fan of video games and FaZe Clan. The 23-year-old top overall pick has been following FaZe Clan since middle school, according to a Forbes Article.
"This is probably one of the things that I've done so as far as my career that I'm most excited about." Murray discusses it on Forbes. "I'm obviously an athlete, but for people to see the other side of that, see that I play video games, it's crazy." Murray concludes.
FaZe Clan Continue Expansion into Mainstream Media
Kyler Murray will join an evergreen list of various celebrity and athlete investors in FaZe Clan. The esports organization is becoming a mainstream avenue for popularizing esports in current media. The organization is becoming a way for some of these athletes and personalities to show a different side of themselves. These various celebrity members incluse Ben Simmons, LeBron James Jr, Lil' Yachty and Offset.
Offset and FaZe Clan hosted a pop up shop in Atlanta to promote the Atlanta FaZe team.
On top of their various ventures, they still maintain their roots of competitive gaming.FaZe currently have competitive esports teams in Call of Duty, Fortnite, FIFA, Valorant, CS:GO Rocket League, Rainbow Six and PUBG.
Kyler Murray is a key player in rebuilding the Arizona Cardinals team. Following a solid rookie season, the soon-to-be junior quarterback will be looking to make the playoffs for the first time.
Until then, you can follow Kyler Murray's journey through his Twitch Channel where he regularly streams. Games you can find on his stream range from Call of Duty: Warzone to Madden, alongside other games. For more information on FaZe Clan, you can continue to stay updated with them through their socials.

For more breaking news like this, make sure to stay updated with esports.gg.