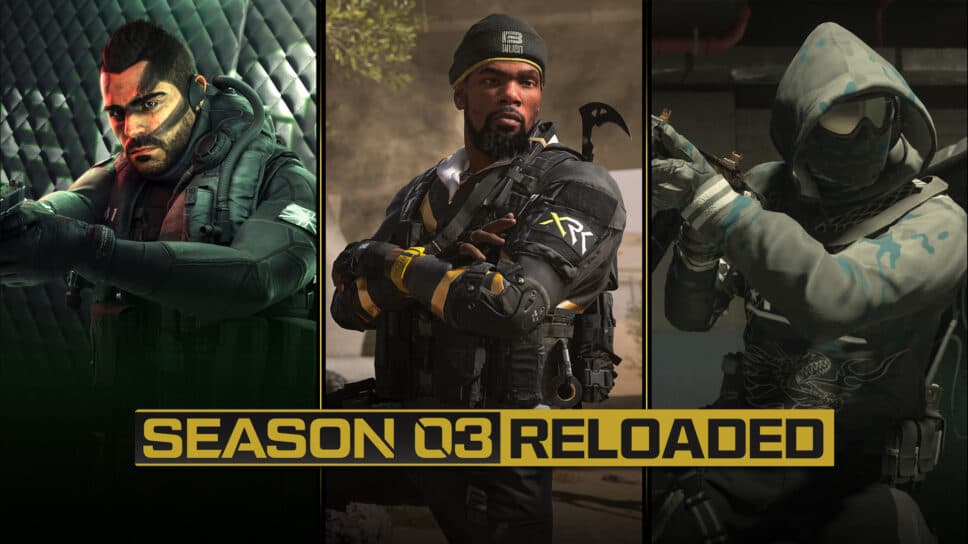 Everything coming in MW2, Warzone 2 and DMZ Season 3 Reloaded
New maps, weapons, Raids, modes… Season 03 Reloaded has it all.
The MW2 Season 3 midseason update is coming. Season 3 Reloaded will bring a new multiplayer map, new weapons and new events for players to sink their teeth into.
A whole host of new content is coming to the game, adding freshness and new things for players to play for. There is a whole new multiplayer map coming, three new weapons amongst loads of other stuff.
---
---
Alboran Hatchery 6v6
One of the most exciting things for multiplayer players will be the addition of a brand-new 6v6 map. Well, we say brand new but all of the assets for the map have been in the game since launch.
The Alboran Hatchery map is straight out of the Modern Warfare 2 campaign. It is in one of the best missions of the campaign and will now be a medium-sized map in the pool of multiplayer offerings in MW2.
Featuring a couple of warehouses and a hill to one side, this map will likely be one straight from the brain of Joe Cecot. Tactical gameplay will be encouraged. Opportunities for all types of players to enjoy themselves will be present.
Raid Episode 3
The latest episode of the MW2 raid series is coming with the Season 3 reloaded update. Raids have continued on the storyline from the Modern Warfare 2 campaign.
Raids can be played in teams of up to three, with players working together to progress through story-based objectives. This one will feature the return of the character Alex from the main campaign. The story will feature infiltrating a Soviet base as a team.
Completing the third episode of the Raid will unlock Alex as an operator for use in the multiplayer, Warzone 2 and DMZ modes in MW2.
New modes
Two new game modes are coming to MW2 in the Season 03 Reloaded update. These are both multiplayer modes that will be available to play in the main section of MW2.
A new 3v3 mode is coming, called Faceoff. These matches will take place on the smallest maps in the game, including Shipment.
Faceoff is adjacent to Gunfight but will take place in 3v3 rather than 2v2. It will also allow players to use their own loadouts and play modes such as Team Deathmatch and Kill Confirmed.
Three new weapons
Infinity Ward is adding three new weapons to MW2, Warzone 2 and DMZ with the Season 03 Reloaded update. None of the new weapons are primary weapons but they will definitely complement loadouts all over the game.
Both of the new sidearms are automatic weapons, which already hints at them being viable when it comes to Warzone 2 and DMZ gameplay. The FTAC Siege is a small SMG-type weapon.
The GS Magna is based on the Desert Eagle sidearm but has an automatic fire rate. The Deagle is one of the most powerful pistol weapons in Call of Duty, meaning this one should be incredible. One concern at players could have is the potential recoil on the gun.
FTAC Siege is unlocked by getting 50 hipfire kills across game modes with handguns. To unlock the GS Magna, players need 30 headshots with the non-auto .50 GS.
A throwing star is also coming as a usable weapon in MW2 in the Reloaded update. It will function in the exact same way as throwing knives do.
Warzone 2 updates in Season 3 Reloaded
Several huge updates are coming to Warzone in the Season 03 Reloaded update. The biggest of these is the BETA for Warzone Ranked Play. For a more in-depth look at Warzone Ranked, take a look at our full breakdown of the new mode here.
Elsewhere, some fundamental things are changing in Warzone. Deployable Buy Stations are coming in order to aid the pacing of the mode. More Gulag Entry Tokens will also be present, allowing players to enter the Gulag more than once in the game.
Perk Packages are also being changed. Instead of only being able to find them in loadouts, players will be able to find perk packages as loot.
New bundles
As always with new Call of Duty updates, several new store bundles are coming to entice players to part with some of their precious cash.
The biggest name involved in these new bundles is former NBA MVP Kevin Durant. Durant, who plays for the Pheonix Suns, is getting his own skin in the game.
Another bundle coming is the "Throwback Audio Pack" which will include weapons with sound profiles from the original Modern Warfare 2. That feels a bit crazy that players are being charged for the nostalgic feel of MW2 when that's what was promised when the game was being promoted last year.