Apex Legends will finally implement cross progression in Season 19. Find out how your accounts, including unlocked Heirlooms, will be merged.
Apex Legends is bringing cross progression to the game in Season 19 after four long years. Cross progression will combine your accounts across various platforms, such as PC, PlayStation, Xbox, and Nintendo Switch, into one primary account.
This allows you to play on your account on whatever device you're using. You'll be able to access your stats and in-game items on all platforms, such as PC, PlayStation, Xbox, and Nintendo Switch. Fans have been asking for cross progression since the battle royale game released in early 2019.
Here's what you need to know about cross progression in Apex Legends.
The cross progression prompt screen (via Respawn)
When is Apex Legends adding cross progression?
Cross progression will begin sometime after Season 19: Ignite begins on October 31, 2023. Account merging will happen over a rolling period during the season. The account merging will be mandatory, meaning that players will only have one universal account across all platforms. However, any accounts created after October 20th, 2023 will not be eligible for merging.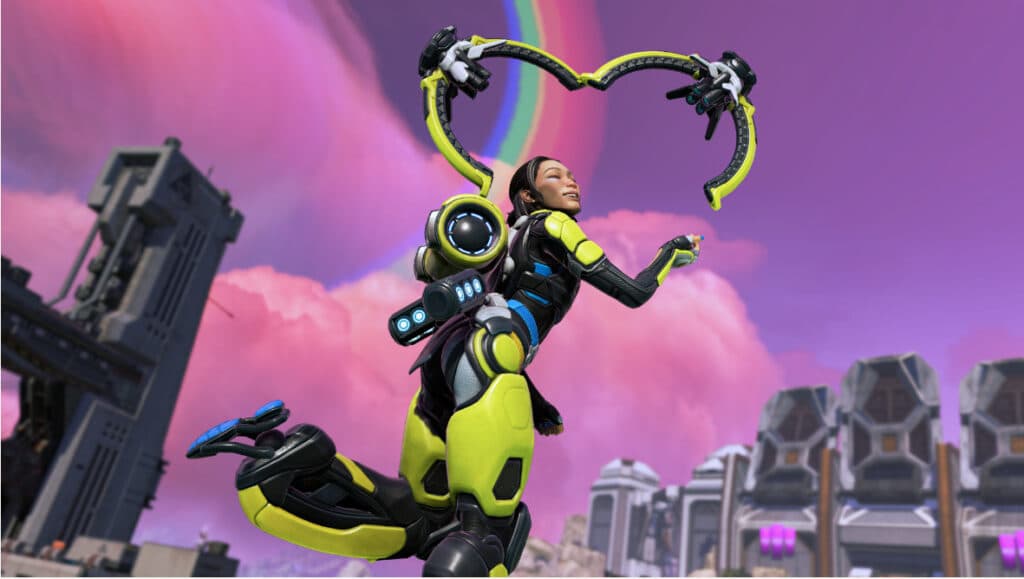 Conduit is bringing the love and the cross progression to Season 19 (via Respawn)
Up until this point, the only type of cross progression available was between the Origin/EA App and Steam accounts.
What will happen to your accounts when they merged?
Any accounts you may have on multiple platforms will merge into one primary Apex Legends account. Whichever account had the highest level across all platforms will become the primary account.
Your in-game content, like skins and heirlooms, as well as in-game currency, like Apex Coins, will be associated with this primary account after cross progression is implemented.
As for player stats, like KDR, only the stats on the highest level account will be saved. Any stats from alternative accounts will no longer be available.
What will happen to content I've unlocked on different platforms?
All content that you've unlocked in Apex Legends, including Legends, skins, and animations, will be available on your primary account after the cross progression merger. Some platform exclusive content, like the Nintendo Switch exclusive Pathfinder skin, will remain locked to that platform. This means that you can use the skin if you are playing Apex on the Switch, but not if you are playing on a different platform.
What if I have duplicate skins and heirlooms on multiple accounts?
Respawn has confirmed that they will not be providing refunds for any in-game content unlocked multiple times of different platforms. So if you had purchased Wraith's heirloom on PC as well as PlayStation, you will now have one singular account with Wraith's heirloom.
Your Heirlooms will be available across all platforms (image via Apex Legends on YouTube)
What will happen to my Apex Coins, Crafting Materials, Legend Tokens, and Heirloom Shards?
All Apex Coins from PC, Xbox, and PlayStation will be merged into the wallet of your primary account. The exception to this will be any Apex Coins on the Nintendo Switch as they can only be used on the Switch. All Crafting Materials, Legend Tokens, and Heirloom shards will be merged into the primary account and remain accessible on every platform.
Why did it take so long for Apex Legends to add cross progression?
Since many other major battle royale games, like Fortnite and Warzone, have had cross progression for a long time. It's a valid question as to why Apex Legends hasn't added it until this season.
In fact, the developers at Respawn Entertainment have been working on cross progression for a long time. Ryan Rigney, director of communication, wrote in a Reddit AMA in 2021 that cross progression was "in the works", though he couldn't share a timeline.
According to Rigney, it has taken so long for Apex Legends to implement cross progression because it "is gnarly as hell in terms of being a problem to solve." There were also additional international issues, as "there are also legal and contractual issues to navigate with purchasing on other platforms. Different regions have different laws."
For more news on Apex Legends and other esports news, check back on esports.gg!