Marvel Snap Spotlight Caches schedule for September
The new Marvel Snap season started this week, and the monthly patch brought news about the incoming Spotlight Caches for September.
Marvel Snap revealed the schedule for Spotlight Caches during September. These unique loot boxes are the best way of acquiring new cards and completing the collection.
Let's go over the Marvel Snap Spotlight Caches details and its schedule for September.
What are Spotlight Caches?
Let's start by explaining what Marvel Snap Spotlight Caches are. These chests appear every 120 Collection Levels, and they offer players the possibility of getting newly released cards, alongside other Series 4/5 cards.
"Spotlight Cache means more cards, including brand new cards, for more players than ever before! We think this will make every card release more exciting, impactful, and accessible to everyone. Get ready to grow your collection FASTER THAN EVER!"
Each Spotlight Cache contains four items:
1 New Release/Featured Card
2 Featured Series 4/5 Cards
1 Random Series 4/5 Card
This means that players will know almost for certain what they will get before opening the Caches, allowing them to choose if they want to go for those cards or hold for future releases. Since the contents are updated weekly and published in advance the process is much easier.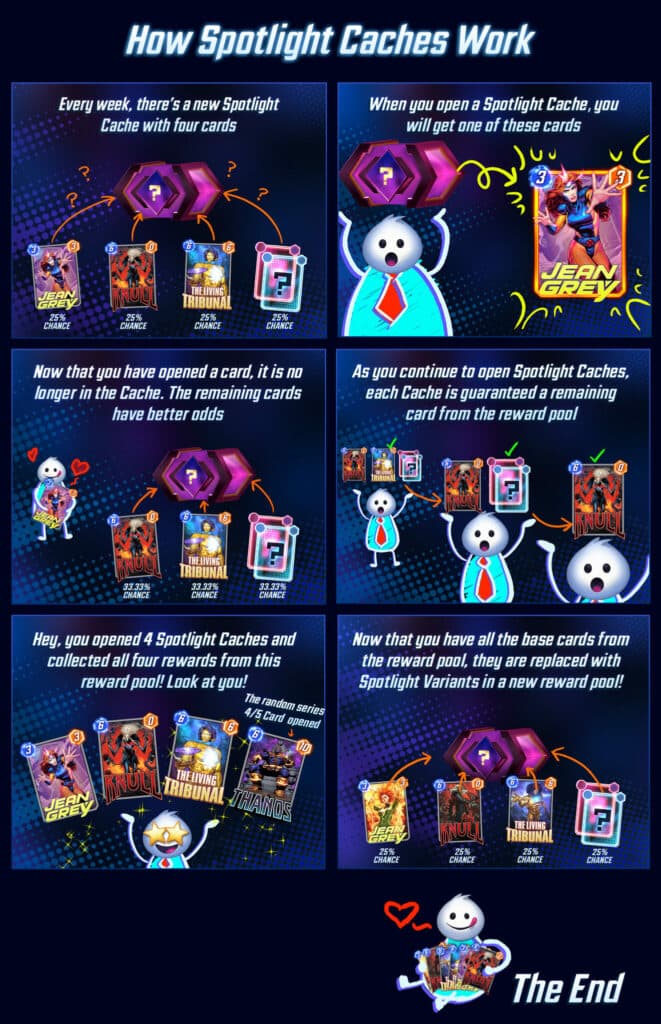 How Spotlight Caches work - Image via Second Dinner
Spotlight Cache Schedule: September
With the monthly patch, Marvel Snap revealed the content of the upcoming Spotlight Caches. The reset happens every Monday at 8 pm PDT, so make sure you don't miss the ones you want!
These are the upcoming cards are dates for the Loki for all Time season:
| | | | |
| --- | --- | --- | --- |
| September 5th | Jeff | Ghost-Spider | Knull |
| September 12th | Alioth | Snowguard | Hit Monkey |
| September 19th | Ravonna Renslayer | Jean Grey | Zabu |
| September 26th | Mobius M. Mobius | High Evolutionary | Kang |
As you see, all these Spotlight Caches but one include a newly released Marvel Snap card. The exception is the first cache of every season since the new card enters the game via the Season Pass. Remember that on top of these 3 cards, all spotlight caches will have a Random Series 4/5 card.
"If you already own one of the featured cards, the Spotlight Cache will instead feature a time-exclusive variant for the featured card."
From Second Dinner explanation
We hope that this guide helps you plan and decide how to spend your resources. If you need more clarifications about the Spotlight Caches you can visit Marvel Snap's FAQ.
Stay tuned to esports.gg for more Marvel Snap news and guides. See you next time, in the multiverse!