How to survive storm phases in Fortnite
This is what you need to do to survive storm phases in Fortnite!
Storm phases are an essential mechanic in Fortnite. Like most Battle Royales, the storm phases help bring players closer together and eventually lead to the conclusion of a match. Fortnite's ongoing Spring Breakout event and new Syndicate Questline feature Quests centered around storm phases. Here's how you can survive storm phases to complete these challenges. 
How to survive storm phases in Fortnite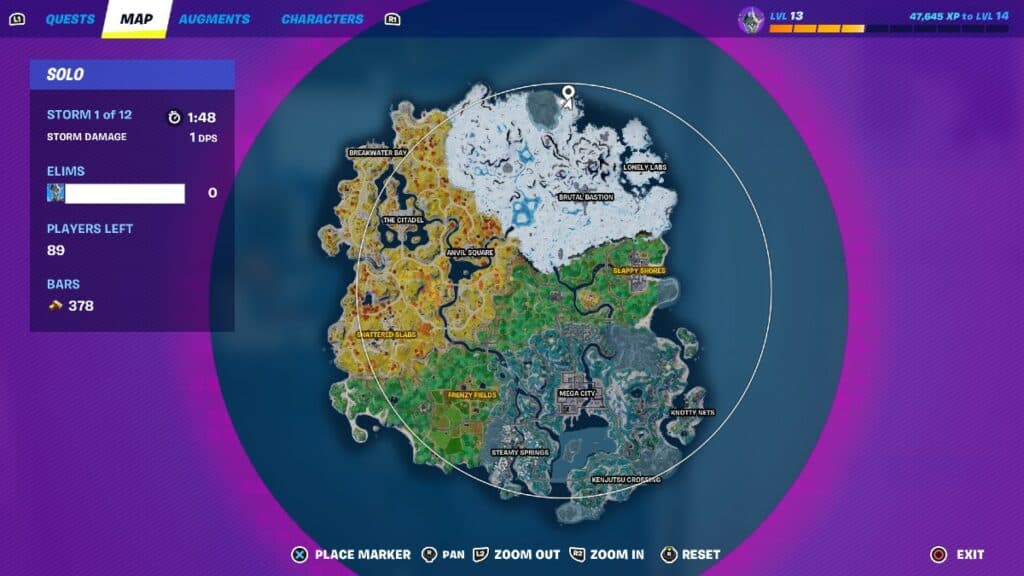 The first storm phase via Epic Games
The name of the game for this challenge is to stay alive. Each Battle Royale or Zero Build match includes 12 storm phases in Fortnite you can survive as of the newest season — Chapter 4 Season 2. After landing on the map, you have one minute before the first storm circle arrives. 
Then, you have to move alongside the storm circle to avoid taking storm damage. However, it's worth noting that the storm only affects your HP, and you can heal with Med Kits, Bandages, Med Mist, and consumable items while taking its damage. 
Each time the circle closes that counts as a storm phase survived as it pertains to the Quest. This Quest has four stages, and you must survive 40 storm phases to complete the challenge and gather all XP rewards.
Here are the times that the storm phases happen in a standard Fortnite match in minutes per Fortnite Fandom:
| | |
| --- | --- |
| Storm Phases | Minutes |
| 0 | 1:00 |
| 1 | 2:00 |
| 2 | 1:30 |
| 3 | 1:45 |
| 4 | 1:30 |
| 5 | 1:00 |
| 6 | 1:00 |
| 7 | 1:00 |
| 8 | 0:45 |
| 9 | 0:30 |
| 10 | 0:00 |
| 11 | 0:00 |
| 12 | 0:00 |
How to survive while carrying an Epic weapon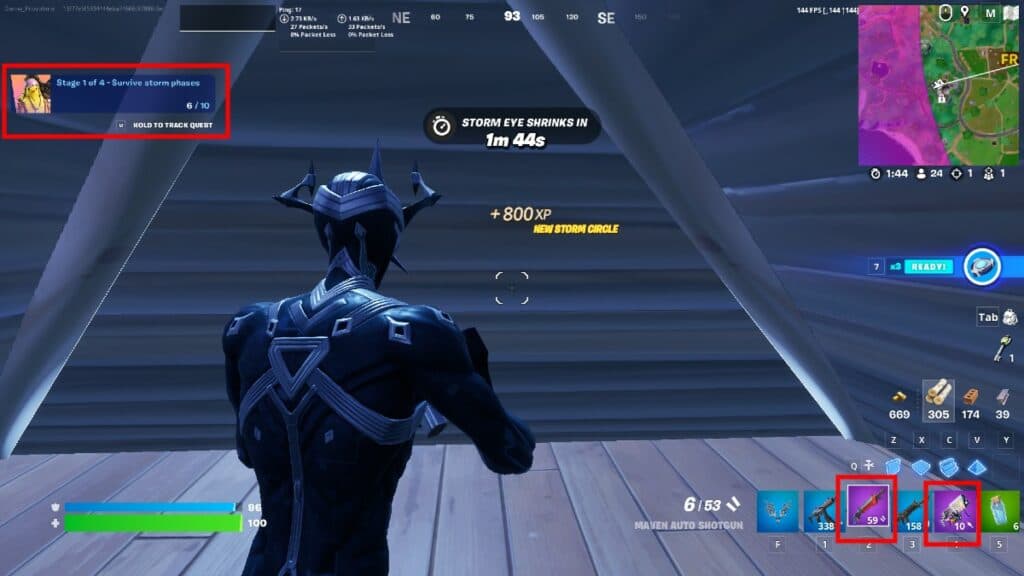 Epic weapons in inventory via Epic Games
Another Quest surfaced as part of the Syndicate Questline, requiring players to survive storm phases while carrying an Epic weapon. The storm phase aspect of the challenge remains the same as described earlier. However, you must possess an Epic weapon to complete this challenge.
Your best bet to find Epic weapons is to locate one of the various non-player characters (NPCs) across the map. Many of these characters will sell you an Epic weapon in exchange for Gold Bars. Additionally, the Kinetic Blade qualifies as an Epic weapon, a worthwhile option in this Quest. Then, you must hold it in your inventory until you survive three storm phases.
Five days remain until the Spring Breakout 2023 event concludes. We have a complete guide to help you knock out the Quests, so check it out before it's too late. Also, you can see everything new in the latest game update by visiting the patch notes article.