Fortnite Chapter 4 Season 2: All NPC locations
Look no further than this guide to help you find every NPC in Fortnite Chapter 4 Season 2.
Fortnite Chapter 4 Season 2 is well underway. The newest update has rails to grind, locations to explore, and more. While the fresh features grab the headlines, let's not forget the legacy features, such as non-player characters (NPCs). Today, we provide a comprehensive guide showing every NPC in location Fortnite Chapter 4 Season 2 and what they offer.
Fortnite Chapter 4 Season 2 NPC Locations
NPCs in Fortnite range from malicious bosses to characters that offer services. Twelve helpful characters spawn on the current Chapter 4 Season 2 map.
These NPCs are easily identifiable skins from past seasons and newer Season 2 Battle Pass characters. You can purchase everything from an instant Rift to an Epic weapon.
Here's a map per Fortnite.GG that shows all NPC locations in Fortnite Chapter 4 Season 2:
Image via Fortnite.GG
Additionally, below, you'll find a list of each NPC and what you can purchase from them:
Image via Epic Games
CRZ-8 (Bamboo Circle)
Key - 100 gold
Duel - Win the dual, and you'll receive a Common Tactical Pistol and Kinetic Sword
Evie (Knotty Nets)
Epic Tactical Pistol - 100 gold
Rift - 250 gold
Garrison (Watery Watch)
Hire - 100 gold
Epic Maven Auto Shotgun - 250 gold
Longshot (Royal Run)
Hire - 100 gold
Storm Forecast - 175 gold
Mizuki (Eastern Watch)
Kinetic Blade - 250 gold
Chug Splash - 96 gold
NEURALYNX (Windcatch Lake)
Epic Twin Mag SMG - 250 gold
Small Shield Potion - 30 gold
P33LY (Pleasant Passage)
Shield Potion - 120 gold
Combat Shotgun - 250 gold
Polar Patroller (Icy Islets)
Hire - 100 gold
Epic Combat Shotgun - 250 gold
Remedy (Secluded Spire)
Hire - 100 gold
Medkit - 25 gold
Stray (Mega City)
Epic Heavy Sniper Rifle - 250 gold
Shield Fish - 145 gold
Sunflower (Frenzy Field)
Tip Bus Driver - 250 gold
Epic Havoc Pump Shotgun - 250 gold
Thunder (Lotus Lookout)
Epic Red-Eye Assault Rifle - 250 gold
Shield Keg - 250 gold
Boss NPCs in the new Season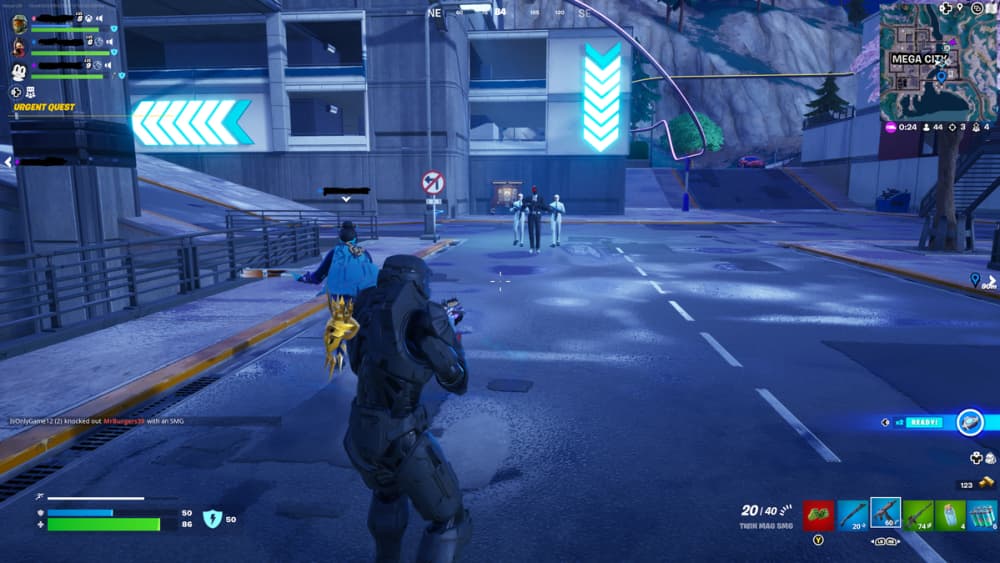 Highcard Boss in Mega City
Beyond the helpful characters, you will also stumble across the occasional boss character. This Season, there are four boss NPC locations in Fortnite. Three of those four characters are named Highcard, and they will all drop a Mythic Suppressed Assault Rifle and Key after you eliminate them. Highcard spawns at Shattered Slabs, Brutal Bastion, and Mega City.
Triarch Nox character
Also, you can find the Triarch Nox boss NPC in Fortnite at the Lonely Labs location. This boss remains neutral until you access a computer nearby, at which point Triarch Nox will attack. However, you will not receive anything notable for defeating this character.