This guide shows you all zombie road sign locations and how to complete the Quest.
Fortnitemares 2023 is underway, and the hype is beyond this world. Players have flocked to the game to experience the new weapons, Horde Rush mode, and to prepare for Michael Myers and Jack Skellington to join Fortnite. Quests have also become a massive discussion as players seek to unlock free rewards. Today's Esports.gg guide walks you through where to find all Fortnite zombie road sign locations!
All Fortnite zombie road sign locations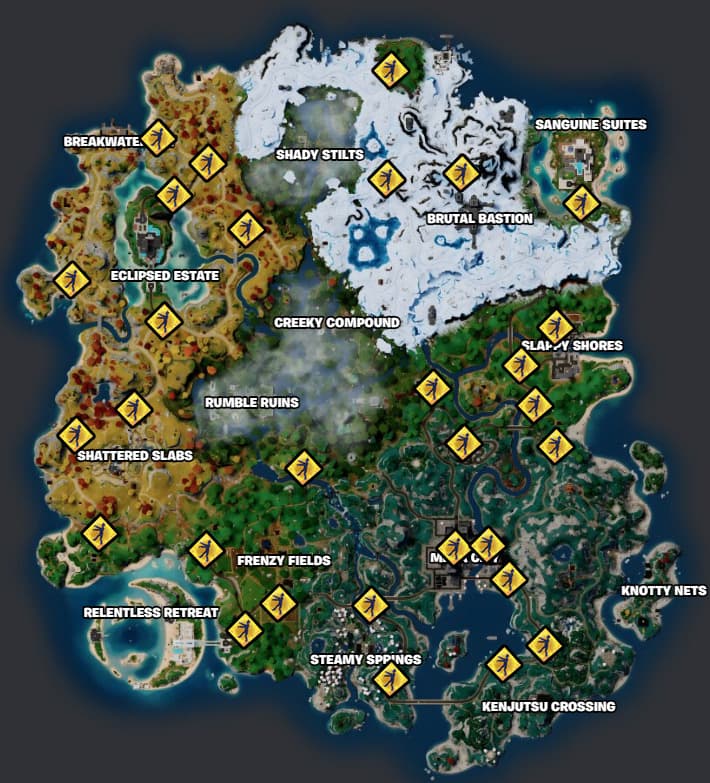 Zombie sign locations (Credit: Fortnite.GG)
The helpful Fortnite resource Fortnite.GG is the best spot to visualize where to find these signs. As you can see, various zombie road signs are in the Fortnite Halloween update. The Quest requires you to destroy three signs, and you can complete this in any of the core game modes, including Battle Royale, Zero Build, and Team Rumble.
Next, we will cover the best strategy to complete the zombie road sign Quest.
How to complete the zombie sign Fortnitemares 2023 Quest
Image Credit: Epic Games
We typically recommend that you complete these challenges in Team Rumble. This game mode allows you to respawn, making it much more challenging for another player to spoil your attempt.
Your best bet is to land somewhere with many signs, such as Mega City or Frenzy Fields. Once there, you can use the map above to find all zombie road sign locations in the area. Then, simply head to each sign and destroy them by pickaxing or shooting the signs.
After repeating this process three times, you should receive the Quest complete notification and 15,000 XP. Additionally, you will move closer toward unlocking the Fortnitemares 2023 rewards.
Image Credit: Epic Games
This and all other Fortnitemares 2023 challenges will be available for the duration of the in-game event. The Halloween event is expected to conclude on November 3.