Tour 3 is over and 18 teams are set to go to the Arlington Major. Here's a full summary of the third and final season of 21/22 DPC.
The Dota Pro Circuit (DPC) for 2021-2022 is approaching its end. That's right, we only have one more phase before we approach TI11. Now that Tour 3 is done and dusted, we step onto the next and final Dota 2 Major, the Arlington Major.
The Major is set to happen on August 4 – 14 and fans are definitely excited to see the best Dota 2 teams making waves in the United States once again. So if you missed a portion or the entirety of Tour 3 DPC, here's a summary for all regions. We also listed down the teams that qualified for the Arlington Major.
WEU: A rising Entity
Four teams from WEU are going to the Arlington Major.
Tundra Esports
Team Liquid
OG
Entity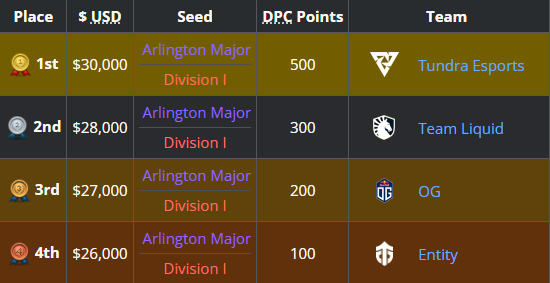 In the Western European (WEU) DPC, we see the typical teams on top, with Tundra Esports leading the way. Tundra, as they usually do, performed like a beast throughout the season, scoring 6-1. The team only dropped a series against Team Liquid and they convincingly earned the top seed. We'll see Tundra come at the next Dota 2 Major as the favorites once again.
Team Liquid had a rough start but quickly recuperated. Initially, they looked off-balance after losing a series to goonsquad, but the team found their footing and outplayed the rest of their opponents. However, they did drop a series against Team Secret. OG had a similar run, dominating most teams in Division I except for Tundra and Liquid. This put Liquid and OG into a tiebreaker and they ended up scoring 2nd and 3rd place respectively.
The highlight of the region, however, falls to the 4th placer, Entity. The community had their eyebrows raised when Entity picked up controversial player, Ivan "Pure" Moskalenko, as its new carry. But the team quickly built its reputation to become a strong force in the scene. Despite their unconventional drafts sometimes, Entity proved that they're worthy of Arlington. After an intense reverse sweep against Team Secret in the tiebreakers, Entity confirms its first-ever Major appearance.
Team Secret barely misses the Major once again
One of the household names in Dota 2, Team Secret is not having a great time. The team has its moments where it performed incredibly well but they also fell in moments of narrow losses. But it can be justified by the fact that Secret had to play with a last-minute stand-in, Baqyt "Zayac" Emiljanov throughout most of the season as Yazied "YapzOr" Jaradat takes a break.
They did perform impressively and the team was only a step away from the Arlington Major. However, Entity reverse-swept them in a 4th place tiebreaker. Secret settles at 5th place for the 2nd season in a row, barely missing the Dota 2 Major in the same pattern.
EEU: CIS Dota returns in full force
Three teams from EEU are going to the Arlington Major.
During the Tour 2 DPC, the Eastern European (EEU) region was heavily affected by the Russia-Ukraine war which caused a long delay and inactivity in its pro circuit. There was a last-minute, fast-paced playoffs to conclude the season, but it was not nearly satisfying for fans.
Fortunately for Tour 3 DPC, the region is able to resume normally. EEU looked extremely competitive this time around with powerhouses Outsiders, NAVI, and Team Spirit playing a 3-way tiebreaker for the first place. We also saw an upset with BetBoom Team just slightly missing a slot at the Arlington Major. BetBoom, fielding strong players under Akbar "SoNNeikO" Butaev's leadership, achieved top seed last season and performed brilliantly at the Stockholm Major. But we won't be seeing them and the signature Nikita "Daxak" Kuzmin's Nature's Prophet at the next Dota 2 Major as they placed 4th this time around.
RAMZES666 and NAVI qualify for a LAN event after 2 years
The first placers in EEU for Tour 3 DPC go to Outsiders aka Virtus.Pro. The squad has been a powerful force in the scene, however, in the last season, they were caught in a controversy that led to their disqualification. Following the scandal, Outsiders parted ways with Pure and replaced him with renowned prodigy, RAMZES666.
The team showcased amazing team play and chemistry this season to place first. Outsiders making it to the Arlington Major also means that RAMZES666 would make his first appearance at a Dota 2 LAN event in 2 years since the 2020 Leipzig Major.
But it's not only RAMZES that'll make a return. In 2nd place, we see a strong and reformed NAVI who hadn't qualified for a LAN event since 2020. This storied organization has finally found its feet and is back to the top with veterans including Alexey "Solo" Berezin and Vladimir "No[o]ne" Minenko.
TI10 champions, Team Spirit also had a great run in the EEU Regional, however, they fell short during the tiebreakers. After losing to both Outsiders and NAVI, they settled at 3rd place. Nevertheless, the team is still making its way to the Arlington Major and TI11 is only a step away.
CN: A 4-way tiebreaker finale concludes the season
Four teams from CN are going to the Arlington Major.
Royal Never Give Up (RNG)
Team Aster
Xtreme Gaming
PSG.LGD
The Chinese (CN) region is known for its extremely competitive nature and fans enjoy watching the gruesome Dota they bring. However, we were dampened by their absence from the Stockholm Major as they were affected by COVID travel restrictions. With the issue now under control, we are finally going to see Chinese teams compete at the Arlington Major.
In contrast to previous seasons, Royal Never Give Up (RNG) is now crowned as the champion after a powerful and consistent run. They dropped a series against PSG.LGD and Dandelion Esports Club (DEC), but had enough points to secure first place. The squad looks stronger than ever after the addition of veteran captain, Hu "kaka" Liangzhi, and a new carry player Daniel "Ghost" Hong.
With RNG now sitting on top, we see consecutive champions PSG.LGD placing way below its norm. LGD lost a lot of series at the beginning of the season which even saw it nearing relegation. But the team recuperated by the end and managed to join in a 4-way tiebreaker.
The tiebreakers would decide the 2nd to 5th place with only 3 slots left for the Arlington Major. Team Aster, known for its long-time dominance in China, came out on top of the tiebreakers. They took a convincing BO1 win against both PSG.LGD and Xtreme Gaming.
PSG.LGD forfeits the final tiebreaker against Xtreme Gaming
At one point during the tiebreakers, PSG.LGD forfeited a match against Xtreme Gaming which led to Xtreme securing 3rd and PSG.LGD 4th. The community was a little puzzled as to why that happened, but LGD clarified that they wanted to pay full attention to upcoming tournaments overseas. DPC points would also come of no concern to the team as they have already qualified for TI11.
SEA: T1 misses a Major for the first time in 2 years
Three teams from SEA are going to the Arlington Major.
BOOM Esports
Talon Esports
Fnatic
The colorful region of Southeast Asia (SEA) sees new teams from Division II make it big. RSG performed impressively but Talon Esports wasn't exactly an underdog. The team houses popular Thai carry, Nuengnara "23savage" Teeramahanon, as well as, TI finalist Damien "kpii" Chok and they were among the favorites this season. They managed to place 2nd after narrowly losing to BOOM Esports in a tiebreaker.
BOOM Esports had been on a roller-coaster ride, from winning the Gamers Galaxy Dubai event to falling hard at the Stockholm Major. But the team looks like it has returned to its powerful form. BOOM was consistent from the beginning of this season and they only grew stronger. Even though they dropped a series to Talon Esports, they managed to get their revenge in the final tiebreakers. At one point, Rolen "skem" Ong fell sick and had to sit out of their match against T1. BOOM's coach, Mushi stood in for the position 5 role and to a surprise, the team handed T1 an easy defeat.
Fnatic takes the 3rd and final slot to the Arlington Major. The team looked unstoppable in the beginning but faltered off mid-season with a loss against Team SMG and BOOM Esports. But the biggest upset in SEA is T1 not making it to the Arlington Major. T1 looked shaky from the very beginning and they couldn't take the crucial few fights at the end of the season for a chance at the Major. T1 sitting at 5th place means the team will be absent from a Valve Major for the first time in 2 years!
NA: The return of Quincy Crew
Two teams from NA are going to the Arlington Major.
North American (NA) Dota has never seemed so alive. In this season, underdogs Nouns Esports performed toe-to-toe against the favorites of the region. They first secured a victory against the Stockholm Major finalist, TSM, then took a game off Evil Geniuses. This pushed them to the top of the standings, but unfortunately, they lost to both EG and QC in the crucial tiebreakers.
Evil Geniuses has now recovered from its dark era. In the previous season, they had one of the worst performances at the Stockholm Major, placing last. With the return of their former captain, Tal "Fly" Aizik, EG looks exceptional. Everything gels well together and they have finally found that lost chemistry.
Apart from Evil Geniuses, Quincy Crew has also found its footing. The team now looks stronger than ever with its reformed roster. Arif "MSS" Anwar and Rodrigo "LESLÃO" Santos who made their return to QC fit naturally with the team and their presence feels like they never left. Former captain of Tundra Esports, Adrian "Fata" Trinks also joined the squad. Under his leadership, QC scored 2nd place, only losing to Evil Geniuses. This will be Quincy Crew's first LAN event since TI10!
TSM, despite looking incredibly strong at the Stockholm Major, underperformed in the NA regional, placing 4th. They will miss the Arlington Major but it is not a massive blow as they have already been confirmed a slot at TI11.
SA: Favorites remain on top
Two teams from SA are going to the Arlington Major.
South American (SA) Dota sees a continuation of the norm, with the region's favorites dominating the scene. Both Thunder Awaken and beastcoast were off a revitalizing run at the Stockholm Major, in which they both placed 5th-6th. Their performance at the Major was brilliant and for such an underestimated region, they definitely surpassed expectations.
In Tour 3 DPC, Thunder Awaken came into the season with strong momentum from the previous event. They only dropped a series to Infamous, and won the rest convincingly.
beastcoast, on the other hand, had quite a different story. The team held the same score as TA with 5-1 and they were going to face each other in the Division I finale. A few days before the matchup, beastcoast's carry player, Héctor "K1" Rodríguez got caught in a controversy. In a pub match, the Peruvian player called his ally ,Kim "Febby" Yong-min a racist slur. This was documented as Febby was doing a live broadcast of his game. The South Korean/Canadian player then stated that K1 has apologized and he himself didn't exactly mind, however, he called out all players to be better.
This incident caused Valve to drop a penalty for K1 and beastcoast. K1 would have to sit out from the team's crucial final match against Thunder Awaken and they went on to lose the series 0-2. This result meant that beastcoast lost out on the chance to get first place. This also meant that the team might lose its Major slot as they had to play a tiebreaker with Infamous. Fortunately, they managed to win the tiebreaker series and grab the final Arlington Major slot with ease.
Stick around Esports.gg for more Dota 2 news and updates!