Talon Esports proved that its wings fly higher than Team SMG's gunfire. In the final moments of the series, 23savage dropped a spicy question mark to avenge ninjaboogie.
Another day of SEA DPC and another day of spicy, spicy beef. Talon Esports and Team SMG went head-to-head today, but unfortunately for SMG, Talon was bulletproof. The squad destroyed Team SMG 2-0 and Nuengnara "23savage" Teeramahanon left a spicy question mark at the end of the game. In the post-match interview, Damien "kpii" Chok revealed that it might be a pub beef, however, based on 23savage's recent tweet, it is him taking vengeance for SMG's former player, Michael "ninjaboogie" Ross Jr..
For those who missed the Talon Esports vs Team SMG matchup, here's a quick recap!
Team SMG's gunfire has nothing against Talon
Despite an overall dominance from Talon Esports, Game 1 felt like a roller coaster. From start to end, Talon always held the advantage but the game dragged on with SMG constantly pressuring high ground. During the laning stage, there were a couple of back and forths from both sides, however, Talon managed to outplay SMG with smooth counterattacks.
During a Roshan fight, fans were hit by a nostalgic move from ah fu, who jumped in the pit with his Treant Protector and stole the Aegis and Aghanim's Shard. But the steal didn't lead to anything for SMG as Talon was miles ahead in net worth and control. SMG tried to drag the game, pressuring Talon's bottom lane and threatening a high ground push, but with patience, Talon closed the game successfully.
23savage drops a question mark
The next game saw an odd Lina carry on 23savage, but the young Thai player made it seem absolutely monstrous. Every player in Talon performed brilliantly on respective heroes, with Mikoto owning a godlike streak, kpii zoning everyone with his Brewmaster, Hyde on his signature Snapfire, and Q on a sneaky Hoodwink. After the final team wipe, 23savage tipped Yeik "MidOne" Nai Zheng and dropped a question mark that drove the spectators wild.
In the post-match interview, kpii stated that the question mark could've been because of a pub beef. However, the fact seems different on Twitter. ninjaboogie, SMG's former position 5 who was allegedly kicked by the team in a scandalous situation, tweeted a question mark following the match. 23savage replied to his tweet, stating "For you <3".
23savage replied to ninjaboogies tweet.
Post-match interview with kpii
The SEA DPC panel managed to get the Australian offlaner, kpii on board for the post-match interview. He first stated that he and the team did not have any expectations coming to Division I, and came with the mindset of performing their best.
In the match against SMG, we might have seen the game to be plain sailing for Talon Esports. But at some moments of the game, kpii found Team SMG to be extremely scary. He elaborated SMG's strength but also Talon's own strength that outclassed the enemy.
"It is scary especially against SMG because if you screw up once, you might just lose the game. For example in Game 2, when we defended the Tier 2 bottom, that looked pretty damn scary. Like the one when I died, they commit on me and I died. That one if something went wrong we might just lose the high ground so that was really scary, " said kpii.
"We are just very sharp on when to take fights and when not to take fights. And we are always mindful of the bot lane because it is always shoved in. Just very mindful, very sharp and we kept reminding each other."
In SEA DPC right now, things are looking a lot like a bloodbath. With most teams having the potential of securing the Top 3 and a slot to the Arlington Major, every single win and loss matters. Today, Talon Esports marks its dominance with a convincing victory. Team SMG, on the other hand, strays further from a Major slot.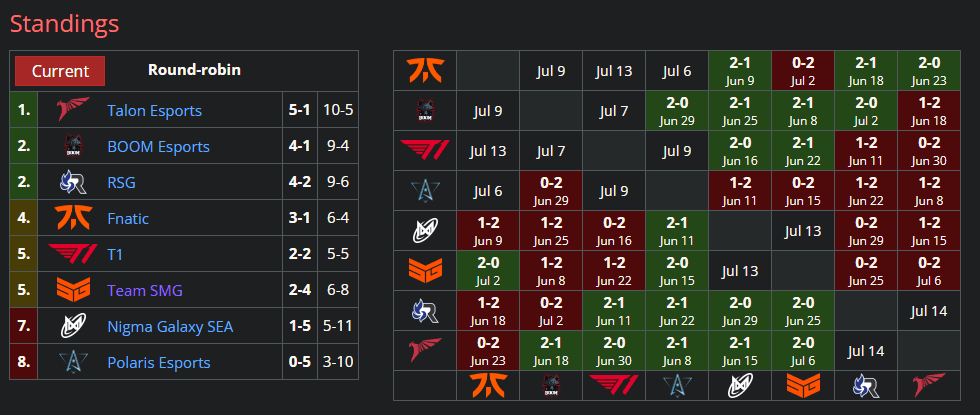 Talon Esports will face its final opponent, RSG on July 14th. Meanwhile, Team SMG needs to secure a win against NGX.SEA on July 13th to avoid any potential relegation.
You can find SEA DPC Division I's full details here.