ninjaboogie parts ways with Team SMG once again; but this time, he talked about the messy situation behind the kick.
Another roster change hits the Dota 2 professional scene as Team SMG parts ways with its position 5 player, Michael "ninjaboogie" Ross Jr. This is not the first time ninjaboogie had a short stint with the organization. However, this time around, the split seems to be a messy one. Ninjaboogie claims that he was kicked from Team SMG for an appalling reason.
Ninjaboogie is a widely known veteran having competed in several Major and TIs. The Filipino player firstly joined Team SMG in January 2021 but parted ways only 3 months after. He made a return to the team in February 2022 and competed in the SEA Tour 2 Dota Pro Circuit. Team SMG had an adequate performance but hardly good enough - missing the slot to Stockholm Major and scoring no DPC points. Ahead of the next season, Team SMG decided to once again replace ninjaboogie.
"Imagine being fired from a job because you are about to lose a loved one," said ninjaboogie.
However, ninjaboogie revealed that he was actually kicked from the team under a messy circumstance. Under the announcement post, he commented, "tell them the real reason of the kick."

Not long after, he posted his explanation of how the kick happened. According to ninjaboogie, his late mother "was on her last days" due to stage 4 cancer. The organization assumed that this would affect his performance and decided to kick him from the team.
"Imagine being fired from a job because you are about to lose a loved one." said ninjaboogie.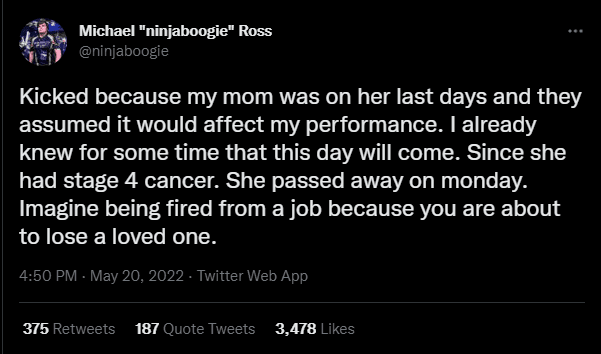 ninjaboogie reveals why Team SMG kicked him
Ninjaboogie received a lot of support from Dota 2 pros and talents, empathizing with him and the obnoxious situation.
Team SMG has not responded to ninjaboogie's statement as of now.
Ninjaboogie posted a more in-depth explanation of what happened.


His story summarized is that he was supposed to fly back to bootcamp on May 14th, however, on May 12th his late mother had a stroke and was admitted to hospital. He wanted to reschedule his flight to stay longer and accompany his family. After informing team captain, MidOne, of his decision, the team decided to continue without him.
Following ninjaboogie's statements, Team SMG's socials are bombarded by a wave of comments criticizing and calling out the organization. On Facebook particularly, the roster announcement post received a stream of spiteful comments. The post currently has its comment section limited.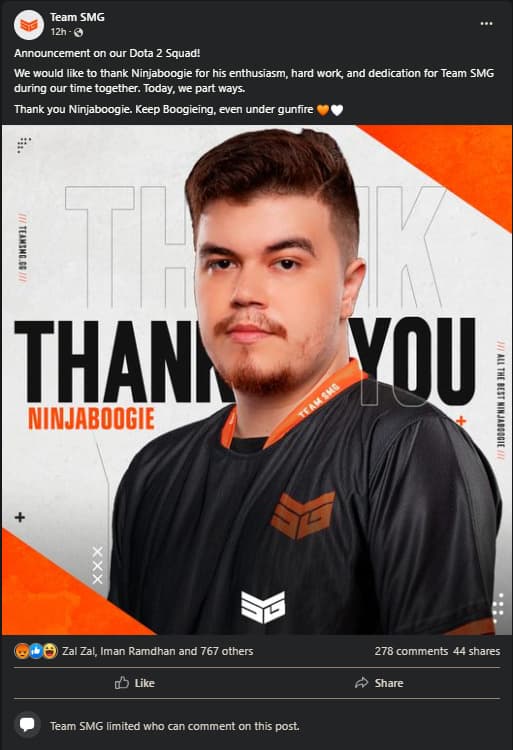 Ninjaboogie is now teamless ahead of the Tour 3 DPC, and Team SMG will need to find a replacement soon. Team SMG with its current lineup; Yeik "MidOne" Nai Zheng, Kam "Moon" Boon Seng, Ryan "Raging Potato" Jay Qui, and Tue "ah fu" Soon Chuan currently do not have enough DPC points to qualify for TI11.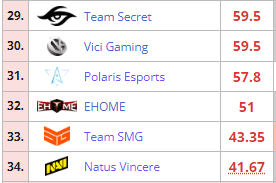 Team SMG ranks at #33 in DPC
With only 43 DPC points, they will need to compete in the SEA Qualifier to make it to the grand event.