How to report Dota 2 bugs to the developers
Learn how to report bugs in Dota 2 and help fix the issues affecting your gameplay!
Dota 2 is arguably one of the greatest MOBA games ever made, but even great games can have bugs. When those bugs appear, reporting them and getting them fixed is often the first thing on the player's mind. But while some games have in-game bug report options, for Dota 2 there's a slightly different method. Here's how to report bugs in Dota 2 to the developers, Valve:
How to report Dota 2 bugs to Valve
While it's not immediately apparent, there is an official place to report Dota 2 bugs to Valve. That's the Dota 2 Public Bug Tracker on GitHub. There you'll find an index of all the current bugs and their upcoming fixes to Dota 2.
Reporting Dota 2 bugs
Here's the process for reporting a bug on the Dota 2 GitHub
Head to the Dota 2 Public Bug Tracker GitHub, and then click Issues.
At the top of the Issues list, you should see a green button that says New Issues.
You'll have to be signed in and signed up to GitHub.
The Dota 2 Public Bug Tracker GitHub (Screenshot via GitHub)
Give a detailed description of the bug, as well as any additional info you think could be helpful
Include a Match ID that the bug occurred in (If relevant) otherwise leave it blank
Include screenshots or a video clip of the bug happening.
Submit and help Dota 2 get better!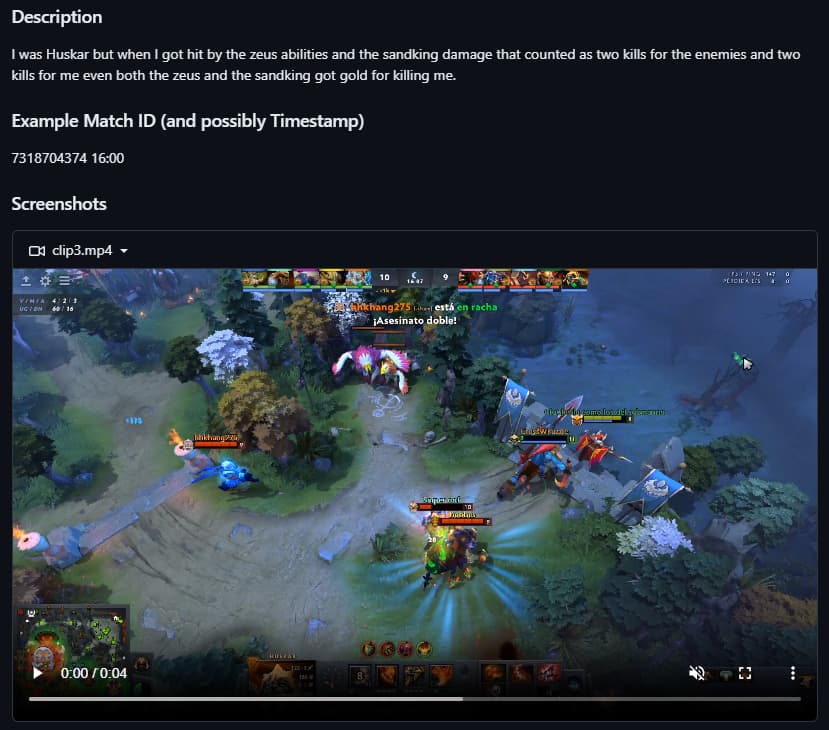 Example of a good Dota 2 bug report (Image via GitHub)
You'll likely not receive a response directly from Valve developers. Instead, the reports will likely be collated into a behind the scenes bug tracker. For instance if a dozen or more people are reporting the same bug, the developers will likely flag it as a real issue and attempt to solve it. However, you may receive replies on the post asking for more details.
We would also suggest not using this as a forum to appeal unfair bans, report cheaters, or otherwise complain about the game. There are other avenues for this in-game and elsewhere on the internet, and this GitHub should only be used for real bugs and errors.
What bugs are currently affecting Dota 2?
There are a few notable bugs currently affecting Dota 2 at the time of writing. One of these are some pretty major visual issues that are hiding important details in-game. 
Another is a bug with Wraith King that is affecting his reincarnation. You can read about this in our report on the issue.
Both of these bugs seem to have arisen since the release of the Summer Client Update and will likely be fixed soon.
---
For more Dota 2 news, guides, and info, keep those eyes locked on esports.gg