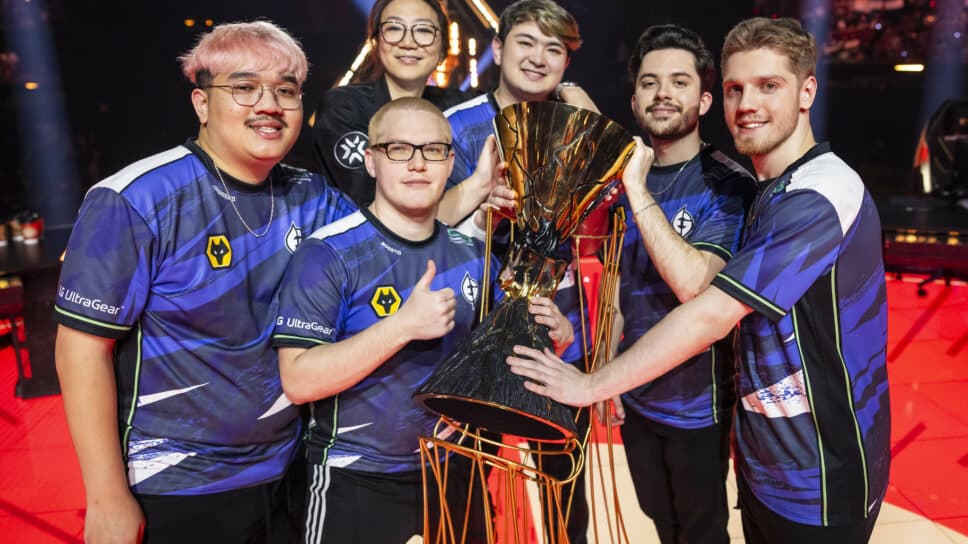 Paper Rex vs EG Champions LA Grand Final: Evil Geniuses are crowned the 2023 VALORANT World Champions
Can EG find their revenge? Or will Pacific win its first Champs title?
It is Paper Rex vs EG in the Champions LA grand final match. After a long, and grueling tournament both find themselves within striking distance of becoming the 2023 VALORANT world champions. And you can follow along with all of the action with us as things happen from start to finish.
Paper Rex (PRX)

Evil Geniuses (EG)

EG (13 - 10)
Split

PRX (13 - 11)
Ascent

Bind (13 - 5)
Bind

EG (13 - 10)
Lotus

N/A
Pearl

EG (3 - 1)
Final scores for Paper Rex vs EG Champions LA Grand Final
Paper Rex and EG set to make VCT history at Champions LA
It's Singapore's Paper Rex up against the USA's Evil Geniuses in what promises to be a Champions grand final match for the ages. Both sides have the chance to make their mark on VCT history as we get set for the final match of the 2023 season.
Paper Rex carry the hopes of a region
Paper Rex have had a relatively smooth journey to the Champions grand final. They did face a little bit of adversity in the form of LOUD and EG. But the combination of their highly-aggressive playstyle and some incredible individual performances have gotten them into this grand final, and a significant advantage in the map selection for the match.
They now find themselves in their second major grand final and a chance to give APAC VALORANT it's first ever win on the international stage. And while they have could be about to make history today, the high-flying Pacific League team will have a little bit of extra motivation to win today, knowing that it will be Jinggg's last game for quite some time. They have already beaten EG once at this tournament. But the question now facing Paper Rex is, can they do it again?
Evil Geniuses go for the gold on home soil
If you had asked anyone who they would have expected to see in this grand final matchup at the start of the season, very few would have expected Evil Geniuses to be in it. But the American team have made a habit of defying expectations all-season long, and now finding themselves in their second tournament grand final in a row. And the man who has made all of this possible at Champions is undoubtedly C0M.
The young man was already considered to be one of the best initiator players after his performances at Masters. But with the level of performances he has managed thus far, he could very well be in the running for tournament MVP. And if he can continue to find this level of impact alongside the high-fragging Demon1, then Paper Rex may find themselves in a world of hurt today.
Paper Rex Valorant Roster: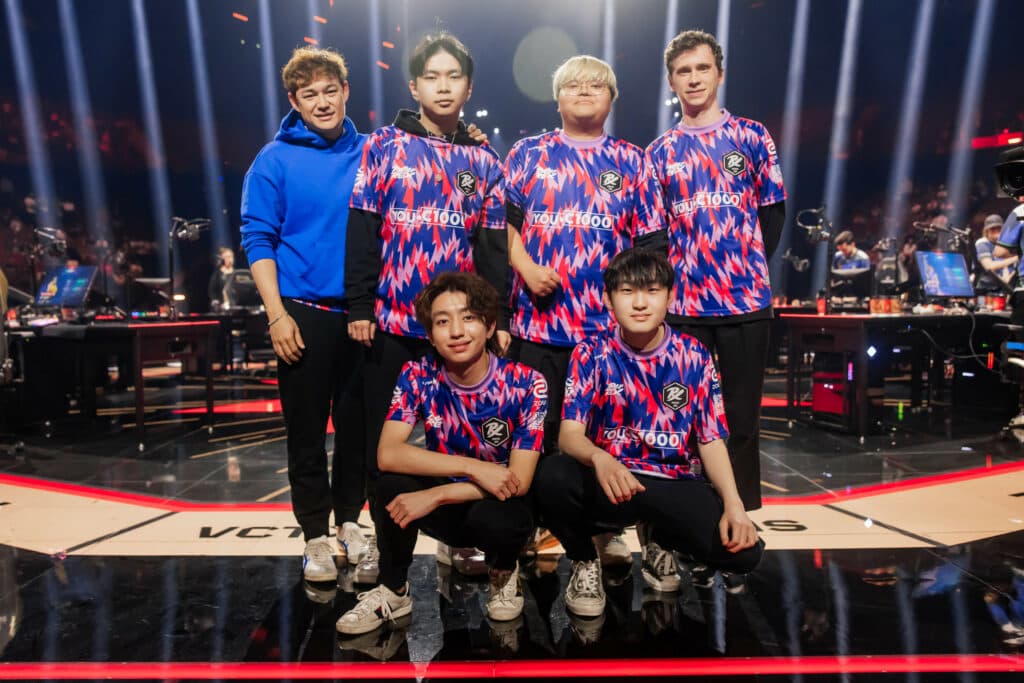 Paper Rex VALORANT Roster Champions LA Grand Final (Photo by Colin Young-Wolff/Riot Games)
Khalish "d4v41" Rusyaidee (IGL)
Aaron "Mindfreak" Leonhart
Wang Jing "Jingg" Jie
Jason "f0rsakeN" Susanto
Ilya "Something" Petrov
Evil Geniuses VALORANT Roster:
Evil Geniuses VALORANT Roster Champions LA Grand Final (Photo by Colin Young-Wolff/Riot Games)
Kelden "Boostio" Pupello (IGL)
Ethan "Ethan" Arnold
Alexander "jawgemo" Mor
Corbin "C0M" Lee
Max "Demon1" Mazanov
Demon1 and Jawgemo get to work on Split
We kick off this grand final with a stroll over to Split for map 1. Both teams opt into a mirror-match as we see two double-duelist composition. With Demon1 getting the greenlight to bring out his Jett.
EG get things going on their defense with a strong pistol round win. They barely manage to convert on their anti-eco before losing out on their bonus off of an early clutch from Something. The APAC side are able to take the lead for a brief moment, but EG tie things back up at 3 - 3 as they look to stamp out Paper Rex's aggression. The game descends into a brawl for control with EG struggling to handle the constant pace-change coming out of Paper Rex. And this tactic serves them well, as the APAC side come out of the first half with an 8 - 4 lead.
EG come up with the second pistol round as well as a flawless anti-eco as they creep their way back into the game. Paper Rex are able to take an anti-bonus but EG continue to punch their way back into the game. And thanks to a few brilliant moments from Demon1, the American side are able to tie the map up at 9 - 9. They manage to eclipse the double-digit mark and quickly find themselves on map point at 12 - 9 with Paper Rex looking lost on their defense. Paper Rex are able to get to ten rounds as well. But in the end they just could not deal with EG's mid-round calling. Leaving the Americans to steal Split from them 13 - 10 and take a 1 - 0 lead in the series.
Something comes alive for Paper Rex on Split
Following on from their comeback victory on Split, EG bring us over to Ascent for map 2 of this series. The Americans decide to stick with their bog-standard double-initiator composition. Meanwhile Paper Rex decide to fully embrace the chaos with their composition. A double-duelist, double-controller setup consisting of Harbor, Viper, Raze and Reyna.
Something comes up with a 3k to give Paper Rex the first pistol round of the map. They follow that up with two strong showings in their anti-eco and bonus rounds as they look to shrug off the loss on Split. Their lead grows to four, but EG manage to find a quick response with two rounds of their own to keep things close. Things get scrappy again in this series, with Paper Rex holding a very narrow lead. But EG's deep defensive setups prove to be the perfect counter to their aggressive tendencies. They do come away with a 7 - 5 lead after the first half, but the momentum is truly with EG in this game.
EG are able to take the second pistol round but get bailed out in their anti-eco as Ethan comes up with a huge 4k in a 2 v 4. Things continue to get scrappy between the two sides as Paper Rex slow things down on their defense which sows seeds of doubt into EG. The APAC side crack the double-digit mark as d4v41 and Something put EG in a perilous position with a series of high-impact plays. They manage to reach map point, but EG do not waver as put themselves within touching distance of overtime. But Something and Jinggg rise up to meet their foe head on. And thanks to their efforts, Paper Rex manage to close out Ascent 13 - 11 and tie up the series 1 - 1.
EG drive a dagger into Paper Rex's confidence on Bind
Paper Rex bring us over to Bind following their win on Ascent. And they decide to bring out an old friend of sorts as f0rsaken busts out his Yoru as part of their double-duelist, double-initiator composition. Evil Geniuses on the other hand go for their standard double-controller setup with Demon1 moving to the Chamber role.
EG secure the first pistol round of the map off of an early 3k from Jawgemo. C0M comes up with a multi-kill of his own to net them the anti-eco as well. And though Paper Rex are able to steal the bonus away from them, EG are still able to take full control of the map. Driving Paper Rex into a desperate position early on. The APAC side get two more rounds on the board off the back of a Thrifty win and a bit of fortune. But EG remain in the drivers seat as they take a 9 - 3 lead into halftime.
Paper Rex come up with a much needed win in the second pistol round as they look to overcome EG's overwhelming lead. But even though they are able to convert on their anti-eco, EG prove to be a relentless force on their attack side as they quickly reach map point at 12 - 5. And with one swift move from Jawgemo, the American side close out Bind with ease and regain the lead in the series 2 - 1.
Map 4: Lotus
Following their dominant performance on Bind, Evil Geniuses find themselves one win away from claiming the Championship as we head to Lotus. They bring out their standard double-controller composition, whereas Paper Rex decide to put all of their eggs into another double-duelist setup.
D4v41 comes up with a crucial 3k to give Paper Rex the opening pistol round, followed up by a 4k from f0rsakeN in their anti-eco. The teams trade blows across the next four rounds, with Boostio coming up with an incredible ace in the process. But Paper Rex remain in the lead, albeit by the skin of their teeth. EG manage to tie things up following a ninja defuse from Boostio and a 4k from Jawgemo, but Paper Rex muster together a thrifty to regain the lead. And with one last multi-kill, this time from Jinggg, Paper Rex go into halftime ahead 7 - 5.
EG secure the second pistol thanks to a heads-up play from Boostio. And they follow it up with two big plays from Demon1 as the Americans surpass Paper Rex's lead. The APAC side manage to tie things up again at 9 - 9 as they attempt to ramp up the aggression on their defensive side. Only for Jawgemo to respond in kind to put his side up to double-digits. Paper Rex attempt to force their way back into the map, but a huge clutch from Demon1 put the Americans onto Championship point at 12 - 9.
Jinggg and Something provide Paper Rex with a faint glimmer of hope as they get to double digits. But those hopes were well and truly dashed. And as the dust settled on this emphatic series, Evil Geniuses rose up to claim their fairytale ending. Closing out Lotus 13 - 10, to take the series 3 - 1 and write their names into the history books to become the 2023 VALORANT World Champions.
How to watch Paper Rex vs EG Champions LA Grand Final?
We are at the business end of the 2023 VALORANT Champions Tour (VCT) season. Sixteen of the best VALORANT teams from around the world have come together in the city of Los Angeles as they fight for the right to be called Champions. Fans who wish to watch the grand final match between Paper Rex and Evil Geniuses may do so by heading to the VALORANT Twitch and YouTube channels.
You can also tune in via the embedded stream link down below if you don't wish to click off of this page.
Head over to our VCT 2023 hub for all the latest news from across the tournament.