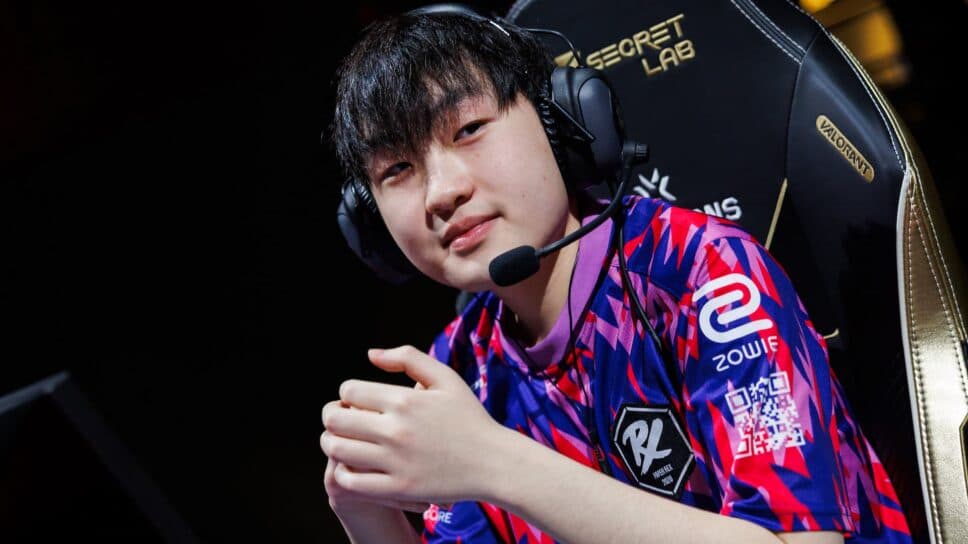 PRX Jinggg shares his thoughts on last run with team at VALORANT Champions 2023
Paper Rex will soon part ways with Jinggg as he leaves for mandatory military service, but until then, they're just having fun.
The talk of Paper Rex has been their unexpected, yet very successful 2023 season. They won VCT Pacific, placed well at Masters Tokyo with a substitute, and now they are in the Grand Final of VALORANT Champions 2023. In addition to that, this tournament will be the last for Wang "Jinggg" Jing Jie.
He is set for mandatory military service after Champions completes. That will certainly shake up the PRX roster, who is coming off of win in a huge three-map series over Evil Geniuses. In the post-match press conference, we asked what his emotions are like knowing his last hoorah will be in the Grand Final match.
Jinggg just wants everyone on Paper Rex to have fun, win or lose
(Photo by Colin Young-Wolff/Riot Games))
Paper Rex is known for their aggressive and carefree playstyle. The "W Key" gaming aspect has gotten them plenty far in the VALORANT Champions Tour. And at Champions 2023, they have proven to be a force.
But on the other side of the tournament awaits uncertainty. No one knows what Paper Rex will look like heading into 2024. All they know is that Jinggg will not be part of the roster. Despite that, he's having a blast and hopes his team is, too.
Jinggg: "I think we try not to think about that too much. We just try to focus on this tournament right now. We're just enjoying the ride I guess. If we win, we win; if we lose, we lose. As long as everyone is happy, I'm happy. Just want to have a happy tournament. We've already exceeded our expectations and we're in Grand Finals so honestly for me it doesn't matter if we win or lose. I just want everyone to be happy and just enjoy ourselves I guess."
It was a quite wholesome answer from Jinggg. You can definitely tell the team is having the time of their lives out there and are ready to push themselves to the limit. Without having fun, who knows how far they would've come? And now there is just one obstacle left before they can lift a trophy and send Jinggg off with the biggest victory of all their careers.