VALORANT Champions 2023: Full schedule and results
The biggest tournament of the year is happening and esports.gg has all of the match results for VALORANT Champions 2023.
Champions determines the best VALORANT team in the world for the year. With two Champions tournaments gone by in the esport's lifetime, we must now once again crown the victors of VALORANT's number one event. Once the VALORANT Champions 2023 results are finalized, we'll know which team reigns supreme in the first year of the game's partnership era.
Full VALORANT Champions 2023 schedule
VALORANT Champions 2023 takes place in Los Angeles, California. It is spread across multiple weeks with plenty of action for you to take in.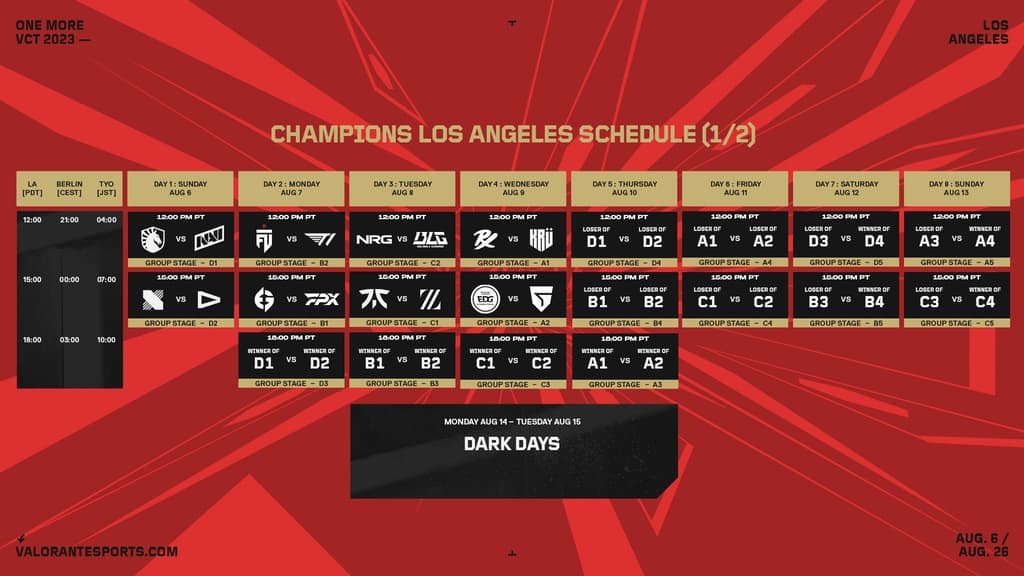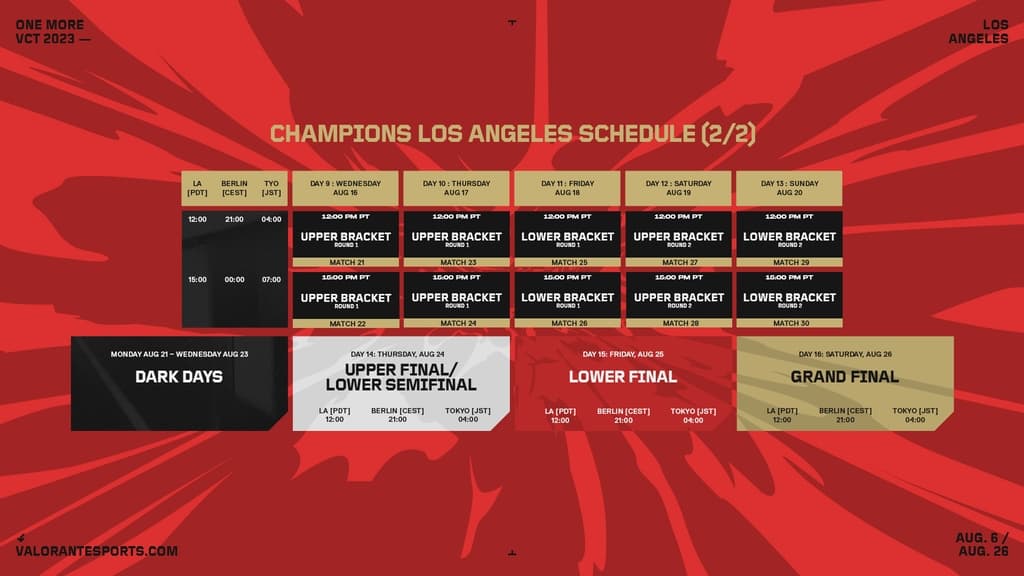 The tournament begins on August 6 and goes all the way until August 26. From a Group Stage separating the great from the elite to a playoff bracket that will decide who takes it all, we're in for some of the best VALORANT of the year.
How to watch VALORANT Champions 2023
If you want to watch the VALORANT Champions 2023 results as they unfold live, you can view the official Twitch or YouTube streams. There are also bound to be a large number of co-streamers tuned into the event. Or you can stick around here and watch along with us.
VALORANT Champions 2023 results
LOUD has a chance to become back-to-back champions while FNATIC has the opportunity to win three international tournaments in a row. It all starts in the group stage.
Group Stage
The results of all four groups are below:
| | | | | | | |
| --- | --- | --- | --- | --- | --- | --- |
| Date | Round | Series | Map Count | Map 1 | Map 2 | Map 3 |
| August 9, 2023 | Opening | Paper Rex vs. KRÜ Esports | 2:0 | Split 13:7 | Pearl 13:8 | Lotus |
| August 9, 2023 | Opening | EDward Gaming vs. Giants Gaming | 2:1 | Split 13:15 | Bind 13:11 | Ascent 13:8 |
| August 10, 2023 | Winner's | Paper Rex vs. EDward Gaming | 2:0 | Fracture 13:7 | Pearl 16:14 | Bind |
| August 11, 2023 | Elimination | KRÜ Esports vs. Giants Gaming | 0:2 | Lotus 10:13 | Pearl 12:14 | Split |
| August 13, 2023 | Decider | EDward Gaming vs. Giants Gaming | 2:0 | Split 13:6 | Fracture 13:7 | Bind |
| | | | | | | |
| --- | --- | --- | --- | --- | --- | --- |
| Date | Round | Series | Map Count | Map 1 | Map 2 | Map 3 |
| August 7, 2023 | Opening | Evil Geniuses vs. FunPlus Phoenix | 2:0 | Ascent 13:8 | Pearl 13:8 | Bind |
| August 7, 2023 | Opening | FUT Esports vs. T1 | 2:0 | Pearl 13:4 | Haven 13:7 | Ascent |
| August 8, 2023 | Winner's | FUT Esports vs. Evil Geniuses | 0:2 | Pearl 13:15 | Bind 9:13 | Ascent |
| August 10, 2023 | Elimination | T1 vs. FunPlus Phoenix | 2:0 | Lotus 13:10 | Bind 13:7 | Ascent |
| August 12, 2023 | Decider | FUT Esports vs. T1 | 2:0 | Bind 13:10 | Pearl 14:12 | Haven |
| | | | | | | |
| --- | --- | --- | --- | --- | --- | --- |
| Date | Round | Series | Map Count | Map 1 | Map 2 | Map 3 |
| August 8, 2023 | Opening | FNATIC vs. ZETA Division | 2:0 | Fracture 13:5 | Haven 13:6 | Lotus |
| August 8, 2023 | Opening | NRG vs. Bilibili Gaming | 0:2 | Lotus 12:14 | Split 8:13 | Pearl |
| August 9, 2023 | Winner's | Bilibili Gaming vs. FNATIC | 0:2 | Haven 2:13 | Lotus 8:13 | Split |
| August 11, 2023 | Elimination | NRG vs. ZETA Division | 2:0 | Bind 15:13 | Haven 13:1 | Split |
| August 13, 2023 | Decider | Bilibili Gaming vs. NRG | 2:0 | Bind 13:10 | Ascent 13:5 | Lotus |
| | | | | | | |
| --- | --- | --- | --- | --- | --- | --- |
| Date | Round | Series | Map Count | Map 1 | Map 2 | Map 3 |
| August 6, 2023 | Opening | Team Liquid vs. Natus Vincere | 0:2 | Fracture 11:13 | Bind 15:17 | Split |
| August 6, 2023 | Opening | DRX vs. LOUD | 2:1 | Lotus 13:15 | Split 13:6 | Ascent 13:8 |
| August 7, 2023 | Winner's | Natus Vincere vs. DRX | 1:2 | Bind 13:15 | Split 13:9 | Lotus 12:14 |
| August 10, 2023 | Elimination | Team Liquid vs. LOUD | 0:2 | Haven 2:13 | Split 8:13 | Lotus |
| August 12, 2023 | Decider | Natus Vincere vs. LOUD | 1:2 | Pearl 13:11 | Ascent 11:13 | Bind 11:13 |
Playoff Bracket
After two teams qualify from each group, they'll be placed into the playoff bracket. Here are the results for every VALORANT Champions 2023 playoff match:
| | | | | | | |
| --- | --- | --- | --- | --- | --- | --- |
| Date | Round | Series | Map Count | Map 1 | Map 2 | Map 3 |
| August 16, 2023 | Upper Quarterfinals | FNATIC vs. LOUD | 0:2 | Ascent 11:13 | Lotus 6:13 | Split |
| August 16, 2023 | Upper Quarterfinals | Paper Rex vs. FUT Esports | 2:0 | Ascent 13:10 | Pearl 13:4 | Split |
| August 17, 2023 | Upper Quarterfinals | DRX vs. Bilibili Gaming | 2:0 | Lotus 13:10 | Haven 13:9 | Pearl |
| August 17, 2023 | Upper Quarterfinals | Evil Geniuses vs. EDward Gaming | 2:1 | Split 12:14 | Ascent 13:5 | Pearl 13:5 |
| August 18, 2023 | Lower Round 1 | FNATIC vs. FUT Esports | 2:0 | Split 13:5 | Haven 13:9 | Bind |
| August 18, 2023 | Lower Round 1 | Bilibili Gaming vs. EDward Gaming | 1:2 | Bind 4:13 | Split 15:13 | Haven 10:13 |
| August 19, 2023 | Upper Semifinals | LOUD vs. Paper Rex | 1:2 | Lotus 13:15 | Split 13:2 | Pearl 10:13 |
| August 19, 2023 | Upper Semifinals | DRX vs. Evil Geniuses | 0:2 | Fracture 9:13 | Lotus 4:13 | Split |
| August 20, 2023 | Lower Round 2 | EDward Gaming vs. LOUD | 1:2 | Bind 13:11 | Ascent 5:13 | Haven 11:13 |
| August 20, 2023 | Lower Round 2 | FNATIC vs. DRX | 2:1 | Bind 1:13 | Haven 13:9 | Split 13:6 |
| August 24, 2023 | Upper Final | Paper Rex vs. Evil Geniuses | 2:1 | Ascent 10:13 | Bind 13:9 | Pearl 15:13 |
| August 24, 2023 | Lower Round 3 | LOUD vs. FNATIC | 2:1 | Split 13:4 | Ascent 9:13 | Haven 13:7 |
Lower Final and Grand Final
| | | | | | | | | |
| --- | --- | --- | --- | --- | --- | --- | --- | --- |
| Date | Round | Series | Map Count | Map 1 | Map 2 | Map 3 | Map 4 | Map 5 |
| August 25, 2023 | Lower Final | Evil Geniuses vs. LOUD | 2:2 | Ascent 14:12 | Lotus 13:4 | Pearl 8:13 | Split 7:13 | Bind 13:8 |
| August 26, 2023 | Grand Final | Paper Rex vs. Evil Geniuses | 1:3 | Split 10:13 | Ascent 13:11 | Bind 5:13 | Lotus 10:13 | Pearl |