C0M talks EG bonding as a team and what winning Champions would mean to him
Following the Lower Final of VALORANT Champions 2023, esports.gg had the opportunity for a brief chat with Evil Geniuses' C0M.
Corbin "C0M" Lee and Evil Geniuses are one series away from becoming world champions at VALORANT Champions 2023. It has been a long journey, and the most recent step on that journey saw them overcome an always dangerous LOUD team.
In the Lower Final, EG held off a reverse sweep attempt by the Brazilian squad. That puts them against Paper Rex in the Grand Final. So, following that Lower Final contest, we had a quick chat with the Sova savant about the closeness of the team, the upcoming battle against PRX, and more.
C0M discusses EG's 2023 as they head into the Champions Grand Finals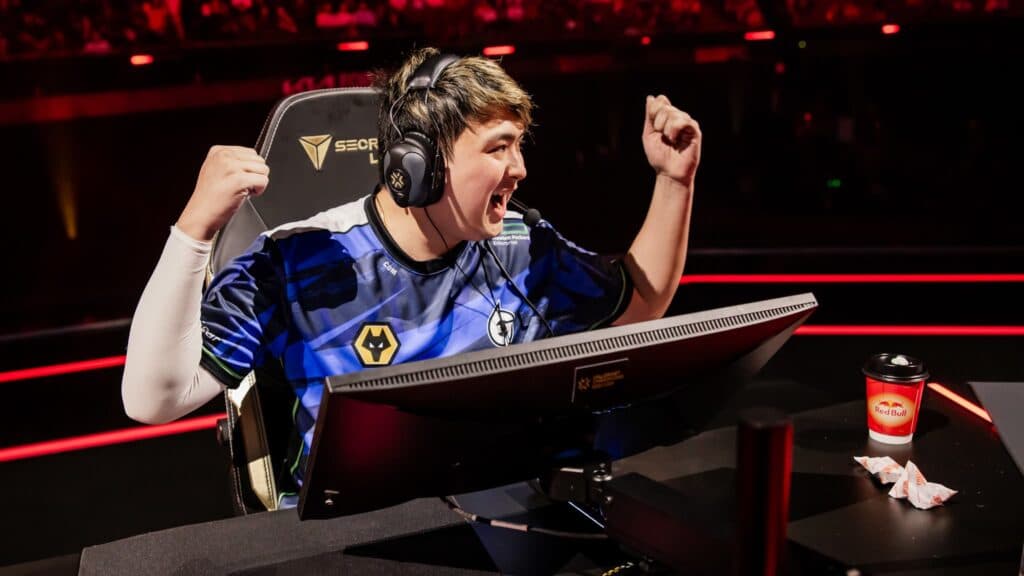 (Photo by Colin Young-Wolff/Riot Games)
"First off, I've got to ask about the tooth. You tweeted you lost one. When and how did that happen?"
C0M: "Honestly, I think it was eating Skittles. I think I was just chomping down on the left side of my jaw and all of a sudden, it was like 3:1 on Bind, in map two against Paper Rex. And it just felt like, because I chew gum, I felt shards in my gum. I was like, 'What the f*ck is that?' Then all of a sudden I was like, 'Oh lord, my tooth just broke. So, I had to spit it out and it was good."
"You've been clutch all tournament, but especially here at the Kia Forum in the final stages of Champions. What does being clutch mean to you in this game?"
C0M: "Just coming up big for your team when they need you the most. I think that's pretty much it."
"Okay, and with your performance in the tournament, we saw in the pre-game video package just how proud of you coach Potter is. What has her influence been like from the start of the season to now?"
C0M: "It's just been trusting me. Trusting me to develop, trusting me to become one of the best. And I guess that trust kind of paid off."
"Have you noticed any change or evolution in her coaching style as EG has progressed through the year?"
C0M: "There's a lot of things that changed in our team and even when the going gets tough, she was still there and she still helped us through all that. And I don't know, I think everyone developed in their own ways throughout the season."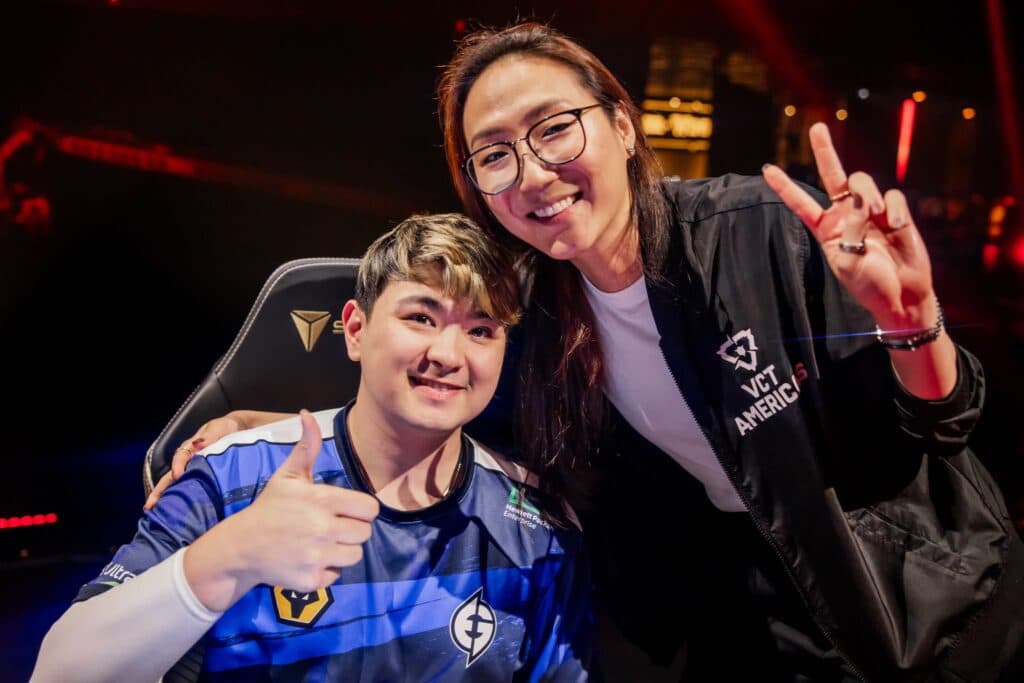 (Photo by Colin Young-Wolff/Riot Games)
"So in the post-match press conference after the loss to Paper Rex, you talked about how no matter what kind of game you've had, it doesn't really matter if the team loses in the end. How close has everyone on EG gotten throughout the 2023 VCT?"
C0M: "I think we've all gotten pretty close. We know everything about each other, pretty much to the point where Boostio will randomly take off his shirt in the middle of your stream and stuff. But yeah, I think we're all close. We obviously just want to finish out 2023 with a big win."
"How has that closeness and camaraderie helped shape the team's results?"
C0M: "If you're not at least making an effort to know your teammates, or doing the little things like going out to dinners and stuff, then you won't have a successful team."
(Photo by Colin Young-Wolff/Riot Games)
"Okay, well, it was a huge win against LOUD and you're taking on Paper Rex one more time in the Grand Final. I'll ask you solo and as a team. What kind of game do you need to have to win it all at Champions?"
C0M: "I need to have the Ascent game that I had against 'em every single time. And as a team, we just need to communicate well. Don't be scared. If you need to make a play, make a play. Just keep playing free flow and don't let one round dictate the whole series."
"If you do end up winning at all, what does that do for you, for your family, for your career?"
C0M: "It obviously stamps you into history in VALORANT, and also you get that title of best in the world. All five of your players are the best in the world. So, I think that for a personal perspective. And then for my family, I mean, for them to believe in me to go on this journey through esports, I think it's unbelievable."
"Lastly, you mentioned that it cements you as the best in the world. Before heading into this final game, do you feel like Evil Geniuses is that best team in the world right now?"
C0M: "I feel like we're playing like the best team in the world. We just have to show it."