It's crunch time for OpTic Gaming and DRX, who face off for a chance at redemption against LOUD in the Grand Finals of the VCT CHampions. (Featured Image: @staxVLRT)
It is all on the line today (September 17th 2022) for DRX (KR) vs OpTic (NA) as the two teams face off for a VCT Champs finals slot against LOUD (BR). For both teams this is a chance of achieving greatness for their regions and proving these regions can stand up to the challenge of the LOUD powerhouse.
More importantly it is a chance for redemption, as both teams were exiled to the lower-bracket after 2-0 defeats to the Brazilians LOUD in the playoffs.
Optic's run so far at VCT Champions
Group stage - 2:1 BME
Group stage - 2:1 LOUD
Playoffs - 2:1 Team Liquid
Playoffs - 2-1 XSET
Playoffs - 0:2 LOUD
A win here would see them move onto face LOUD in finals which is at heart a chance to prove their wins over LOUD are no fluke and that is one motivation that no one can deny. While Optic did 2-1 LOUD in the group stage, their rematch in the upper-bracket final saw them fall 0-2, with the second game a 13-3 loss on Ascent.
OpTic is entering this match ready to all in, the taste of revenge firmly on their lips. For OpTic, while regional pride as the best NA representative at this region is already on their backs, the opportunity to take down LOUD at finals? That's the epitome of 'revenge is a dish best served cold' and OpTic are planning to "re-enact Iceland" according to Marved on Twitter which saw OpTic take the win over LOUD.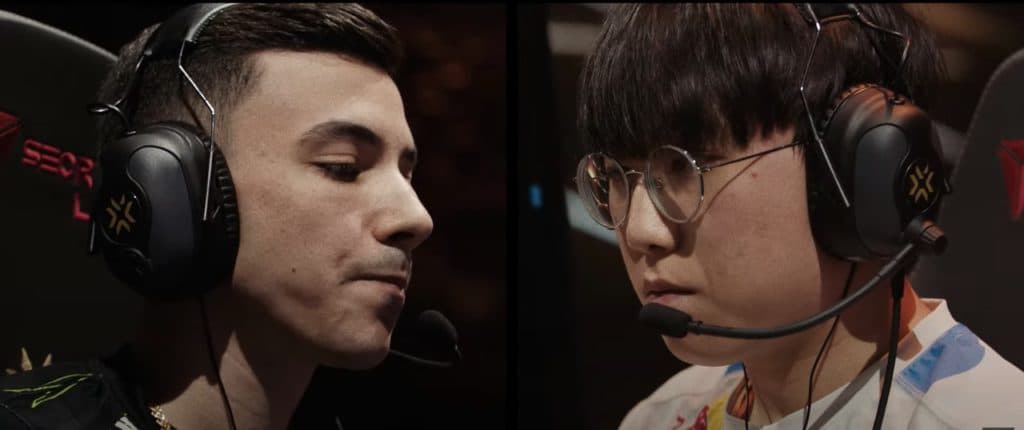 OpTic vs DRX: In reach of finals
DRX are "creating their own destiny"
Group stage - 2:0 FURIA
Group stage - 2:0 100Thieves
Playoffs - 2:0 FPX
Playoffs - 0:2 LOUD
Playoffs - 2:1 FNATIC
Playoffs - 2:0 FPX
DRX has already sent home the EU strength of Fnatic in a clean 2-1. On their run through VCT 2022 , the Korean players have proven they're not here to play around.
The DRX Valorant Twitter has already said they're "creating their own destiny" in today's matchup and while the lower bracket final run may be cursed for some teams, DRX are all about breaking curses, and the curse of OpTic getting to finals? That's one curse they are more than ready to break.
DRX Stax said in an interview that as long as he is the in-game leader he would ensure they do not finish 5th or 6th, and he has delivered. Now one game stands between them and a Grand Finals.
What to expect for DRX vs OpTic?
So, what can we expect? DRX and OpTic both bring a style of control that is pivotal to their match wins and are more than happy to play difficult flanks to ensure their team moves forward and there is the promise of some insane clutches coming your way.
But more importantly, this match will the first time these two teams have gone up against each other in this tournament, the last time they went up against each other (also only once) was at Masters Copenhagen over 3 months ago. Which OpTic won.
This is going to be a spicy match for sure.
Both players can clutch to high heaven and that alone is scary enough, but with the backing of the rest of their teams, and glory centimetres away, this is a match you don't want to miss.
In the lower-bracket match versus FPX, Mako racked up 45 kills across the two games with Viper and Omen, plus boasted a headshot percentage of 35%.
Whoever wins this match will then progress to face off LOUD in the grand finals of VCT 2022, bringing home the title to their region and setting up the hype for the next international tournament.
The match is set to begin at 10am EST on September 17th on the VALORANT Twitch channel.