Chilean-based Leviatán quickly answered any doubts about repeating their Masters Copenhagen performance with a dominant 2-0 win over Europe's Team Liquid in the first round of VALORANT Champions.
Leviatán were the breakout team of Masters Copenhagen finishing top 6 in the international tournament. The dark horse squad took out LATAM rivals KRU in the regional finals and North American champ XSET during playoffs. The team went on to push the two tournament favorites in DRX and Fnatic to their absolute limit. The only question is whether they can do it again at Champs Istanbul.
The return of Head Coach Onur
With the return of Rodrigo "Onur" Dalmagro back onto the VCT stage, the team received a boost of energy from the haymaker-throwing head coach. It was apparent that Leviatán was playing with extra confidence and swagger that wasn't present in Copenhagen.
"Not having Onur in Copenhagen was actually very difficult for us. It's really nice to have him now"
Benjamín "adverso" Poblete
Adding Onur, who previously brought KRU to the 2021 Champions semifinals as head coach, provides much needed experience and passion to the Leviatán side. The team was excellent after timeouts, continuing a trend from Onur's KRU days. In every situation, Leviatán had a clear plan of attack. The team play and execution helped put pressure on the Liquid stars to make hero plays out of desperation.
Leviatán Winning Pistols and half-buys
For starters, Leviatán was 4-0 in the pistol rounds and won two bonus rounds in the win. Liquid fought an uphill battle from the losing pistols, bonus and half-buys meant they could never regain their economy to make a comeback on either map. That and the Leviatán players were making the round-winning individual plays to secure the victory.
"It was just momentum and the pistols not going our way. Once you lose both pistols and the bonus rounds on the map, you have to have a very good defense or attack. So yeah, I think that was it," said Liquid's Dom "soulcas" Sulcas after the loss.
Unsuprisngly, Vicente "Tacolilla" Compagnon and Marco Eliot "Melser" Machuca Amaro were among those players continuing their impressive form from Copenhagen. Tacolilla on the Chamber made it extremely difficult to enter on sites for Liquid. He found 13 multi-kill rounds, predominantly on the Operator role, limiting the scary Liquid duelist. As for Melser, he was once again a nuisance on Haven, making Liquid always account for his movements.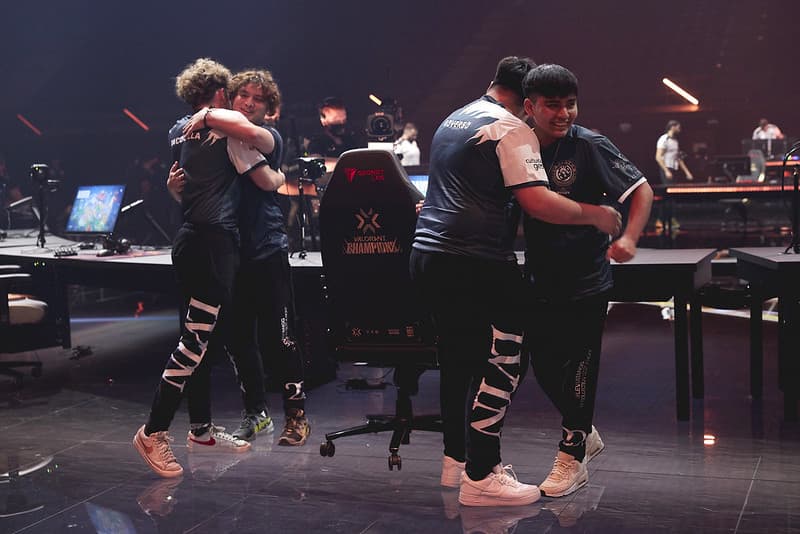 (Photo by Lance Skundrich/Riot Games)
Moreover, Leviatán is capable of winning rounds on bad buys. In half-buy rounds alone, the Chilean side won 69% of those rounds. Mainly off the back of implementing the Stinger back into the equation and running at Liquid on the attacking side. The close-quarter engagements caught Liquid off on-site holds and allowed them to make space for Tacolilla and Francisco "kiNgg" Aravena to take easier aim duels with rifles.
Leviatán Shyy on Playing with less pressure
Entering Copenhagen, Leviatán were heading into their first International LAN, needing to win a few games to avoid Last Chance Qualifiers, and having to play without Onur on the stage. The confluence of events forced them to play with a heightened sense of urgency.
Now, the 17-year-old phenom, Fabian "Shyy" Usnayo, spoke on the team coming into Champs with a weight lifted off their backs. Leviatán now has a singular focus and a belief after seeing how close they were in Copenhagen.
"For Masters 2 there were a lot of external concerns. One, making sure we could qualify for this event (Champs), making sure we wouldn't have to go through LCQ, and everything else. This event feels more like an opportunity to concentrate and be able to win. So, it is definitely a lot better to have that experience especially because Masters 2 was our first International debut and having the boot camp in Spain and also in Europe was really nice because it feels like it could really make a difference"
Leviatán Shyy
The road from here only gets increasingly difficult as their next opponent will be Masters 2 finalists Paper Rex. Leviatán stand one win away from a playoff berth.
Featured Image courtesy of Photo by Lance Skundrich/Riot Games