In a match for the ages, Leviatán pulled out clutch after clutch to send XSET dephh and his teammates home looking for answers
As the first half came to a close on the Leviatán map pick Ascent, it felt as if the Chilean side was fading. Needing only more series win to qualify for VCT Champions, a date with Latin America's Last Chance Qualifier felt destined as XSET looked to close it out 2-0.
Leviatán Melser wins 57% of his clutch rounds on Ascent
Fortunately for Leviatán, Controller player Marco Eliot "Melser" Machuca Amaro wasn't about to let the game slip away. In the second half of Ascent alone, Melser converted three clutch rounds, two of them were in disadvantageous 1v2 situations. A player is not well known for his fragging power, like teammate Vicente "Tacolila" Compagnon, found another level on LAN and carried his team to a decider map.
Melser talked through these late game and round situations in a post-game press conference. He spoke about putting himself in the right space mentally to pull out clutch rounds in overtime and at an astounding 57% clip.
"I just try to replicate what I've been doing in practice and scrims. I believe everyone on this team has the capacity to clutch themselves because we all practice as a team and individually and they're all capable of doing this clutch rate," said Melser.
Focusing on the clutch wins for Leviatán, the 23.4% clutch percentage was arguably the difference in the series. It wasn't just Melser, but a team-wide failure from XSET to close out late in rounds.
XSET failing to close out rounds
This all came to a boil on match point Haven for XSET. A round that by all intents and purposes should never be allowed to get away from a team with the bomb down in A-Heaven on Haven. It's a round that will haunt Rory "dephh" Jackson for the rest of his days.
His teammate, Brendan "BcJ" Jensen, even confirmed the team had a good read on the play before it ever happened.
"Jordan (AYRIN) actually said it pre-round and he said he might just A-rush TP. So, we were kind of prepped for that," said BcJ in response to dephh.
"And, I mean, we don't play many Raze's either in NA, especially like the better teams. So, I think it was a slip for me for sure to think that they could not get up there and do it. And, he hit an absolutely insane shot. He satcheled and one-tapped me so it sucks a ton to lose that way," said dephh.
The Chaos and Emotion of the VCT Masters Stage
In a series with two overtime maps, a 9-3 comeback, and multiple match points squandered for XSET. The team that could control the chaos, or even better, harness it, won the day.
It was clear on stream that Leviatán was relishing the moment. Screaming at the top of their lungs, even during breaks, alerting host Yinsu Collins far away on the analyst desk. It was a moment for a talented team playing in their first LAN to take that necessary step. And, they loved every minute of it.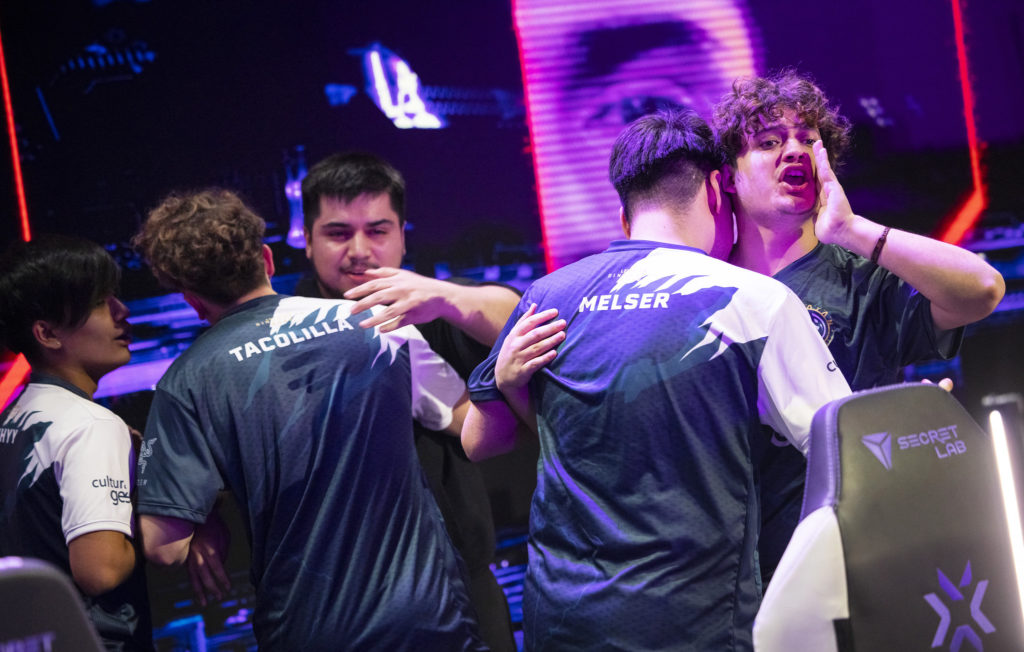 For 17 year old phenom talent, Fabian "Shyy" Usnayo, the moment wasn't too big. He found himself cherishing every second on that VCT stage
"For me, that's something that only this competition has, that is something you can't buy or gain in any other way and that's something money can't get you and this tournament fills you up with adrenaline that doesn't really compare to anything else. It's just the satisfaction within itself to be able to feel this adrenaline flowing through your body and burst it all out when you win. To have all your teammates shouting and cheering on themselves it's just really exciting and also, to have the person you're facing across from you is something that's complicated but it's just part of this tournament and it really fills up for anybody who is as competitive as me"

Leviatan Shyy
Leviatán advanced to play the loser of Paper Rex and Fnatic in the lower bracket quarterfinals. For XSET, all hope is not lost. Despite the result, XSET secured the last qualification spot for Champions via winning Stage 2 over OpTic. However, the wait between now and Champions is going to be painstaking long. With only the memory of what could have been if they close out Haven to keep them company.
Leviatan will play next on July 19th at 11am PST