Geo "Geo" Collins takes a dive into what lessons VALORANT can learn from North America's approach to talent development in the LCS. (Featured Photo by Colin Young-Wolff/Riot Games)
North American esports fans have had it hard over the years. While regions such as Europe and Korea have only grown their arsenal of young, outstanding talent, NA has always seemed to linger in the background, with a handful of prodigies and a large budget for foreign imports.
But the tides may be turning for NA talent development, and we could find VALORANT leading its charge.
Perhaps one of the most guilty esports for the issue of poor North American pedigree is League of Legends, where the League Championship Series began 2022 with just 39% of its players being native to the region.
But VALORANT, whose competitive life began strongly for NA, could curb this trend. It may just have to take some notes from its Riot sibling's history.
Guest Columnist: Commentator Geo "Geo" Collins at VCT Champions Tour 2021 (Photo by Colin Young-Wolff/Riot Games)
It is no secret that the LCS has received its fair share of criticism over its lifetime for the quality of its North American talent development. A North American team is still yet to ever win Worlds or MSI, and until the 2022 season, you'd have to look back to the era of 2015-16 CLG to find an LCS-winning team that contains more than three North American players.
The arguably most popular current LCS franchise player is a European with a resident status, and for many, the import culture of the LCS is a contributing factor to their increased interest in alternative leagues, such as the LEC or LPL.
It all starts with the format
The truism that LCS teams love to import players is not new, but it is one which Riot has tried to combat over the years.
The introduction of the franchise system was in part expected to encourage the development of native NA players, but even the fresh new Academy spots were getting filled by European and Korean imports who didn't quite make the cut for their organization's main roster.
The 2021 overhaul of the Academy system to combine its circuit more closely with the Amateur one was not a bad idea, but the Champions Queue that came alongside it still only predominantly served players on the West Coast - a problem which had previously led Riot to moving their primary NA server to Chicago in 2015.
While NA-based aspiring pros have struggled for these opportunities to prove themselves, players across the pond have enjoyed the luxury of the European Regional Leagues. With the continent being split into regions, each with their own leagues, promotions, and most recently pro-ams, the best teams come together at the coveted EU Masters event.
The reps and depth of experience afforded by this system has been pivotal in growing European talent - with names like Targamas, Flakked, Larssen and Trymbi making up four of the ten ex-ERL players to attend Worlds or MSI in the past year - and has dwarfed the limited chances available for North American hopefuls who have not yet proven themselves to the LCS Academy system.
Sometimes risk is the best path to Reward
Naturally, if you're an NA-based org with very deep pockets, it can seem less risky and more rewarding to shill out for proven foreign superstars. Team Liquid acquiring Bwipo and Hans Sama, for example. Or perhaps Cloud9's signing of Perkz - an acquisition which proved to not be as superteam-defining as many would have liked.
In fact, the reason the recent success of Evil Geniuses has been so notable is because of their choice to develop risky young NA talent, and even go as far as to drop their Italian mid laner after his best season performance, for an inconsistent, aggressive 17-year-old Canadian kid.
It was a decision that, for many, seemed potentially too much of a gamble. Especially with their regular season record taking them just one map loss away from missing playoffs.
But in a miraculous sweep through the lower bracket in front of a roaring audience, Evil Geniuses became the winners of the 2022 LCS spring playoffs, and with it incited hope to a community who were rapidly losing faith in North America.
It would seem that a little bit of belief, encouragement, and nurturing can go a long way when looking to raise the next generation of talent. And this is something which I hold a lot of optimism for when it comes to VALORANT.
VALORANT's 2023 format may have the answers
Valorant is a significantly younger game than League of Legends, and its lore and history cap off at two years. But any fan could tell you that NA VALORANT dominated the early successes in the esports scene, with Sentinels' lossless run at Masters 2 in Reykjavik last year still being a significant point of pride for the region.
Despite a lull over the latter half of 2021, NA came back once again as strong as ever to win Masters 1 in Reykjavik this year. To imply that NA is weak or suffering in Valorant would be incorrect.
NA's Sentinels winning VCT Masters Rejkjavik 2021 (Photo by Colin Young-Wolff/Riot Games)
But the proposed 2023 competitive format looks like it could be the answer to strengthening the grass roots growth of native NA talent. The foreign imports in NA Valorant may well remain anomalous as the system spits out North American stars.
The Path to Pro and Domestic Leagues, as outlined in Riot's announcement, look to treat North America as a super region comprising many subregions - the very system that serves the European Tier 2 scene so well. Rather than funnelling all aspiring NA players into a central format that rewards just ten teams, as is done in NA League of Legends, it should allow more teams to gain reps and develop in their respective subregions.
For Valorant, the Path to Pro and Domestic Leagues represent the bottom two tiers of their streamlined system: the Path to Pro being an open in-game competitive mode, allowing anyone the chance to qualify into their respective Domestic League, which is based upon the current European VRLs, or League's ERLs.
This means constant chances to compete thanks to the ladder system, where players don't risk ultimate elimination from the format if they fail to climb. And while players can take those opportunities needed to develop, the best teams will rise through the system, a thorough and colorful wealth of experience to accompany them in their growth.
Evil Geniuses are the cultural reset
It will also hopefully encourage more orgs to follow in the footsteps of Evil Geniuses, and take risks on promising prospects that emerge from the woodwork. While they are not the only LCS team to have brought on North American talent in the last year, they are the only ones whose decision making was considered particularly controversial and risky.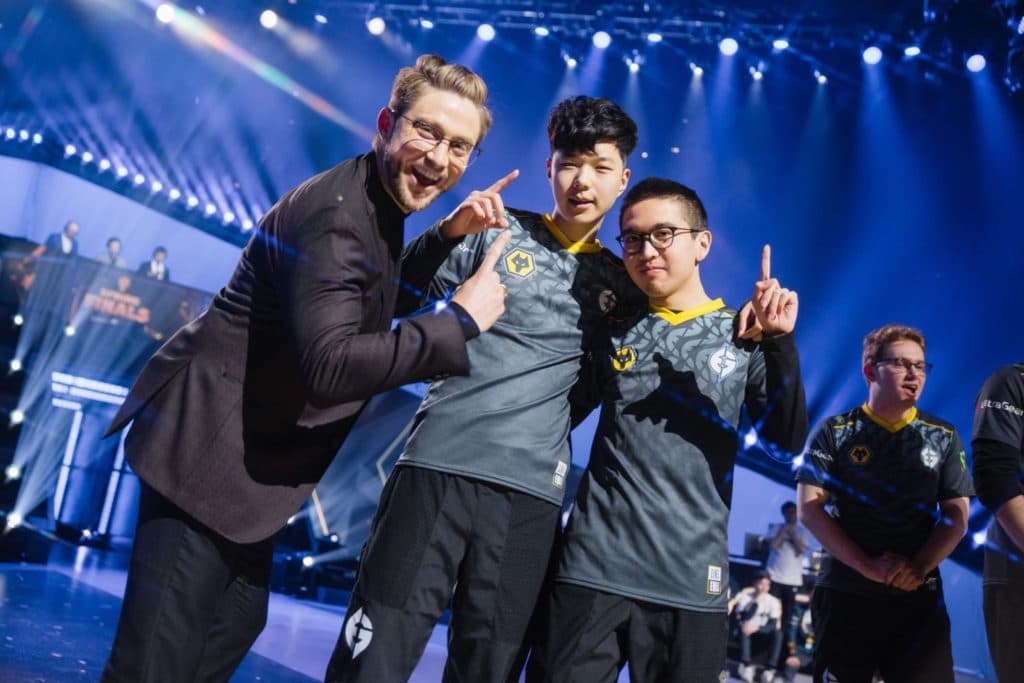 Evil Geniuses' approach could be a blueprint for a cultural reset (Photo by: Tina Jo/Riot Games via ESPAT)
The signing of 17-year-old amateur Danny to replace veteran Deftly landed the bot laner LCS Rookie of the Year 2021. The investment into the 17-year old ranked star Jojopyun was already paying off. The LCS prodigy showcased his skills at MSI 2022, taking on the best mid laners in the world, even proving to be a match for Faker at times.
By absorbing them into teams that can provide veteran guidance and leadership, while giving them the space to grow and develop, it has seemed the perfect way to nurture the native talent options. It is a story that closely resembles that of Valorant's The Guard, whose Trent and neT could lie parallel to Danny and Jojopyun; but it is a story that will hopefully grow, rather than diminish, in abundance.
The Path has been set for the players of tomorrow
North America is a region that has been through more criticism than most in its storied esports history, and for me the answer has to be not only in the grass roots development of talent, but also the trust in those rookies to help raise the flag once more.
VALORANT is a young esport with an opportunity to improve the approach to developing NA talent; it is entirely possible for success to remain endemic to the players of North America.
There is a lot for VALORANT to have learned from the long life of League of Legends, and all orgs should be drawing inspiration from the path taken by Evil Geniuses to combat the import problem.
It is an ever-changing, ever-growing system which is constantly learning - and they are lessons to sow the seeds for champions to grow on home soil once again.