The dark horses of Group D, Korean second seed F4Q are oozing with confidence as Masters Berlin dawns. They are in Group D with G2 Esports and Sentinels.
In a tournament with a single heavy favourite, Sentinels, being placed in their group might seem to be a disadvantage. Sentinels headline Group D, alongside Europe's fourth seed, G2 Esports. Korea's second seed, F4Q, have sometimes been left out of the discussion. But F4Q aren't taking this as an early setback. Rather, it's an opportunity.
"Whenever we competed in a tournament, we always set ourselves a goal," said Yoo "FiveK" Sung-min in a translated quote during the pre-Berlin press conference. "When we first started competing professionally, our goal was to topple Vision Strikers' winning streak. During Stage 2, we accomplished that. During Stage 3, our goal was to come to Berlin, and we've accomplished that. As for our goal in Berlin, our goal is to defeat Sentinels."
Group D
To learn more about the mindset of the team, and how they're turning their misfortune into a chance, we have to look at the team's history.
From humble beginnings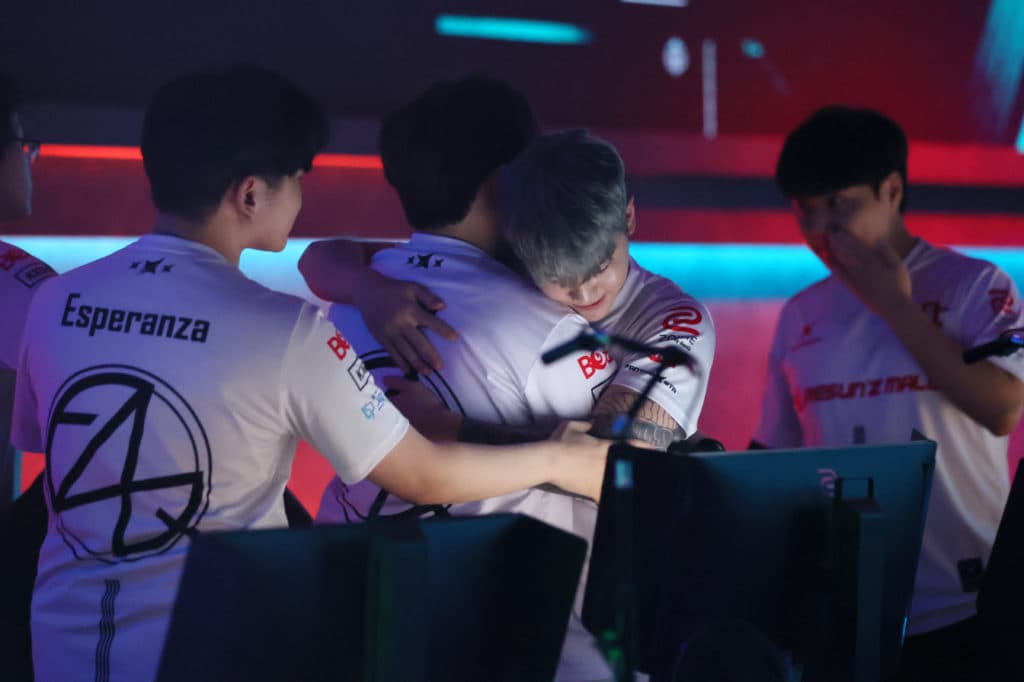 F4Q celebrate after defeating DWG KIA to qualify for Masters Berlin. Image credit: Riot Games Korea.
F4Q have one of the more unusual stories in VALORANT. They aren't some big-budget organization pooling together star talent, such as 100 Thieves. They aren't a beloved lineup from a smaller region trying to make a splash, like ZETA DIVISION. Rather, they began as a streamer team.
They formed for First Strike Korea, with the goal not of winning but of grabbing content for their audiences. With big followings on Youtube and Twitch, the original idea was content first. But as time went on, it became clear that the team could be more than that. So FiveK and Kim "zunba" Joon-hyuk went to work.
In Stage 2, F4Q became the first team to ever defeat Vision Strikers in a match. Previously on a massive 104-0 streak, it marked a turning point in Korean VALORANT. F4Q became household names instantly, but didn't quite find the results to back it up, falling out in the quarterfinals.
For Stage 3, they made one of the more high-profile roster moves in Korea by bringing in Jeong "Esperanza" Jin-cheol, formerly of Rio Company. The Sova main solidified the lineup, and F4Q proved themselves among the best in Korea. Eventually, they'd place top two and secure their Berlin spot.
F4Q's goal and outlook ahead of Berlin
F4Q exit the stage after map 1 of their Stage 3 quarterfinals match against GochuGaru. Image credit: Riot Games Korea.
F4Q were originally set to face Bren Esports in their opening match, a game they'd be heavily favoured in. However, Bren were forced to drop out of the tournament due to visa issues. This left Group D with three teams, a problem Riot solved by changing the format. Group D will play a double round-robin, while all the other groups play as planned. And this wasn't the only last-minute change F4Q had to endure. They had a North American sponsor lined up for the tournament and possibly beyond, but the deal fell through at the last minute.
All this leaves Sentinels as the clear favourites to win Group D. Most are pinning G2 for second, but expecting things to be close. For F4Q, though, it's just part of their comfort zone.
"We're not nervous or worried at all," said FiveK, "Because if you look at the careers of the players on our team, I feel that we're not behind when faced up against any other team, and we're pretty confident that we'll do well."
During the press conference, FiveK stated that their goal was to defeat Sentinels. Far from hindering them, the new group format simply gives them another shot at doing just that.
"We don't have any particular complaints [about the format], but I think it's a good opportunity because we have a chance to beat both teams twice," FiveK said.
F4Q will play G2 on opening day of Masters Berlin. It should be an incredibly close match and an excellent first test.
---