DRX spring to life in win over LOUD in their opening match of Group D at Champions LA
LOUD get their title defense underway in a huge match against DRX at Champions LA.
We have one heck of a game on our hands here to kick off Champions LA in the form of DRX vs LOUD. This is a match you will not want to miss. Which is why we are here to bring you all of the action as it happens in real time.
DRX

LOUD

LOUD (15 - 13)
Lotus

DRX (13 - 6)
Split

DRX (13 - 8)
Ascent

(2 - 1)
Final scores for DRX vs LOUD VCT Champions LA 2023
DRX face LOUD in epic encounter at Champions LA
Things have been a bit testing at times for both DRX and LOUD. At one point they were seen as the best teams in their respective regions, having dominated during their respective league seasons. But they both hit a bit of a rough patch during Masters Tokyo, which saw them make an early exit from that tournament.
LOUD came out on top against DRX the last time these two sides met; a 3 - 2 victory at LOCK//IN back in February. Their losses to Evil Geniuses and EDward Gaming was a surprise to say the least. Nevertheless the Brazilian side remain a strong favourite to defend their Champions crown here in Los Angeles. Especially as they are, technically speaking, one of the home teams at this tournament. Whereas the same can't really be said for DRX.
At the start of the season DRX looked untouchable in the Pacific League, as they didn't lose a match until the final week of league play; a 2 - 0 loss to Team Secret. Since that defeat things kind of went in a predictable fashion for DRX as the quality of their performances began to decline a bit. As was the case when they were dumped out of Masters at the hands of Paper Rex and NRG.
But, given the lengthy amount of time out of the limelight following their elimination from Masters, we are left to wonder whether or not the real DRX will come out to play today. Especially given that they are in the, accurately titled, "Group of Death" here in the city of angels.
DRX VALORANT Roster: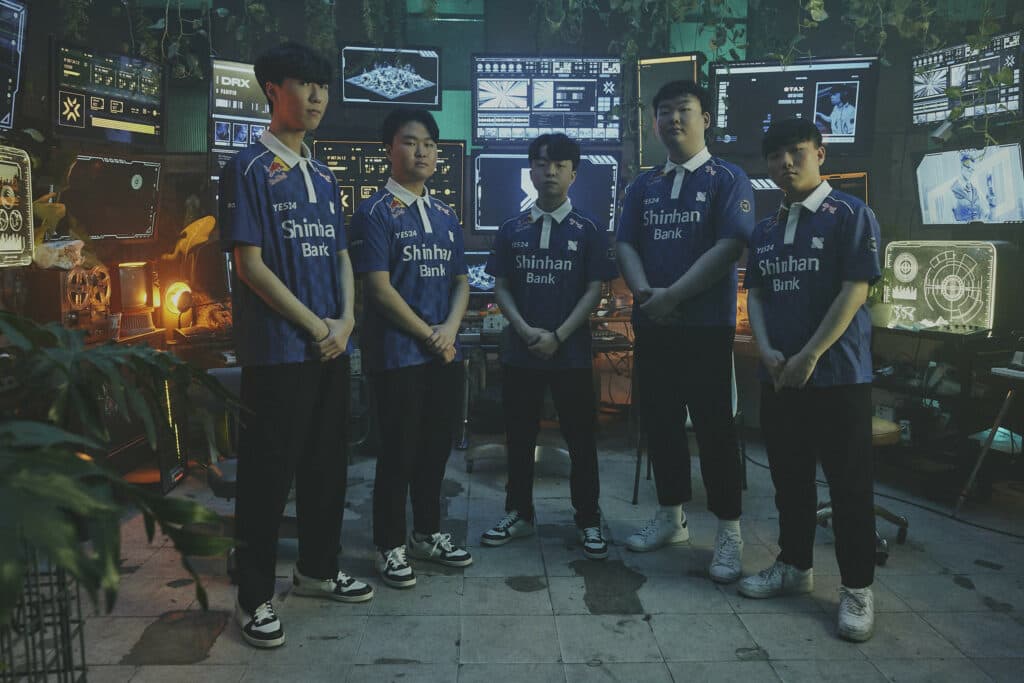 DRX VALORANT Roster VCT Champions LA 2023 (Photo by Lance Skundrich/Riot Games)
Kim "stax" Gu-taek (IGL)
Goo "Rb" Sang-min
Kim "Zest" Ki-seok
Yu "BuZz" Byung-chul
Kim "MaKo" Myeong-gwan
Jung "Foxy9" Jae-sung
LOUD VALORANT Roster:
LOUD VALORANT Roster VCT Champions LA 2023 (Photo by Colin Young-Wolff/Riot Games)
Matias "Saadhak" Delpietro (IGL)
Erick "Aspas" Santos
Felipe "Less" de Loyola
Arthur "tuyz" Andrade
Cauan "Cauanzin" Pereira
LOUD overcome strong showing from DRX on Lotus
We begin this match with a trip to Lotus for map 1, curtesy of LOUD. Both teams go for mirrored double-controller compositions consisting of Omen and Viper.
Less picks up a 3k to give LOUD the first pistol round of the map. They manage to clutch up on their anti-eco, despite Stax's best efforts. The lead continues to grow for the Brazilian side as they brush aside DRX's attack pushes. An early thrifty round win provides DRX with a platform to get themselves into the game. And the Korean side are able to take full advantage of it as they take the fight straight to their opponents. A change which appears to fluster the LOUD players a bit, allowing DRX to take complete control of the map. With Stax and MaKo rising to the challenge for their team. LOUD are able to disrupt the DRX's streak, but the Korean side still come out ahead of this first half 7 - 5.
LOUD secure the second pistol round, as well as their anti-eco, to provide themselves with a gateway back into the map. DRX manage to deny LOUD their bonus round after a very scrappy contest. DRX manage to crack the double-digit mark on the map thanks to some excellent utility usage on their defensive side. Stax continues to set the standard for his side, with RB and Zest joining in on the fun. LOUD reach the 10 point mark as well and look to close in on DRX's lead again. And though RB and Zest manage to get their side to map point through some heroic displays, those efforts go in vain. Allowing LOUD to tie things up again and send Lotus into overtime.
Less gets it done for LOUD in Overtime
Overtime proceeds in a similar vain to regulation time did. Both sides come out strong on their attack rounds which sends the game into a second set of overtime rounds. LOUD reach map point at 14 - 13 thanks to a solid site retake orchestrated by Aspas and Less. It was a strong showing from DRX all map long, and they certainly looked like they were going to snatch it away from LOUD. But unfortunately for the Pacific League team, it just wasn't meant to be. And with one final rattle of Less' rifle, LOUD were able to close out Lotus 15 - 13, giving themselves a 1 - 0 lead in the series.
MaKo dons his cape for DRX on Split
After faltering at the final hurdle on Lotus, DRX bring us over to Split for map 2 of this series. DRX opt to continue with their double-controller composition from the first map, with the key difference being Stax's Skye. Whereas LOUD make the surprise choice to move away from their typical double-duelist composition, opting to go for a double-initiator combo of Breach and Skye instead.
DRX take the first pistol round of the map to get things going on their defensive side. But respond with an impressive eco-round and their bonus as they take an early 2 - 1 lead. DRX stand strong on their defence, despite a less than stable economic situation, and, with a little bit of madness from Zest, they are able to put themselves back on top at 5 - 3. Though LOUD are able to get a fourth round on the board, DRX continues to rock the boat with another solid display of utility usage, and a high-flying performance from Buzz. All of which culminates in DRX taking an 8 - 4 lead into the halftime switch.
DRX come up clutch in the second pistol and are ruthless in their approach to their anti-eco as they eclipse the 10-point mark. Less comes up with the goods for LOUD to deny DRX their bonus, but it proves to be a costly endeavour. But as DRX notch their eleventh round win on the board, LOUD finally begin to show their fangs again as they creep towards tying things up. A huge moment from MaKo and Zest gets them to map point. And MaKo comes up clutch again in the succeeding round, with a cameo from Stax, to ensure DRX close out Split 13 - 6 to tie the map up at 1 - 1.
RB does not waver against LOUD on Ascent
Following DRX's phenomenal bounce back on Split the teams head on over to Ascent for the third and final map of this series. DRX go for a standard double-initiator composition. But LOUD decide to pull out a surprising double-controller, double-initiator composition, with Saadhak busting out a Breach.
RB pulls off a miraculous 3k defuse clutch to give DRX the first pistol round. LOUD convert on the next two rounds but a 4k from Zest keeps them locked together at 2 - 2. The madness continues from both sides, with DRX holding a slim lead at 4 - 3. Less comes up with a 4k to tie it up again, only for DRX to come up with a big thrifty win to put LOUD's economy into the dirt. LOUD almost manage to pull one off of their own but DRX continue to ramp up the aggression on their defence, with the Brazilians struggling to come up with a reply. Leaving DRX to secure an 8 - 4 lead to take with them into halftime.
LOUD take the second pistol round of the map to reinvigorate themselves on Ascent. They convert on their anti-eco as well as their bonus to put DRX on the backfoot for the first time in this series since Lotus. RB pops up with another 3, followed by a crucial kill from Zest as DRX hit double-digits on the map at 10 - 8. The Korean side reaches match point at 12 - 8, leaving LOUD in a desperate state. The Americas League side attempt one last stand on their defensive side. But they found themselves up against the final boss of RB once more, and he delivered the goods for his side yet again. Leaving DRX to walk away with a 13 - 8 win on Ascent and 2 - 1 overall.
How to watch DRX vs LOUD Champions LA?
We are at the business end of the 2023 VCT season. Sixteen of the best VALORANT teams from around the world have come together in the city of Los Angeles as they fight for the right to be called Champions. Fans who wish to watch the DRX vs LOUD match at Champions LA may do so be heading to the VALORANT Twitch and YouTube channels.
You can also tune in via the embedded stream link down below for those who don't wish to click off of this page.
Head on over to our Champions LA hub for all of the latest news from across the tournament here at esports.gg.