VALORANT in Japan is booming and DRX are building a Japanese-based Game Changers roster. DRX Dori is the first piece of the puzzle.
Success in VALORANT is nothing new to DRX. Their South Korean Valorant roster placed third in the VCT Champions 2022, and was responsible for eliminating two fan favorites; Fnatic and Team Liquid. However, with the new season comes a new project: Game Changers. The org has already recruited their first player, DRX Dori, but they are in no rush to complete it.
Keen to make a similar mark on the female Valorant scene, DRX is on a mission to build a world-class Game Changers team and has chosen Japan — not South Korea — as their home battleground. At first glance it might seem an unusual and relatively innocuous decision, but as we find out its part of a smart strategic play by DRX to ride a Valorant wave that is currently hitting Japan.
Valorant is booming in Japan
To better understand what DRX are trying to do with their Game Changers team, it's important to understand just how popular Valorant is in the country.
In the past, Japan's biggest claim to fame in esports was in the fighting game scene (FGC), with players such as Daigo and Tokido dominating the scene in their primes. The pair still compete today, and while the duo are among the "Five Gods" of the FGC, Japan's power now extends far beyond the arcade.
Apex's PULVEREX for example were third in the $1 million Split 2 Playoffs in Sweden in May, and somehow still managed to place top 25 out of 40 at ALGS Champs despite eventually playing as a duo in a trios tournament. TSM's Apex social media team also realized the value of tapping into the Japanese market for Apex Legends.
However, it's not just Apex Legends. ZETA Division's performance at the VCT Masters Reykjavík in Valorant also made a huge impression, and ironically they were the team to knock out DRX. ZETA Division went on to place Top 3, the highest-ever finish for a Japanese team in a major FPS title. Their run also made national television in Japan, triggering an even bigger surge of interest in Valorant.
The number of streamers on Twitch for Apex Legends and VALORANT in Japan dwarves that for CS:GO (Image created for Esports.gg)
"When I bring back the experience that I have achieved here in this tournament here to Japan, I really believe this will raise the competitive bar in the Japanese region," said ZETA's Dep in an interview during the event.
The number of streamers streaming VALORANT is increasing drastically, even when compared to other regions (Image created for Esports.gg)
Japan's growing interest in Apex Legends and Valorant content compared to the non-existent interest for CS:GO makes a lot of sense. Japan's interest in the FPS esports scene is very new, and trying to catch up on a decade of competitive CS:GO history is much trickier than following a game from its beginnings.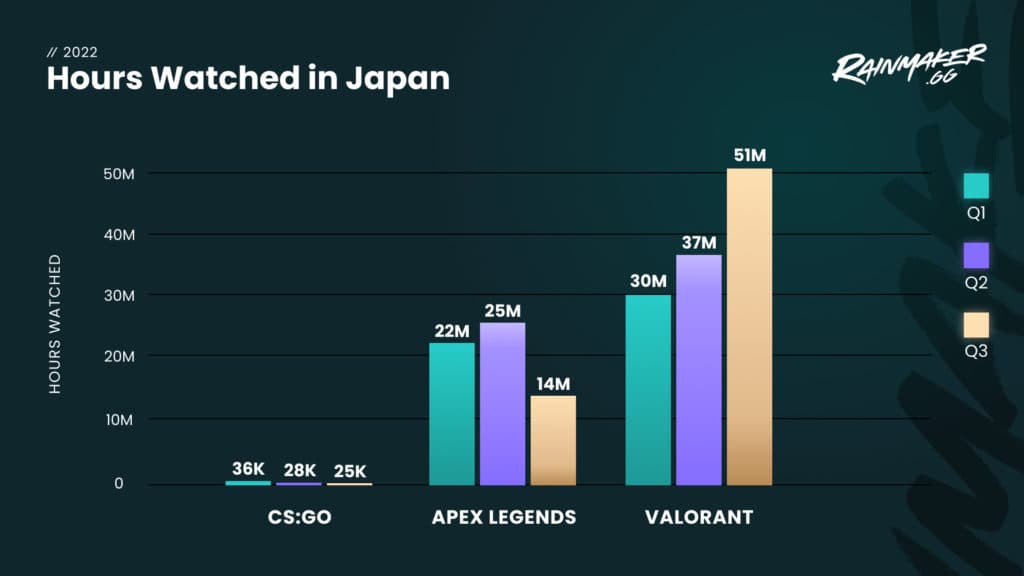 Interest in VALORANT is booming on Twitch in Japan, tripling the viewership of Apex Legends in Q3 2022 (Image created for Esports.gg)
According to stats provided by Rainmaker.gg (above), Valorant amassed 51 million hours watched in Q3 this year, triple that of Apex Legends.
Sold out event in Tokyo
A testament to the title's popularity in Japan is the two-day Valorant Rage 2022 Autumn event which was held in the Tokyo Garden Theatre back in October, a theatre hall capable of accommodating around 8,000 people. "Tickets for the weekend sold out in three minutes," said Tsuneaki "Buddha" Takeda, DRX's Director of Business Development. "I'm serious, Valorant is massive in Japan."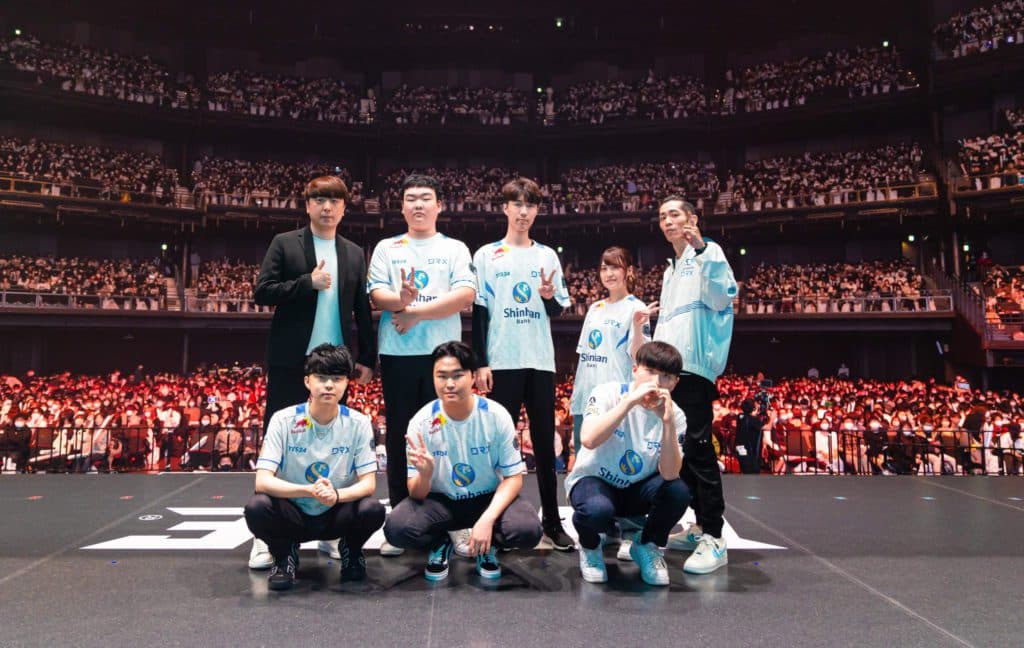 DRX on stage at the VALORANT Rage 2022 Autumn event
The event was part of a combined effort between South Korea's DRX and Japan's ZETA Division. Day 1 saw 15 of the best Japanese Valorant streamers take the stage. On Day 2, pro players from South Korea and Japan were split into four teams for an all-star match. Among the competitors were VCT Champions bronze medalists DRX's Buzz, stax, and Zest. A total of 13,000 visitors came through the doors of the Tokyo Garden Theatre, a staggering number.
The Valorant Rage 2022 was also noteworthy because it marked the first public appearance of Yume "Dori" Suzuki as a DRX player. Dori is the first member of DRX's female VALORANT team being built to participate in Game Changers. A team that DRX are taking its time to build.
Building a Game Changers team
On top of being the first member of DRX's female Valorant team, Dori is also the only member. The former G Star Gaming player is Ascendent 3 with over 1,000 hours of Valorant under her belt and is used to being in the spotlight.
The 26-year old Japanese streamer has appeared on Japanese TV, and has juggled her media work with streaming and grinding ranked. She is an endemic Valorant creator, and recently appeared as an analyst in the Cynthia Valorant Vol.2.
DRX's choice to compete in Game Changers in Japan is a smart one. The game is thriving, there's a passionate fanbase looking for a team to back, and it's a great market for DRX to continue expanding into.
Once the decision was made to form a DRX team in Japan for Game Changers, signing Dori was first on the agenda.
"Once the offer came from DRX, there was no way I could refuse," said Dori to Esports.gg. "I was already a big fan of DRX, and knowing they didn't have a Game Changers team yet, I knew this would be an immense opportunity that I wanted to grab."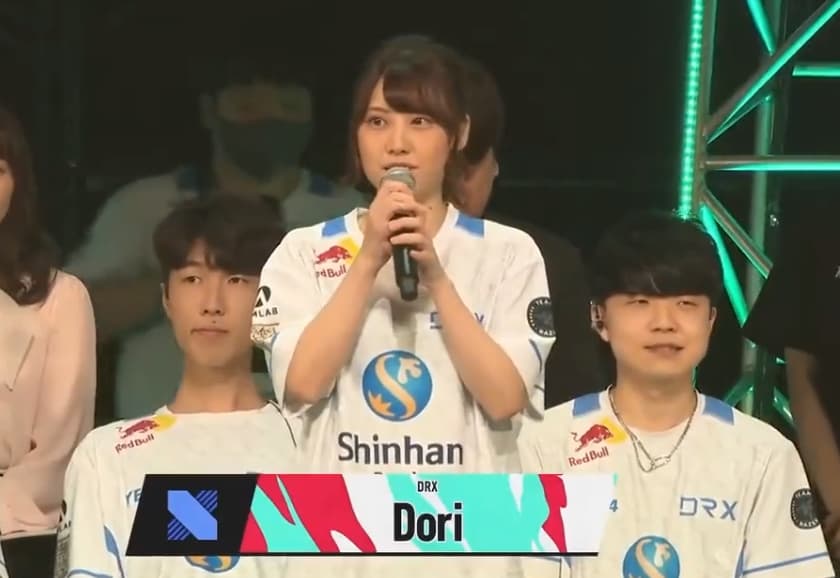 Dori, whose childhood ambition was to be a childminder, is now focused on being a full-time pro.
"The biggest thing that's change since joining DRX is my mindset," said Dori. "If I want to be a pro, I need to act like one. I've started waking up early, going jogging, taking care of my eyes, and practicing more. I may not yet have official teammates, but I want to make sure I'm ready when the time comes.
"I'm honored to be first DRX female player, but obviously a lot of pressure comes with it! I will try my best, and I'm looking forward to Game Changers."
DRX Yume "Dori" Suzuki on stage in front of 8,000 people at the Tokyo Garden Theatre
For 2022-2023, Riot Games have placed increased emphasis on the Game Changers program, a program aimed at increasing exposure for women and marginalized genders.
Since the arrival of Game Changers, Dori was quick to mention she has noticed a huge increase in the amount of female players playing in Japan. "The skill level of the female players has also definitely increased," said Dori. "Game Changers is a great place for female players to be recognized and I'm incredibly happy it exists."
"With the conditions in Valorant right now, it has been hard for female teams to compete and gain experience. It's difficult to compete with male players, not just because of skill, but also mentally."
Haters are common, and Dori strictly sticks to solo queue exclusively when she streams and plays. Dori describes her Twitch chat as a "happy place" but mentions it's common for teammates to jump in her Twitch chat and try to bait a reaction posing as viewers, or for her enemies to stream snipe her.
Regardless, DRX's newest recruit is unfazed. "I have fans and viewers to entertain, that's more important to me than haters," said Dori. "I'm going to attract a lot of hate for being female regardless, my motivation is to shut those haters up. Sometimes you can be like 10-1 down and the enemy team starts to flame you, then you somehow flip that score around. That's a good feeling."
After being announced as DRX's newest recruit, Dori was presented to the audience of the Tokyo Garden Theatre.
"I realized I've never been that nervous in my whole entire life!" said Dori laughing.
Finding Dori a team
Applications to join the DRX Game Changers team were open to the public, and interestingly there was no minimum competitive rank required to be eligible. The approach to recruiting was decided by Tsuneaki "Buddha" Takeda, DRX's Director of Business Development.
"There's always Fake Radiants and fake ranks," said Buddha. "Setting a minimum rank wasn't a logical idea in my mind, and I wanted everyone to have the opportunity to tryout to make the team. The door was open to everyone, any nationality, any rank."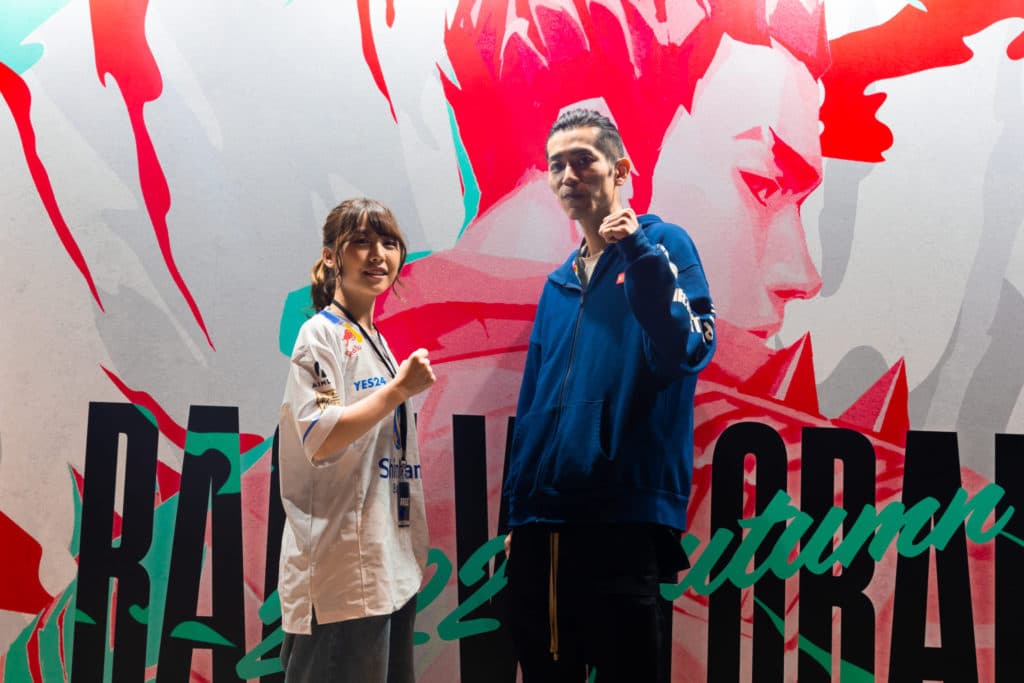 DRX Dori and Buddha at RAGE VALORANT 2022
DRX received over 150 applications from prospective female players. "We had a lot of applications from South Korea, China, and Japan so far," said Buddha. "We've narrowed it down to just 15, and soon we'll reduce it even further."
It's fair to say that Buddha, the man responsible for deciding the roster and ultimately its success, is optimistic.
"I am making the best Game Changers team in the world right now. We have top talents from South Korea, Hong Kong, and Japan. The DRX team is looking way better than I expected," said Buddha.
"I have high hopes for my team in the next international event. I'm honestly having a hard time picking five, since there are too many good prospects, but it's a good problem to have."
Keep an eye out for DRX's Game Changers team, we definitely will be.