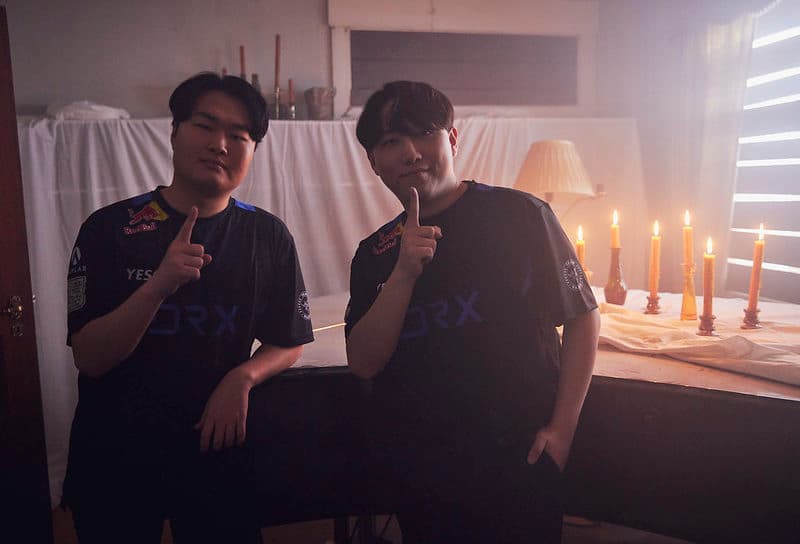 DRX BuZz: "If teams are unable to utilize Chamber on these maps, they are falling behind the meta"
NiP players also talk about their match against DRX, but are raring to go against Fnatic (or any opponent) next.
Going into VCT Champions Berlin, DRX, then Vision Strikers were considered one of the favorites to win the entire event, definitely a favorite to get out of the group stage. Despite the confidence before the start of the event, Vision Strikers fell to Fnatic and later Cloud9. It was a difficult pill to swallow, but they still held their heads high, losing to very strong opponents.

Fast forward to 2022, and the players, now under the DRX org, are looking to reclaim that glory in the first Valorant Masters of the year. So far, they have been undefeated in the group stage, cruising over first Zeta Division and today, NiP.
---
DRX is the first team to make it to the playoffs at VCT Masters Reykjavik.
The win against NiP was significant, especially after NiP's strong performance against Fnatic yesterday. Coming in as an unknown entity in the VCT Masters, NiP surprised Fnatic with their aggressive playstyle. But that did not affect DRX who won the series 2-0 (13-4, 13-8)
I think they are really organized technically and even in the initial strategies, they don't throw away their resources. They are really well-trained and they are a level above because of it. Technically, strategically and in terms of saving resources as well.
NiP coach, RoY
DRX showed utmost control and resilience as they dismantled the NiP team. The Brazilians will now have to win the Group A elimination match if they are to make it to the playoffs.
For NiP, after a fabulous showing against Fnatic, they crashed against DRX. The team's performance was partly due to them focusing more on DRX instead of their own gameplay, according to the team's coach.
I believe that initially we thought more about their games than ours. We took some bad decisions because we were nervous. We took those bad decisions in wrong situations. Everytime that happened, it surprised us. I believe that's what happened in Fnatic's game.
The VCT Masters meta ft. Chambers
One of the biggest talking points of the VCT Masters meta has been centered around Chamber. The newest Valorant agent has struck up commanding performances and teams that pick the agent have been very successful. When asked if he thinks Chamber is the stronger agent in this event and if teams that play Chamber are significantly ahead, DRX BuZz agreed and said teams that do not utilize Chamber are falling behind in the meta.
"I think you are right in your comment about the meta and Chamber. There are definitely maps where Chamber is very important." DRX BuZz agreed. "If teams are unable to utilize Chamber on these maps, they are falling behind the meta. I think it would lead to poor results, not only in this tournament but also future tournaments."
NiP's xand, however, had a contrasting opinion. While he admitted Chambers is a very strong agent in the current meta, he does not think that not playing Chambers is a massive disadvantage.
"I believe Chamber is strong in the current meta," said NiP xand. "But even though teams don't have a strong Chamber player, there are other agents that are as strong as Chamber."
Looking Ahead at Fnatic: DRX BuZz vs NiP bnj
Fnatic lost to NiP in their opening match. The EMEA team is playing VCT Masters Reykjavik with two new players. Image Credit:
Fnatic
.
Despite the early loss to NiP in the opening match, Fnatic is still one of the favorites to make it out of the groups. The EMEA team's experience is a huge advantage for the roster, said DRX BuZz right after their victory over NiP.
"I think because Fnatic is a pretty high-seeded team coming out of EMEA and because they have a lot of experience, they will be able to beat Zeta division. And then that means they would be playing NiP again. Although they lost (their) last game against them, I think they would be able to overcome them in the elimination match. I think we will be able to see them in the final match."
Fnatic has had a lot of problems coming into this event. They are playing with two new players even as there is no clarity on Derke's health and avialability for the tournament. Meanwhile, the team has been focusing heavily on improving the synergy and covering the basics.
"The team will always focus on what they will do and not what the other team is. Derke is just another duelist and they will lay against him as such. To be sincere, when they were playing against Fnatic, he just realized Derke was not there just before the match and not after. This is how important it is to them who their opponents are."
BNJ