The VCT Masters NA are underway and loan player Tenz is already making headlines. Catch up and get informed what's coming up in the $150,000 event.
The VCT Masters NA are in full swing and four teams already find themselves fighting for survival. Immortals and Luminosity ran into trouble in their quarter-final matches in the form of Sentinels and 100 Thieves. Meanwhile, Gen.G and XSET who surprised in the Challenger events, were also shown the door to the lower-bracket. Chris "Puckett" Puckett filled us in on the story so far and the action yet to unfold over on Twitter.
VCT Masters NA Semi-final matchups
Formidable Faze Clan face Team Envy after crushing XSET
For Faze Clan their semi-final encounter with Team Envy will be their first real challenge. Faze Clan breezed past XSET in the quarter-finals winning 13-6 and 13-3. In comparison Team Envy, who were heavy favourites for their match versus Gen.G Esports, had a close call. After going one a piece over the first two maps, Team Envy and Gen.G were tied 9-9 on Bind in game three.
The series was much tighter than anticipated but Team Envy kept their cool to avoid a shock result. Two successful plants by Team Envy in rounds 20 and 21 followed by a very convincing team wipe in the 23rd round saw them secure a 13-10 win and a spot in the semi-finals of the VCT Masters NA. Team Envy's duelist Victor "Food" Wong and Austin "crashies" Roberts continue to impress.
Sentinels with "very scary" TenZ to clash with 100 Thieves
In the second semi-finals First Strike champions 100 Thieves face up against Sentinels, who are competing with a new face. 19 year-old TenZ recently joined Sentinels on loan following Riot Games' suspension of Jay "Sinatraa" Won as they conduct their pending investigation into sexual assault allegations. Given Sentinels circumstances they were granted an exception to the roster lock rule.
Tenz, who previously played for Cloud9 blue, is a "very scary" addition to Sentinels according to Team Envy's Jake "kaboose" McDonald. Kaboose told DotEsports the teenager's career and ability to carry his previous team meant he was "regarded by every pro as the number 1".
In Sentinel's first VCT Masters NA match against Luminosity, TenZ lived up to his reputation and hit the ground running. For instance, in the third game on Icebox as Reyna, TenZ went 27-15-9, racking up a staggering average combat score (ACS) of 427. One commentator went so far as roaring "this is HIS world! And we're just living in it!" How will Tenz stack up against 100 Thieves in the semi-finals of the VCT Masters NA? Well that will definitely be a match worth watching live.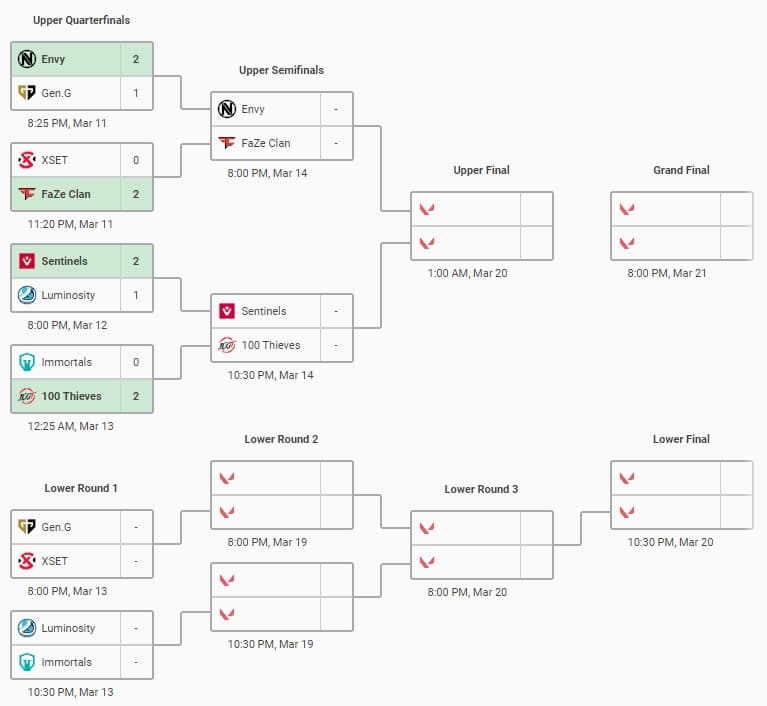 The playoff grid with times in GMT. US timezone info below (Image courtesy of VLR.GG)
Schedule
Saturday 13th March - Lower-bracket Round 1
Gen.G vs XSET: 2pm CT
Luminosity vs Immortals: 4:30pm CT
Sunday 14th March - Upper-bracket semi-final
Team Envy vs Faze Clan: 2pm CT
Luminosity vs Immortals: 4:30pm CT