DRX BuZz spoke on his dominant numbers on Chamber, his confidence level after falling to On Sla2ers and his aspirations to conquer the world. 
In the world of Valorant esports, there's few names in the scene as dangerous as DRX's Sentinel main Yu "BuZz" Byung-chul. He sits atop virtually every meaningful statistic in the VCT Korea group stages, and has proven to be one of the most effective Chamber players in the game. BuZz spoke on what's enabling him to top-frag on every map for DRX, his confidence level after falling to On Sla2ers, the LAN experience, and his aspirations to conquer the world.
For BuZz, there's no mystery as to how he's become one of the fiercest talents in Korea. It's a mix of his immense skill and endless amounts of practice.
Switching off entry Duelist to Chamber
The practice is paying dividends for DRX, who currently sit in second place at 4-1 in VCT Korea group stages. During the five weeks of play, BuZz has truly put up dominant numbers on Chamber and a few maps of Astra. He leads in Attack Combat Score, Average Damage per round, kills per round, and of course, clutch success rate. He's firing on all cylinders, partially due to Chamber meshing perfectly with his skill set.
"Chamber, in my opinion, is quite an OP character and I think it fits my playstyle very well," said BuZz, as he went on to credit his teammates. "Also, my teammates are extremely talented and I believe they're in pretty good form right now and all these things come together. It boosted my own stats."
BuZz rightly gives credit to his teammates for his excellent performances early in 2022, but the switch to the sentinel role has allowed him to play more to his style and pacing. In 2021, he primarily focused on the entry role with Jett and Raze, and he took those duelist lessons and applied them to Chamber.
"First of all, after moving to the sentinel position and away from the duelist position, quite frankly, I'm able to taunt the enemy a little more and make myself more of a target for my own chess piece so that I can control the play," said BuZz. "I think my own aggressive style coming from the duelist position is much more controlled and laid back. It fits more with the tone of my playstyle."
DRX BuZz: "We weren't really thinking of them as a fierce adversary and it wasn't a match we thought we would lose."
Now despite the massive success of DRX going back to the days of the Vision Strikers, they did experience their first loss since Valorant Champions to the talented, newly formed Korean roster On Sla2ers. A team that features former DRX Sentinel Lee "k1Ng" Seung-won. BuZz chalked the loss up to overlooking their opponents after not facing one serious challenger in the first four weeks.
"To be honest, when all of us entered that match we weren't really thinking of them as a fierce adversary and it wasn't a match we thought we would lose." said BuZz. "In fact, I still don't think it's a match we should've lost so if we were to meet them again I wouldn't be too worried. We just need to clean up our act and keep going"

DRX BuZz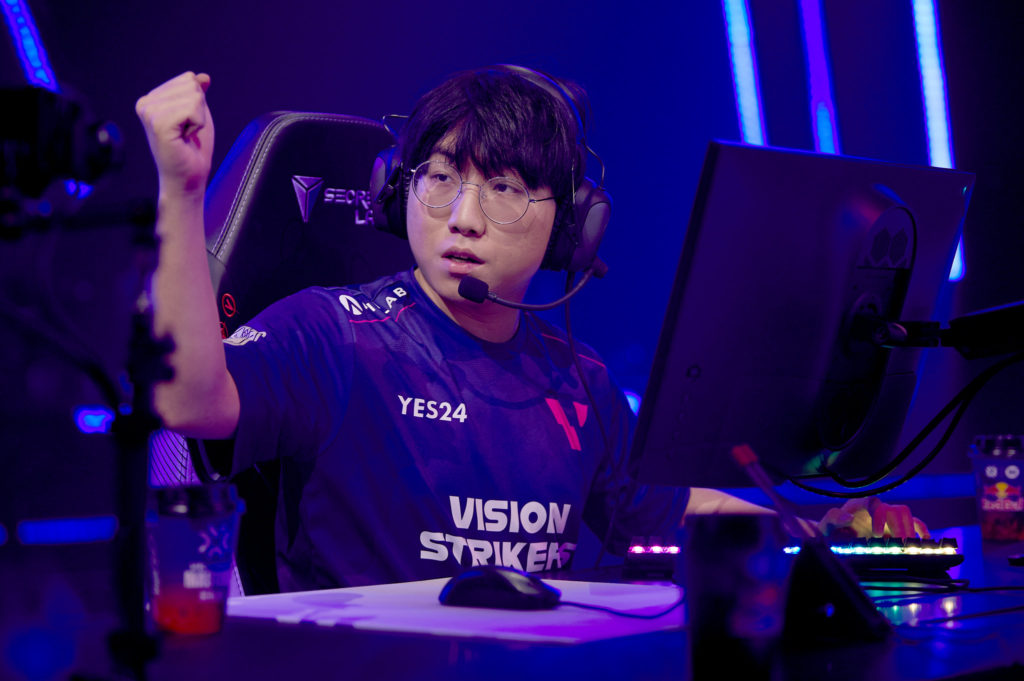 In the two years parts of this roster has been together, they've only dropped four official matches in Korea. BuZz has only been on the team since May of 2021, so this would be his first loss to another Korean team during his DRX career. It's a remarkable stat and speaks to the confidence level of this team moving forward.
DRX BuZz on the hidden strength of South Korean Valorant
Aside from the many accolades and achievements of the DRX roster, we spoke about the talent level inside Korea and how it compares to other regions, mainly Europe and North America. BuZz believes the talent is there but needs to be curated and developed to reach the level of the larger regions.
"I will say that even the players that aren't playing professionally now there are a lot of players on the ladder that are extremely talented and I believe they'll become very talented players in the future so were looking out for those and quite frankly I don't think the talent level is any different than the EU or NA, so as long as were able to develop these talents, we should be ok."
LAN experience and DRX's advantage
South Korea is undoubtedly a country of talented gamers, as it's known as being a powerhouse in other esports titles. It feels as if it's only a matter of time before more Korean teams catch up with other regions. As for playing inside Korea, it's the one VCT region with a studio LAN setup. BuZz believes this can be an advantage for DRX now and at future VCT events.
"Lan experience is extremely, extremely important for any professional player. You have to go on stage at any global scene and any global lan, so I think that us getting the experience in group stage especially in our own region now that gives us the edge"
Looking ahead, DRX will play two more matches before the start of the playoffs that begin on March 16th. The 4-1 start guarantees them a spot in the playoffs, but their seeding is still up for grabs. DRX faces DAMWON Gaming next, who currently sit at 4-1, so the match will effectively decide seedings for playoffs.
In closing, BuZz is a quickly rising star in the global Valorant scene. No other Chamber player has shown the ability to take fights so efficiently with the insanity of his teleport reactions. BuZz and DRX are receiving part of the worldwide spotlight, and their partnership with Razer is helping improve the team and raise the profile. BuZz even suggested the idea of his own gear under the Razer banner.