In a post-match interview, BOOM Esports' blaZek1ng spoke on the teams confidence level, taking a map off Optic, and the crashies
BOOM Esports is the premier Indonesian Valorant team, but that success domestically never translated to the APAC region until Last Chance Qualifiers. After an impressive 4-0 run at LCQ, BOOM qualified for their first International LAN and as fate would have it, faced one of the world's premier teams in Optic right out of the gate.
In an interview with BOOM Esport's versatile 26-yeard-old Controller player, Gary "BlaZek1ng" Dastin, after the 2-1 loss, he spoke on the team's confidence level, winning a map against Optic, and the Fracture blunder that led to crashies ACE. Despite the loss, he relished the opportunity to play on the stage and is ready to face ZETA Division.
Interview with BOOM Esports BlaZek1ng
"I can't say we had a good performance, but I'm quite proud of my team. This was our international debut and it was good for us."
Additionally, BOOM is a team with little LAN experience. BlaZek1ng, a former Counter-Strike: Global Offensive player, has some games in a LAN environment, but not enough to make up the mountain of experience between BOOM and Optic.
Overcoming the odds against a talented group such as Optic in their first LAN match was a tall order. Regardless, BOOM came out swinging and took Breeze in a marathon 34-round map with blaZe's teammates, David "tehbotoL" Monangin, dropping a historic 38-kills in the win, setting a new VCT record.
Prepping for El Diablo and Optic
I asked blaZek1ng if BOOM Esports did any extra preparation for Jacob "yay" Whittaker and the methodical Optic approach.
"We didn't have any special treatment for them because we think all the teams are close in skill. We just have one or two strategies to counter them, but it didn't work"
(Photo by Colin Young-Wolff/Riot Games)
Furthermore, beyond Optic, I wanted to get a sense of BOOM Esports expectations as a heavy underdog heading into Istanbul. And, with those expectations, how this team stays loose on stage.
"At first, we want to qualify for playoffs. And then after that, we can start to expect to win the tournament. After that, not going so far, but just get to the playoffs first," blaZek1ng continued on discussing the team having fun on stage. "We have fun, of course. It's very fun on the stage. We don't feel any pressure or something because we are the underdogs, of course. It's fun, very fun."
blaZek1ng on winning Breeze
Circling back to Breeze, BOOM Esport showed real potential in the tight victory. Optic in the last half of the VCT season has become one of the better Breeze teams, but BOOM Esports consistently denied any space, not allowing them to take long-range contact duels on the Attacking side.
When asked how BOOM limited Optic in the early and mid rounds, blaZek1ng expressed their mentality of simplicity, allowing them to win the numbers game on site holds.
"We just play simple valorant. Let's say they took mid and then we just push the other way around. When you push mid, and then the enemy had got a recon or something, we can see three people there, and then we just play simple Valorant. Three people there means there should be one holding A, so we just push."
BOOM Esports' blaZek1ng
Recognition on Breeze was world-class from BOOM. However, as the series progressed and Optic found more of a footing, the confidence and body language began to change. A once jovial group, confident in their ability, were stunned silent by the end of Bind which led to Fracture.
Staying confident at Valorant Champs while playing the underdog role
In a pre-Champs interview with Valorant host Yinsu Collins, Yinsu asked blaZe if there is any doubt about facing a juggernaut like Optic. He responded with a word of advice from fellow APAC star Jason "f0rsakeN" Susanto, stating that it's just another team. If they manage to stay confident, they can win.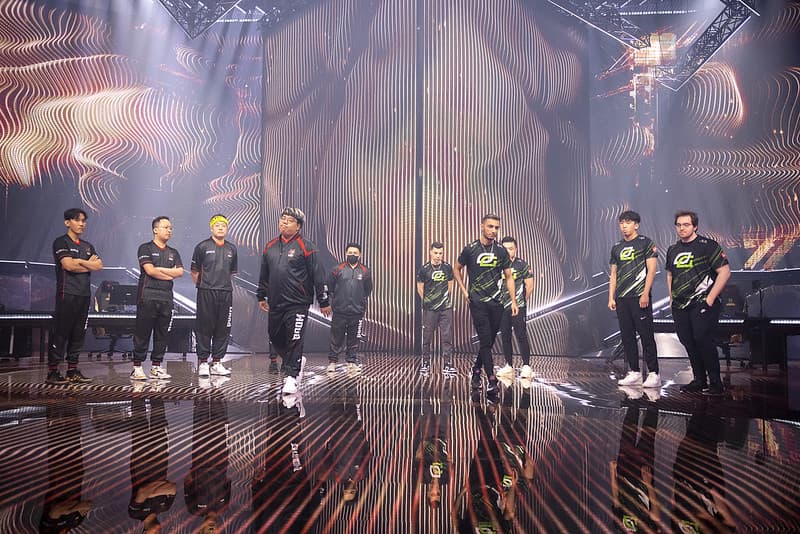 (Photo by Colin Young-Wolff/Riot Games)
So, I asked blaZe where he felt the team's confidence was during the match. He answered with aggravation as he sees this as an area BOOM could improve upon.
"To be honest, no," said blaZe when asked if this team played with confidence. "Some of the players are very confident and sometimes the confidence can kill you, of course, but we don't have our full confidence today."
blaZek1ng on the crashies misfrtunate ACE on Fracture
Pivoting to Fracture, a map BOOM struggled on losing 13-3, I asked about the one play everyone was talking about: the Austin "crashies" Roberts ACE on the ropes. He answered with a big smile and a chuckle.
"To be honest, I'm just laughing because it's our own mistake. Usually, if we're going to go like that there's a trap, like a Chamber trap on the dish or the arcade area but we forgot to put it and Crashies pushed and it was like 'free ace' and we're just like screaming around like 'go, go, go, go!' It's very fun, of course, we have fun"
blaZek1ng's massive agent pool
In closing, I attempted to pick the brain of a player able to flex onto more agents than virtually any other player. In the APAC LCQ final, he played four different agents. Today, he played a total of three. His versatility is impressive and wanted to know the secret behind his switching.
"For me, as long as you can think, you can play every agent. Simple. Just do the job that you need to do"
BOOM Esports' blaZek1ng
Simple, he says. As if a scrub, like myself, could easily switch onto four or five agents and find success. Despite his oversimplified and modest answer, his role on this team as a jack of all trades is crucial and a major reason this team qualifying for Champs.
And, as a player with extensive agent knowledge, I wanted to see if he had an inkling where the meta would go in the post-nerf Chamber era. He doesn't believe Chamber is going anywhere and the proof? Jacob "yay" Whittaker's performance against BOOM.
"I don't think Chamber is going to fall out of them meta because he's still a good agent for specific players to play, example yay, he just wrecked us, so no, Chamber will still be used in this meta"