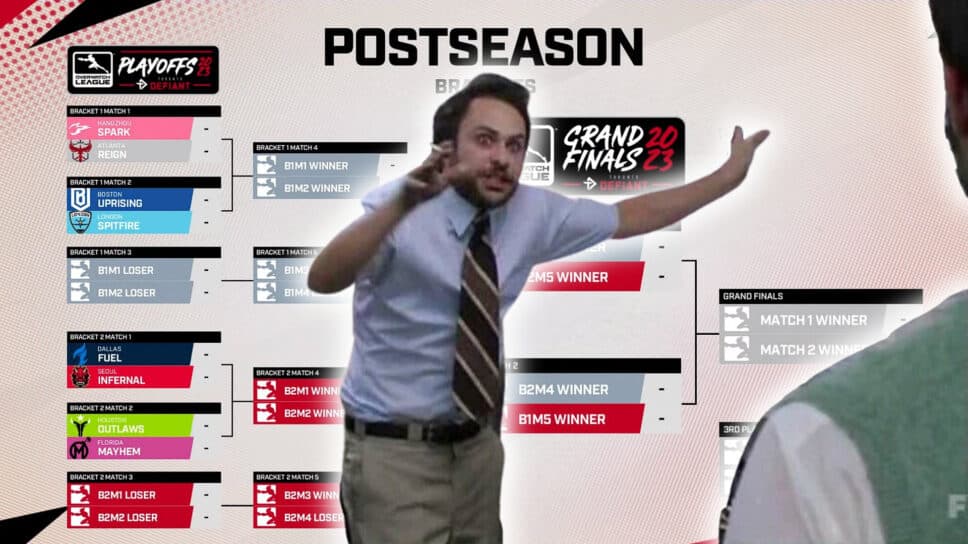 The 2023 OWL postseason is set and has the worst bracketology ever
The 2023 OWL postseason bracket is here and it… makes absolutely zero sense? Let's figure this thing out together.
What in the world is this tournament bracket they came up with?
Look, I have a communications degree for a reason, and it's because math hurts my head. And similarly to my tenth grade geometry teacher Mrs. Allen telling me that maybe math wasn't for me, I also struggle in confusion with this bracket. Given we're a month removed from EVO 2023--perhaps the most well ran ad hoc tournament of all time--I'm a bit spoiled.
And yet, here's the 2023 OWL postseason giving all the energy of a teenager who doesn't know what a scalene triangle looks like.
It's me. I'm that teenager. Anyways, let's break this bad bracket down.
Before we get into the mockery let's at least look at why the 2023 OWL postseason bracket doesn't work. Fundamentally, double elimination tournaments work because of seeding. In the case of this bracket and the weirdness at work with the East and West divisions, it just appears there isn't any seeding?
Despite finishing the season with a better record and map differential, the Hangzhou Spark look at perhaps the toughest match of the tournament, right off the bat against the Atlanta Reign. Meanwhile, the technically first-place Seoul Infernal (don't ask) will face off against a Dallas Fuel team with a losing record, negative map differential that barely scraped by in play-ins.
At best and if all things were equal, this means a number one and two team play in what should be a winner's bracket match. Meanwhile, this also means that if the Spark lose to the Reign, then win out, they'll have to face the Reign once again to get to grand finals.
And don't even get me started on this "third place match," a thing that A: shouldn't exist and B: misses the point entirely. It's completely possible in this 2023 OWL postseason bracket that if (for example) the Houston Outlaws win out until the semi-finals that, even having only lost one match, they could not win the whole thing.
if you're struggling to see the big deal, here's a social media post from @slmnio who created a much simpler bracket that also points out the idiocracy of the real one.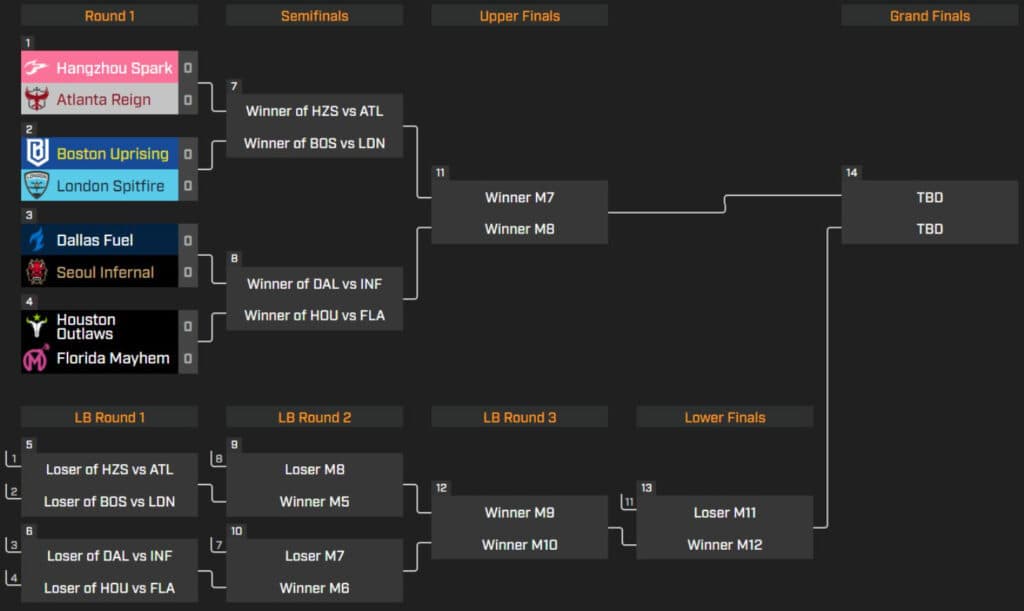 This makes way more sense.
Ugh. My head hurts. Stupid math. Be sure to catch all the head-aching action in two weeks at OWL grand finals.
Stay tuned to esports.gg for esports news and OWL information.