Class is in session! The 2021 Mid-Season Invitational is almost over. Here is Esportsgg's official MSI report card for the six Rumble Stage teams.
The 2021 Mid-Season Invitational has brought together the best teams in the world. Six teams battled it out in the inaugural Rumble Stage after Riot introduced a revamped format. As expected, the Rumble Stage delivered high-quality games as well as a lot of drama. Instead of the generic performance review, Esportsgg has decided to become the teacher for each of these teams. Three of Esportsgg's League of Legends writers, Jordan "Marn Marney, Mostafa "Mostafeto" Salem, and Ezekiel Carsella came together to produce the team's MSI report cards.
Damwon KIA
Drafting: "There is not much to say about Damwon KIA's drafting. The 2020 Worlds champions continued to deliver, picking meta champions and adapting to the changes. Not only that, there is no point in target-banning champions. Their roster's pool is incredibly deep, it is almost impossible to deny them a strong composition." - Mostafeto
Early Game: "The defending world champions have the second best early game rating at 66.1, only Royal Never Give Up has a higher rating. Damwon's early game has been steady, nothing too special but certainly enough to showcase why they are the defending world champions. Canyon had the agency to completely take over the early game on champions such as Morgana and Rumble who allowed him to gain advantages in the scuttle grab game and punish the lanes from there." - Marn
Team Fighting: "An excellent teamfighting team, Damwon Gaming out teamfought most competition, but against Royal Never Give Up (RNG) they often had more questions than answers. In a win against PSG Talon, Canyon and Showmaker combined for 13/2/23 while the botlane was rather pedestrian. Damwon have an even approach which makes them dangerous, but if they want to win MSI they need to step it up against RNG." - Ezekiel
Royal Never Give Up
Drafting: "A relatively standard draft approach, but extremely effective as it worked to their strengths. Their top lane consistently had prio and demolished opponents, while the bot lane always had pressure due to Kai'Sa and Nautilus (picked eight times)." - Ezekiel
Early Game: "RNG has been sensational this tournament, specifically in the early game. The LPL champions had the highest early game rating on OraclesElixir at 70.9. RNG showcased in the Rumble Stage that they are to be taken seriously with the LPL side now the favorites to lift the trophy. Wei has specifically done a great job coordinating with his solo laners in Xiaohu and Cryin to get them ahead on lane-dominant champions. RNG's gold difference at fifteen minutes is a monstrous +3438." - Marn
Team Fighting: "You can't mention teamfighting and RNG without bringing up Gala. The ADC stepping in to fill the legendary Uzi's shoes has shown time and time again he is up for the task. There are times when teamfights look lost, then Gala comes out of nowhere with Quadras and Pentas." - Mostafeto
PSG Talon
Drafting: "PSG has been a tough team to prepare for across the entirety of the 2021 Mid-Season Invitational. Across the solo laners alone they have played a combined 18 unique champions. Maple is causing the most trouble for the opposition with eleven unique champions played in the 16 MSI games thus far. This gives RNG a major headache going into the best-of-five against PSG as there are so many pocket picks to account for." - Marn
Early Game: "PSG Talon sits in third place with an early game rating of 63.1 across the entire tournament so far. This puts them behind only RNG and Damwon KIA respectively, who aren't the easiest to beat really. Give PSG Talon a lead, and they will snowball it to infinity." - Mostafeto
Team Fighting: "Overall a surprising B- due to their bot lane overperforming. In a win against Pentanet.GG, the botlane combined for 6/4/21 as Kaiwing excelled on Leona. The team comps for PSG in wins have been geared exclusively towards teamfighting with multiple lockdown CC options and versatile teamfight champs like Renekton, Rumble, and Gangplank" - Ezekiel
MAD Lions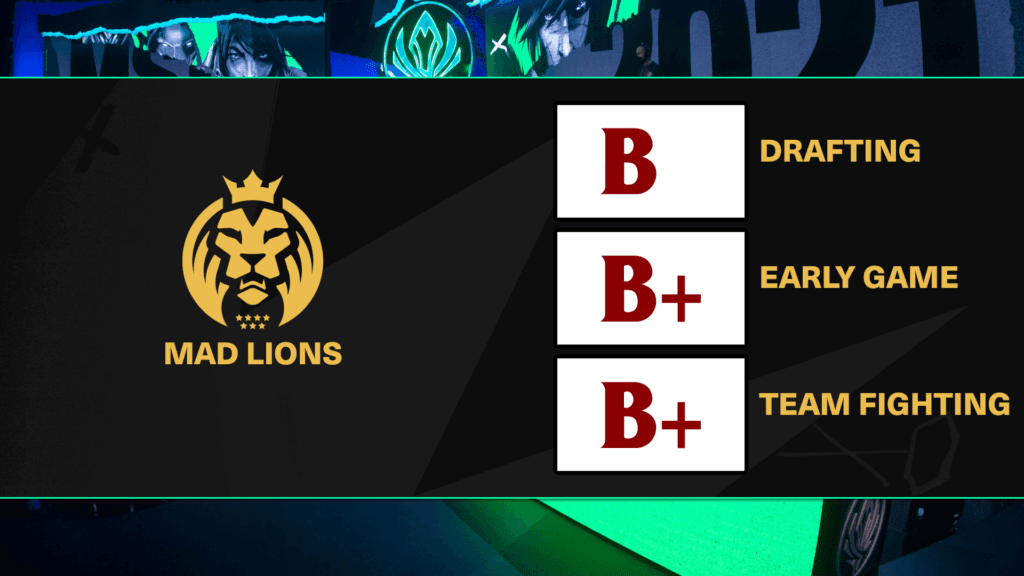 Drafting: "MAD Lions has brought the EU flavor to MSI 2021. The LEC champions has not been scared to bring out unique picks, such as Carzzy playing Vayne and Armut playing his signature Wukong. Outside of the jungle position, MAD has shown they are able to bring unique champions to the rift, this is going to be crucial in their best-of-five against Damwon KIA." - Marn
Early Game: "A good early game team, Mad Lions often had a 1k gold lead at 15 minutes against equal or lesser competition. In a loss against Cloud9, Mad Lions had a 1,791 gold lead at15 but were unable to transfer that advantage to a win due to a poor draft (outscaled). They had good priority on neutral objectives early, but late failed to turn that into success." - Ezekiel
Team Fighting: "MAD Lions road to MSI 2021 was a testament in itself for their teamfighting skills. The EU representatives were able to take down the likes of Cloud9 and RNG in Day 1 and 5 of the Rumble stage respectively. Their losses came when miscommunication and irregular focusing happened during teamfights." - Mostafeto
Cloud9
Drafting: "Outside of some questionable picks early, C9 adapted to the drafting meta at MSI relatively well. They tried to be creative and enable playmakers like Perkz with unique picks in mid (kalista and kindred), with varying success." - Ezekiel
Early Game: "Cloud9 often found themselves in the lead in the early game, with Blaber enabling his solo laners. He chose lots of champions with strong level 3 power spikes, like Volibear. The early lane priority allowed them to stack early dragons and rift heralds. However, the same player was sometimes their own poison, giving the opposing jungle irrecoverable leads at times." - Mostafeto
Team Fighting: "One of the bright spots for C9 at the 2021 Mid-Season Invitational was their impressive team fighting capabilities. Specifically in their victories over Royal Never Give Up and Damwon KIA, Cloud9 proved they do have the tools to hang with the best. Fudge in particular garnered many new fans with his world class flanks on Lee Sin." - Marn
Pentanet.GG
Drafting: "As happy as the redemption arc was for Pentanet.GG and the OCE region, the team had some pretty bad showings and drafts in particular. This was apparent in several matches, with superior junglers taking Pabu out of the game. He didn't help himself either, forgetting to save Rumble runes for one of the matches." - Mostafeto
Early Game: "In losses, Pentanet has an atrocious early game averaging over -4k gold differential.In a win against C9, PNG had a 1.5k gold differential which they used to eventually win a 38 minute game. PNG likes to draft scaling champs like Viktor and Senna which have poor early games, but this led to their downfall in games against RNG where they lost in 18 minutes" - Ezekiel
Team Fighting: "PGG's team fighting was considerably their weakest point in the Rumble Stage. While they were able to come up with some creative early game plans, they were never able to follow through on that plan and would often throw the game away. Pentanet did have an impressive victory over Cloud9 where they were able to play correctly with their composition." - Marn
The 2021 Mid-Seasonal Invitational returns when Royal Never Give Up takes on PSG Talon, followed by Damwon KIA and MAD Lions going head-to-head in the knockout stage.