DIgnitas midlaner Yusui is ready to make this opportunity in the LCS an opportunity for him to move forward in his pro career.
With the new changes to the regular season standings, teams have more flexibility with roster changes in 2021. While it may be weird for teams at the top to risk falling down, it is a perfect opportunity for teams vying for a top 3 finish. For sixth place Dignitas, they saw an opportunity to take a risk. One of those risks is David "Yusui" Bloomquist, starting LCS midlaner for Dignitas. The LCS is relatively new territory for Yusui. Yet, the pursuit of a proper LCS spot is one that is six years in the making.
---
---
Early headstart
Yusui was a high schooler who spent his offtime playing for C9 Tempest, Cloud9's Challenger team in 2015. Back then, he was a promising young talent with a real possibility to make an LCS roster.
At the time, Yusui was tasked with a decision. Continue this pursuit of a spot in the LCS or finish high school and go to college.
While some would drop everything to pursue this dream of becoming a pro player, the same was not for Yusui. Instead, he viewed the uncertainty of esports from a realistic standpoint.
"My experience towards the end of C9 Tempest was not the best." Yusui reveals. "Dropping out of high school for a chance at LCS did not feel worth it back then." Yusui states.
For Yusui, the risks of the LCS at the time were too dangerous for him to forego high school graduation. As a result, he gave up on the dream to become a pro LCS player and went back to college.
In college, Yusui learned a lot about himself as a person. He developed a lot of life lessons and skills.
However, the itch to complete a part of his life he gave up on started to knock on the door.
"The grass is always greener on the other side." Yusui comments. "It is always appealing to do the thing you are not doing."
Conflicting thoughts between school work and a shot at LCS began to intertwine. And as time went on, a career in esports was no longer the risk it once was.
"The scene started to develop. Building a career as a League of Legends player was a lot different." Yusui states. "I felt that while I still have the talent, I might as well give it another chance."
---
Dignitas after a victory against TSM FTX in week 5. image via espat.ai
---
A Second Chance at the LCS for Yusui
With that second chance, Yusui found himself a position a part of Echo Fox Academy. On Echo Fox, Yusui experienced a lot of different firsts for his career, like playing on the LCS stage.
However, his first foray into the LCS was under varying circumstances.
"I didn't know I would play the LCS until a few days prior." Yusui shares. "Prior to that, I had been relaxing and taking some time off. I just thought I would be coming back to academy. They then told Lost and I that we will be on the LCS opening day."
From this point onward, matters would continue to get worse for Yusui on Echo Fox. His shot at the LCS was built on glass as he was thrust into a task to try and beat the top three teams in the LCS.
---
Yusui made his LCS debut in 2019 for Echo Fox in the first two weeks of the 2019 LCS Summer Split. Photo by Tina Jo/Riot Games)
---
"It just so happened the first two weeks were against top 3 teams. We ended up going 1-3 and then they told us we would go back to the other iteration."
His time on Echo Fox is a snowball that kept piling on challenges for Yusui to face. Yet, through it all, giving up was not a thought on his mind any more. With a renewed mindset and approach to League, he took this experience in stride instead.
"It is easy to be negative or say that this isn't working and just quit." Yusui shares when talking about perseverance. "I think the players who make it the furthest don't stop until they win." Yusui concludes.
He remembers back in 2015 when there were running jokes surrounding former LCS botlaner Doublelift and his empty trophy case.
"He went from being made fun of for an empty trophy case to becoming the player with more LCS titles than anybody else." Yusui shares. "There are many players who start in losing circumstances and become champions, who is to say that can't happen for me."
Yusui's new opportunity with Dignitas
After years of trying, Yusui is finally an LCS starter but this time, he feels better prepared to make his mark in the LCS.
"It is primarily a group of guys who have been in the scene for some time. We have all had ups and downs in our career and are unique to DIG."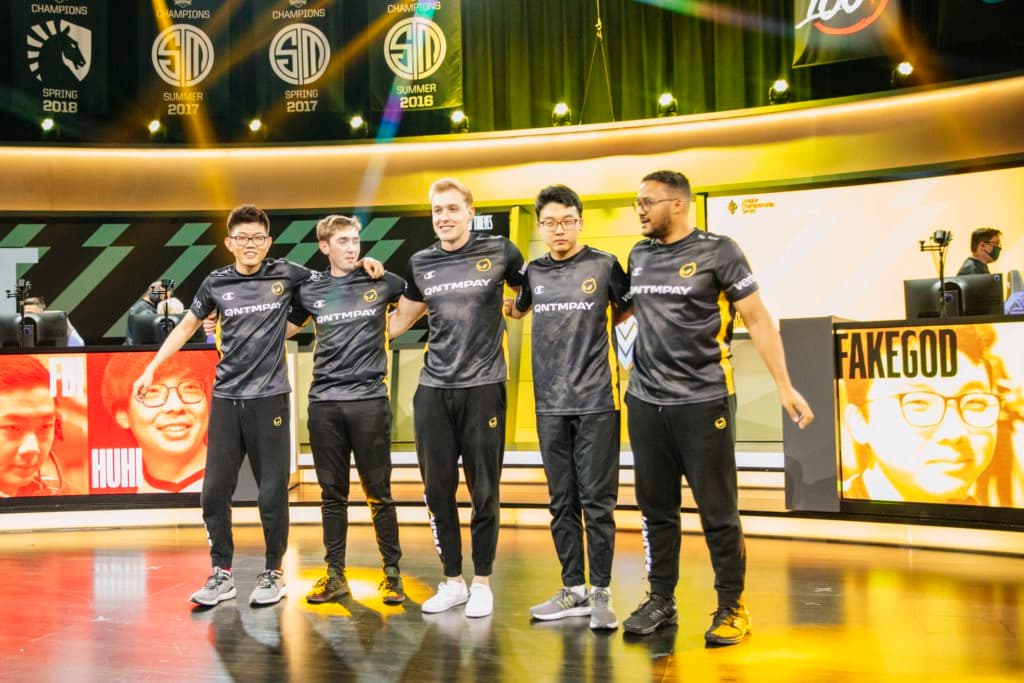 DIgnitas in the 2021 LCS Summer Split. Photo via espat.ai
Dignitas are starting to regain stride at a very important part of the regular season. That is something that keeps Yusui hopeful.
"I really believe we can be a strong team and prove the doubters wrong. I am looking forward to showing everyone how strong we really are." Yusui concludes.
Dignitas are currently sixth in the 2021 LCS Summer Split and guaranteed a spot in the playoffs. With just two weeks remaining in the regular season, Dignitas' mindset is set towards becoming the best version of themselves before the LCS Championships in August.
With 8 teams going into playoffs, Dignitas will look to show that they are a top team in weeks 8 and 9 of the regular season.
---