Thijs' Hearthstone Tavern Qualifiers are over, with 8 players going to the TwitchCon finals. Check out the results and highlights here.
Thijs has pulled out an incredible Hearthstone event that will have its finals live at TwitchCon. There will be only 8 privileged players that will compete in Thijs' Hearthstone Tavern next month in Amsterdam. Join me in this recap and prepare yourself for what promises to be Hearthstone's best LAN event of the year!
TwitchCon Qualifiers
With $20,000 in prizes, every Hearthstone pro wanted to be a part of Thijs' Tavern. 24 invited players, joined by 4 more from the open qualifiers competed this weekend for the 8 tickets to Thijs' Hearthstone Tavern at TwitchCon.
The 32 qualified players for the main event
The final qualifiers' format was something innovative. During Day 1, 32 players will play in a Swiss bracket until they got either 3 wins and qualified for Day 2, or until they got 3 losses and were out.
The tournament was staked, and with so many streamers in it, everyone had their favorites. As if that wasn't enough, Darroch Brown and Jia Dee were on the casting desk. What else could the audience ask for?
What did the players say about Thijs' Hearthstone Event?
When Thijs organizes an event, the entire Hearthstone community puts its eyes on it. This time was no exception. It all started the very first day of the qualifiers when Gaby was mocking Blyzes for his particular line-up. Spoiler, in the end, it was Blyzes and his off-meta Vanndar Line-up who made it to Amsterdam.
But that wasn't the end, Thijs' TwitchCon tournament was so meaningful for the Hearthstone competitive community that qualifying led to incredible celebrations. The most epic of those was Tars who pulled out a trombone solo after winning his final match.
In the end, Feno and Avelline summarized the sentiment of the community in tweets that say it all. Thijs is not just the face of the $20,000 Hearthstone Tavern event at TwitchCon he is much more.
Results Recap
Day one started with no one else than Thijs himself on stream, after Darroch's suggestion fearing that he would not make it to Day 2. Despite the 0-3 loss, Thijs recovered and secured his spot in the Top 16 round after winning three matches in a row.
The results for Day 1 left many big names out of the event. However, in a tournament with only big names, not everyone gets to make it to the finals.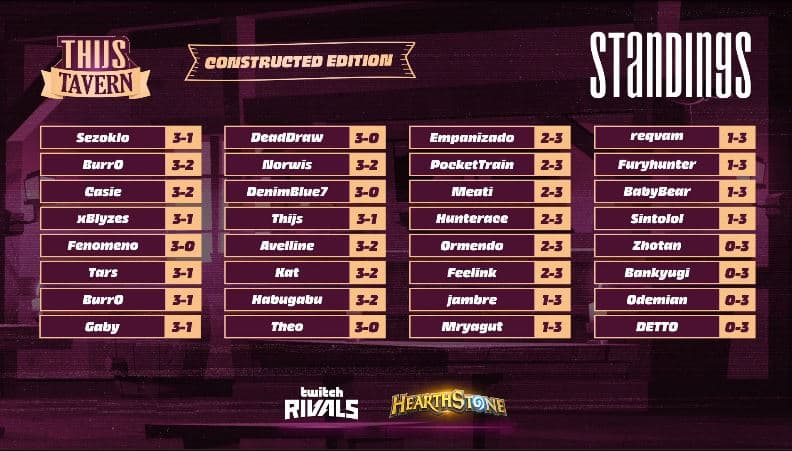 Day 1 Results
Day 2 of Thijs' TwitchCon Qualifiers had everyone on edge. Only 8 players would make it to the LAN finals. After another five rounds of play, these were the lucky ones that will battle for $20,000 in Thijs' Hearthstone Tavern at TwitchCon.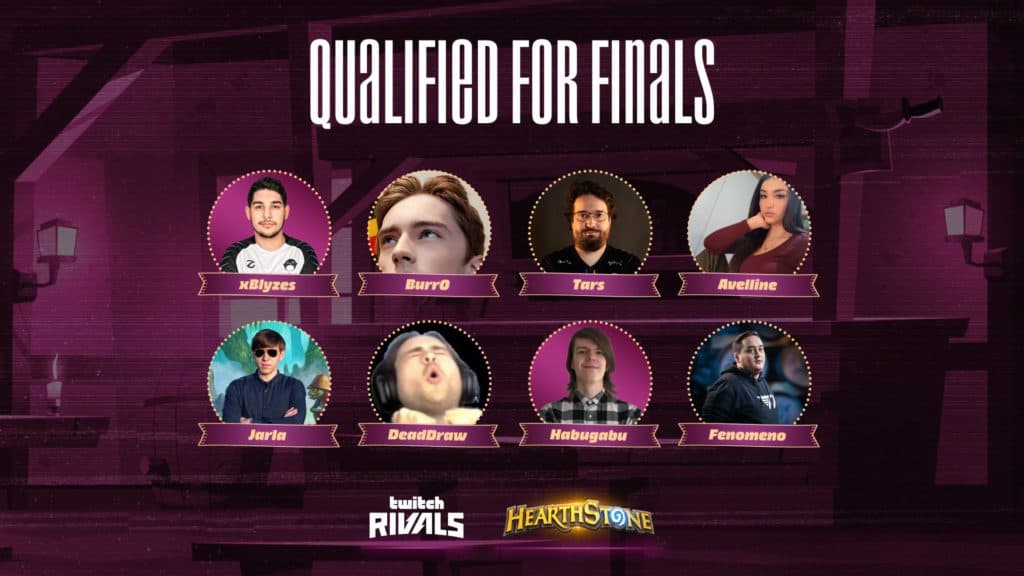 The 8 finalists for Thijs' Hearthstone event at TwitchCon
You can review the full tournament results and decklists on Thijs' Hearthstone Tavern TwtichCon Qualifier Battlefy landing page. Just select the stage of the bracket you want to check out, click on a player, and there you can copy their deck codes.