Thijs TwitchCon Qualifiers for Battlegrounds are around the corner. Check who is playing and the tournament format in this article.
We finally get to know the 24 players that will battle in Thijs' Hearthstone Battlegrounds event with $20K in prizes and live finals at TwitchCon. The qualifiers will happen this weekend and will feature a stacked field with some of the best European BG players. Let's go over who's playing and the event format.
Meet the Players
24 of the finest Battlegrounds players in Europe will be competing for a place in Thijs' Tavern at TwichCon in Amsterdam. There is $20,000 on the line, so you bet that these competitors will give their best to make it to the final event.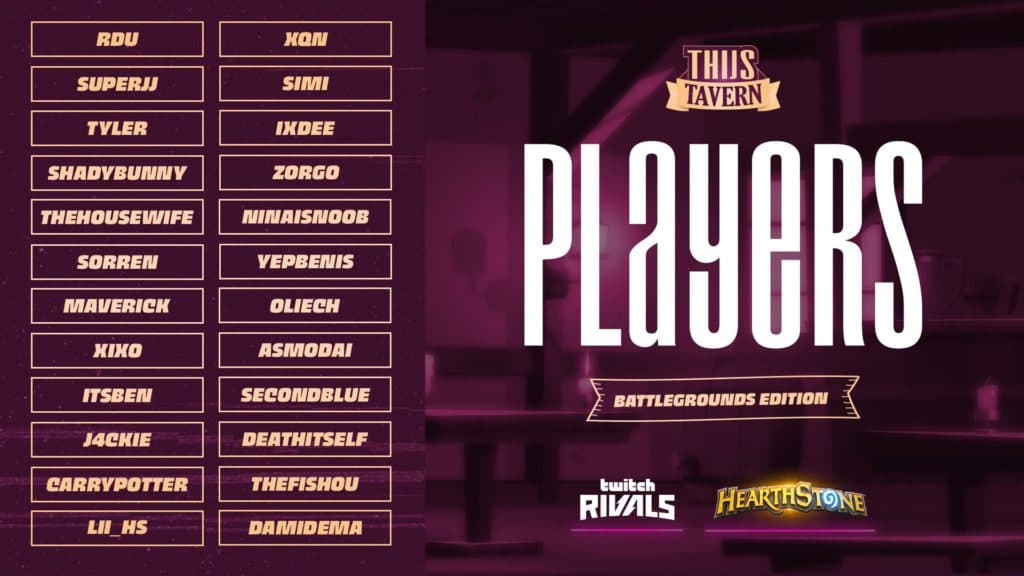 Players invited to Thijs Battlegrounds Twitch Rivals event
In the same way that happened in the Constructed Edition of Thijs' TwichCon qualifiers, Battlegrounds players will be able to stream their POV on their channels. On top of that, the event will have a main broadcast on Thijs' Twitch channel featuring Battlegrounds' expert Slysssa, among other talents.
Thijs' Battlegrounds TwitchCon qualifiers are divided into two days. The action starts on Friday at 3 pm CEST / 6 am PST. The final stage of the qualifiers will take place on Saturday, beginning at the same time.
Thijs' Battlegrounds Qualifier Format
Day one will feature six rounds of competition in which the players will fight their way into the next stage of the event. Players will accumulate points in each lobby. The eight players with the most points after four rounds will advance directly to day two.
The remaining 16 players will still stand a chance. They will have to play two extra rounds to see who are the best eight among them to advance to the final day.
Lobby Point Distribution:
1st Place - 8 Points
2nd Place - 6 Points
3rd Place - 5 Points
4th Place - 4 Points
5th Place - 3 Points
6th Place - 2 Points
7th Place - 1 Point
8th Place - 0 Points
Day 2 of Thijs' Battlegrounds TwitchCon Qualifier will also feature 6 rounds of competition, but this time for all the players. After the day ends, the best 8 players will advance to the Live Finals at Thijs' Battlegrounds Tavern in TwitchCon Amsterdam on July 16th.
One thing worth mentioning is that during both days of competitions, lobbies will be re-shuffled after each round. This means that the players will face a different field each round, helping keep things exciting.
The constructed part of Thijs' TwitchCon Tavern was incredible, and given how popular Battlegrounds is, things can only be better. If you missed the Constructed qualifier, check our recap article to know who qualified to Amsterdam and what the players said about the event.