Congratulations to the weekly regional winners! Check out their strategies and line ups in this recap.
Hearthstone Grandmasters 2022 Season 1 Week 1 crowned Wesley "lambyseries" Seek, Zakarya "xBlyzes" Hail and Frank "Fr0zen" Zhang as its regional champions!
Using decks from the Fractured in Alterac Valley expansion, these three competitors duked it out against their opponents and won under the Conquest format. During this Hearthstone Grandmasters week, the format involved four decks and four unique classes. Each player banned one deck from their opponent, and the best-of-five winner advanced to the next stage.
Lambyseries' journey to the top in APAC
To reach the top for the Asia-Pacific region in Hearthstone Grandmasters, lambyseries went up against competitors such as Manveer "Mighty" Singh, Liu "Shaxy" Wei-Chieh and Kenta "okasinnsuke" Sekiguchi during the weekend's live broadcast.
Lambyseries played these decks against okasinnsuke:
Miracle Priest: AAECAbbyBAK1igTIrAQOk7oDlroDp8sD3swD4t4D+98DyuEDmOsDmesDh/cDrYoEhKMEiaMEiqMEAA==
Burn Shaman: AAECAcDbBAThzAPQ+QPDkQTckgQN27gDzc4D8NQDieQD6ucDhfoD04AEqIEEuZEE+ZEElZIE25QE+Z8EAA==
Quest Fel Demon Hunter: AAECAbnyBAi1yQPK3QOQ5AP39gON9wPQ+QOHiwS2nwQL1cgD1tED3dMD+dUDx90D8+MDlegDwvEDifcDyIAEg58EAA==
In the Hearthstone Grandmasters finals for his region, lambyseries first used Miracle Priest against okasinnsuke's Quest Fel Demon Hunter. Although lambyseries threatened face with a buffed minion, it wasn't enough as his opponent cleared it and followed that up with Glide. Okasinnsuke soon claimed the first point with the help of Jace Darkweaver.
However, lambyseries persisted and tied the score in game two with his own Quest Fel Demon Hunter against Weapon Rogue. This was followed by a Miracle Priest mirror match, which featured both players fighting for minions to stick on the board and lambyseries claiming another point.
The fourth game was all about lambyseries' Burn Shaman versus okasinnsuke's unlucky Weapon Rogue. Lambyseries began with a strong board by playing Novice Zapper and a Coin into another Novice Zapper. Unable to clear the board, his competitor tanked six damage as a consequence. Okasinnsuke later used Secret Pasage twice to dig for answers, but it was to no avail. Lambyseries continued to fill his own side of the board with minions and went face, leading to a conceded from his opponent.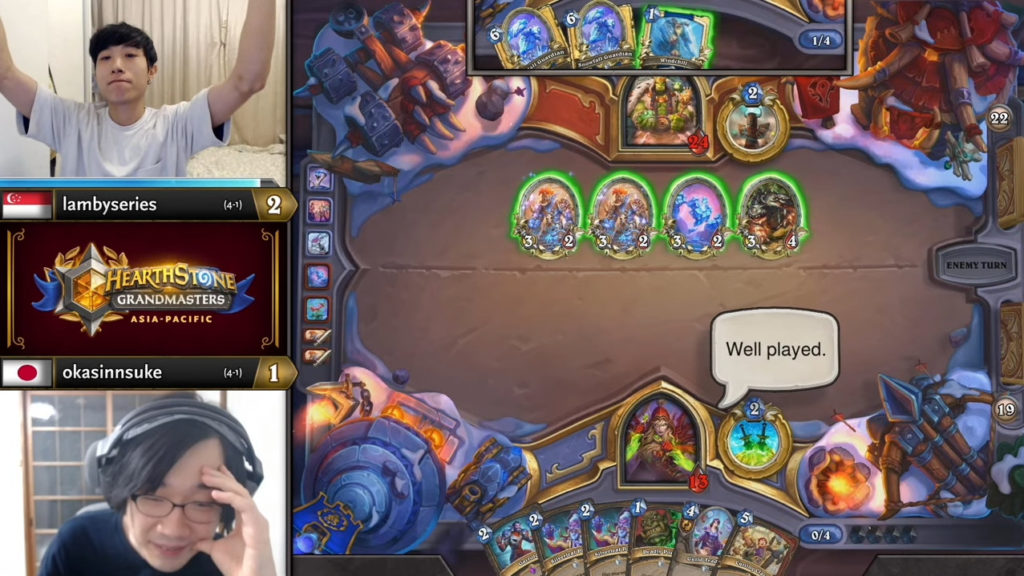 After the match, lambyseries was supposed to have an interview with Blizzard. However, it didn't happen due to technical difficulties. Fortunately, he went to Twitter to celebrate with his supporters.
xBlyzes goes face for the win in Hearthstone Grandmasters week in Europe
As for Hearthstone Grandmasters Europe, xBlyzes duked it out against players such as Vladyslav "J4YOU" Krasovskyi and Frederick "FuryHunter" Adam Møller. When xBlyzes advanced to the finals, he faced Tiago "SuperFake" Silva.
Here are the decks that xBlyzes played in the final:
Weapon Rogue: AAECAaIHAqH0A/uKBA6qywP31APi3QPn3QOp6wOq6wOs6wOt6wOO9APF+QO9gASSnwSUnwT3nwQA
Brute Demon Hunter: AAECAea5AwiVzQPZ3gP39gOL9wOw+QPK+QPQ+QOmlQQL1tEDzNIDzdIDztID+dUD8+MD/e0D9fYDivcDs6AEtKAEAA==
Kaz Armor Druid: AAECAZICBuW6A9HhA6T2A4mLBImfBISwBAzougObzgPw1AOJ4AOK4AOi4QOP5AOvgASunwS4oASwpQTPrAQA
With a weapon to the face, xBlyzes earned the first point using Weapon Rogue against his opponent's Libram Paladin. However, SuperFake evened up the score against Brute Demon Hunter in the next game. When xBlyzes went into fatigue and dealt one damage off lethal, it gave SuperFake the chance to clear the board and drop down Libram of Hope.
But xBlyzes didn't give in as he followed up in game three by defeating SuperFake's Best Deck Mage thanks to a weapon to the face for exact lethal. As for the final game between them, xBlyzes closed out Hearthstone Grandmasters Europe Week 1 with a Kaz Armor Druid and 3-1 victory.
Although he's a man of a few words, xBlyzes did reveal in a post-match interview with Blizzard that he enjoyed playing the Brute Demon Hunter deck. He also noted that he went with the Hearthstone Esports Masters Tour winner's lineup.
Fr0zen's claims a 3-2 victory in the Americas region
As for Fr0zen, he faced opponents such as Zachary "GamerRvg" Kannass and Shuntian "DreadEye" Luo before dueling in the finals against Davi "Fled" Garcia.
Fr0zen played these decks against Fled:
Kazakusan Warrior: AAECAePjAwb5wgOm7wO8igSIoASlrQSEsAQMuLkDwLkD99QDtt4Dju0Dj+0DxvUD+IAE+YwE+owEiaAE0qwEAA==
Quest Fel Demon Hunter: AAECAbn5Awi1yQPW0QPK3QOQ5AP39gON9wPQ+QOHiwQL3dMD+dUDx90D8+MDlegDwvEDifcDyIAEg58Etp8EtKAEAA==
Kazakusan Druid: AAECAdfXAwbsugO1igSJiwSJnwSlrQSEsAQM6LoD7roDm84D8NQDieADiuADpOED0eEDj+QDr4AErp8Ez6wEAA==
The first game of the Americas Hearthstone Grandmasters finals went to Fled's Libram Paladin after his buffed minions went face against Kazakusan Warrior for lethal. However, Fr0zen brought it back against Fled's Quest Warrior with his Quest Fel Demon Hunter next game.
Both players traded wins in the next couple of games. While Fled won the Warrior versus Warrior matchup, Fr0zen's Kazakusan Druid evened up the score against Ping Mage.
When it all came down to the tiebreaker, Fr0zen defeated Ping Mage again and finally claimed a Kazakusan Warrior win. This brought his score to 3-2 as he closed out the Hearthstone Grandmasters Americas Week 1.
What's next in Hearthstone Grandmasters
Congratulations to all of the Hearthstone Grandmasters 2022 Season 1 Week 1 champions! These players not only earned the lion's share of the weekly regional prize pool, but also the most weekly points. Competitors have between Feb. 25 and March 13 to battle in weekly tournaments to gain these points, which will determine whether or not they will head to the Hearthstone Grandmasters 2022 Season 1 Playoffs!
Next week, Hearthstone Grandmasters will see the debut of the new competitive format Trio, so stay tuned to Esports.gg for more news and updates.