The end of an era: Hearthstone Grandmasters says goodbye this weekend with Playoffs. The winner goes to Worlds. Drops will be active.
The Hearthstone Grandmasters program ends this weekend with Last Call seasonal Playoffs with drops on YouTube. The top 8 players from the regular season will clash to see who gets a ticket to the $500k World Championship. Let's go over the details of this Hearthstone Esports event and how to get drops.
Hearthstone Grandmasters Last Call Playoffs
After three weeks of the regular season, the eight players who accumulated more points have made it to the Hearthstone Grandmasters Last Call Playoffs. There are $150,000 in prizes for this season, but the carrot that motivates every player is the chance of qualifying for the $500,000 Hearthstone World Championship.
Hearthstone Grandmasters Last Call Standings - Image via Blizzard
Matches will start on Friday and go until Sunday when a champion will be crowned. Playoffs will have some differences from Hearthstone Grandmasters Last Call regular season.
To begin with, Playoffs Matches will be Best of 7, something that in the current meta brings a challenge. Moreover, in this last week, the two players with the most points will get a free win in the first round, while the 7th and 8th placements will get an auto-loose.
Hearthstone Grandmasters Last Call Group A- Image via Blizzard
Hearthstone Grandmasters Last Call Group B- Image via Blizzard
Hearthstone Drops and broadcast details
Hearthstone Grandmasters Last Call broadcast will start on Friday 26th, with Group A matches. Saturday will be time for Group B. Finally, on Sunday, the 2 players advancing from both groups will battle for the privilege of winning an invite to the Hearthstone World Championship on December 16-18th with $500,000 in prizes.
The event will have an official broadcast only on YouTube with drops active, giving away Murder at Castle Nathria packs. On top of the Hearthstone English mainstream, the event will have regional streams in different languages, all of them with Drops active. Viewers will get up to 2 packs for 4 hours of watch time that is cumulative throughout the weekend.
All the Hearthstone official YouTube broadcasts count towards your drop progression. However, only one at a time will count towards your drops. The official YouTube channels are:
Special Guest Casters for Hearthstone Grandmasters Last Call Playoffs
As Hearthstone Esports usually does, this weekend we are getting two guests at the casting desk. This weekend will be time for AlanC86 Chiang and Chris "Feno" Tsako will be joining Lorinda, TJ, Darroch and Sottle.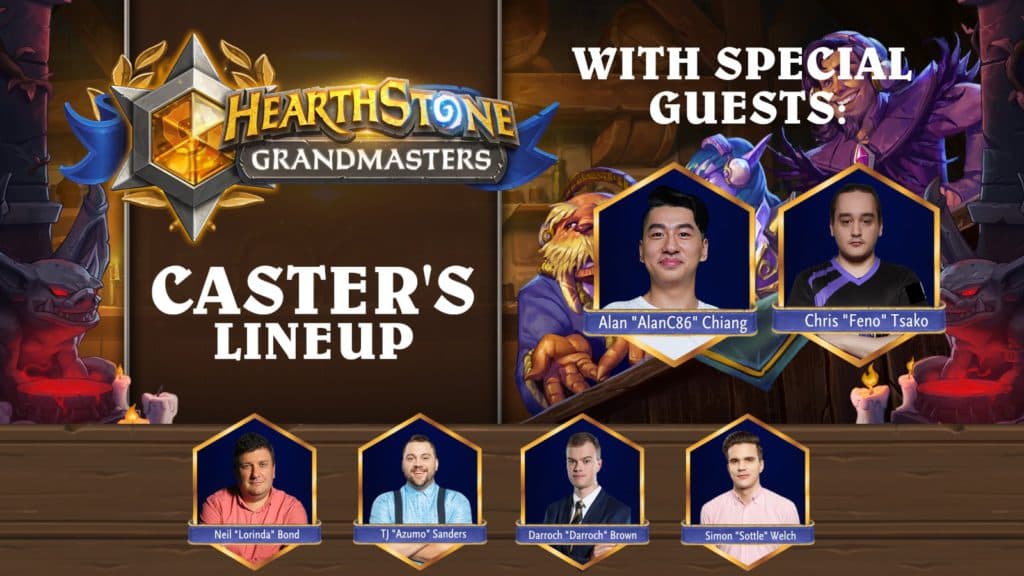 Hearthstone Grandmasters last Call Playoffs caster's Lineup - Image via Blizzard
After retiring from competitive play, Feno has developed his content creator side and runs a successful stream. However, he hasn't entirely retired. This year he won Thijs' Tavern event at TwitchCon and the Solary Party tournament. Forecasts show high chances of Feno fans in chat writing "Cast me DOOD".
How to Connect your Hearthstone and YouTube Accounts to get drops
To receive Hearthstone Drops during Grandmasters Last Call, you will need to link your Blizzard Battle.net account with YouTube. You can do this in simple steps:
Log in to your YouTube account.
Go to Account Settings.
Click on "Connect" next to Battle.net. Don't forget to be logged into your Blizzard account on which you'd like to claim your Hearthstone packs.
After successfully connecting your accounts, you will be able to see a Diamond by the "Like" button below the video.
Check full terms and conditions here.