Hearthstone returns to TwitchCon with Thijs Tavern, a $40,000 dual event featuring Constructed and Battlegrounds tournaments.
Hearthstone was once again back in TwitchCon with Thijs' Tavern. With $40,000 in prizes between constructed and battlegrounds tournaments, Thijs' Tavern had everything a Hearthstone fan would like to see at TwtichCon. Let's go over what happened this last weekend.
Thijs Hearthstone Tavern at TwitchCon
All the Hearthstone action during TwitchCon Amsterdam happened in Thijs Tavern, a coffee especially themed for fans and players to gather around the fire to celebrate their beloved card game. As if this weren't enough, Thijs' Tavern at TwitchCon brought back the good ol' vibes of Hearthstone LAN tournaments.
Talking about tournaments, the two $20,000 events were stacked with the finest players from Europe. With room for both Constructed and Battlegrounds play, Thijs's Hearthstone Tavern covered it all, and what's more, you didn't need to be at TwitchCon to enjoy the event. The competition was streamed on Thijs' channel with the finals highlighted on the TwitchRivals channel with almost 40,000 viewers.
Battlegrounds Competitors at Thijs Hearthstone Tavern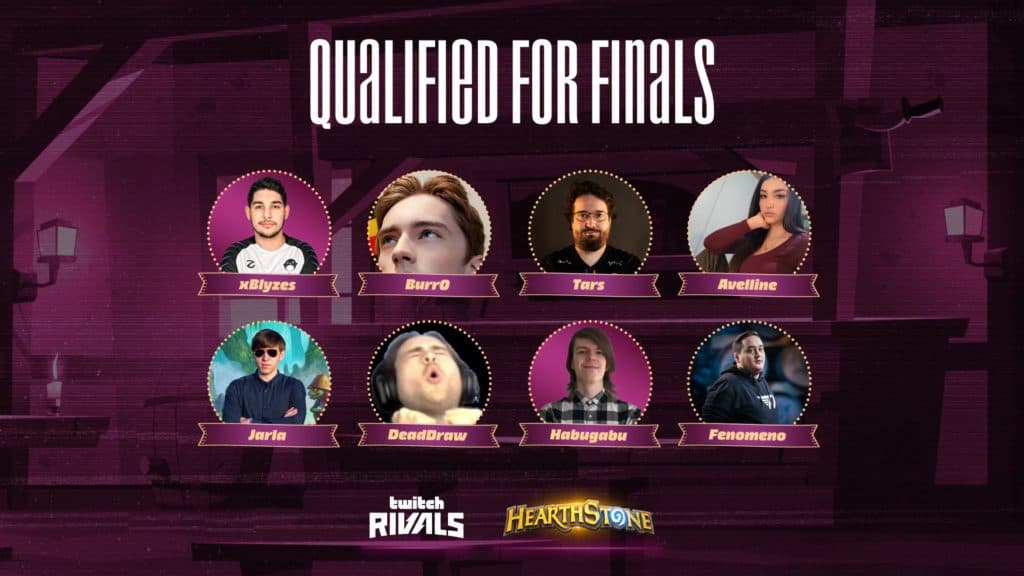 Final constructed Top 8 at TwitchCon
Feno still knows how to spend Mana
Chris "Feno" Tsako just didn't care. Not that he wasn't into the tournament, on the contrary, he had planned his holidays way before Thijs' announced his Hearthstone Tavern at TwitchCon. That was how bad Feno wanted to celebrate TwitchCon. 
Despite being retired from competing, and having to face World Championship runner-up Jarla, Feno was in his comfort zone. He had a solid game plan, play the decks he was comfortable with, and spend his mana every turn!
Feno receiving his first place price from Thijs at TwitchCon
It seems that one of Hearthstone's oldest fundamentals still works, at least for the Tempo King!
Zorgo won on Silverback Patriarch's back
Before knowing how to win, you need to know how to meme, and Zorgo demonstrated he knew both at Thijs' Hearthstone Tavern at TwitchCon. After six lobbies of intense matches, Zorgo secured a top 2 finish in the final lobby and then he knew what he needed to do, go full Silverback Patriarch meme.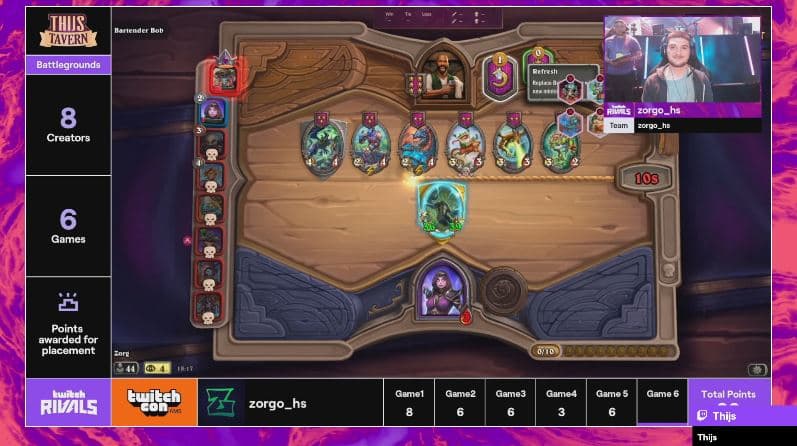 Praise the Silverback Patriarch
In the winner's interview, Zorgo, the Thijs' Hearthstone Battlegrounds Tavern champion, explained his final play.
"If you have the opportunity to meme with a card the devs intended to be a fun card, you kind of have to do it. Hopefully, we can remove the card now though"
Zorgo after winning Thijs' Hearthstone Battlegrounds Tavern event at TwitchCon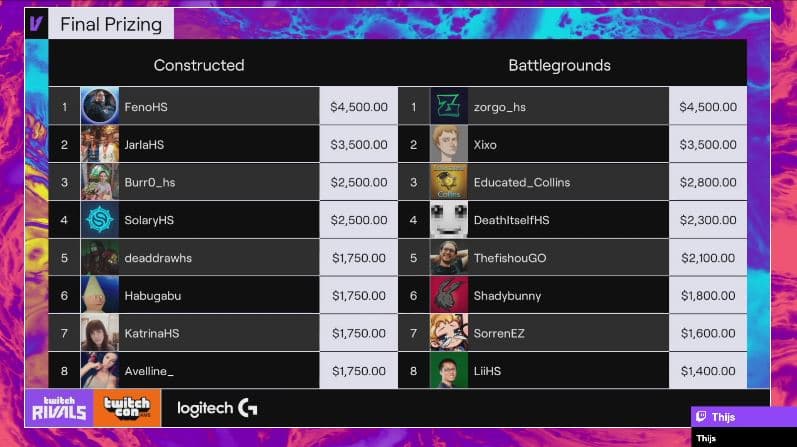 Final Prizing for Thijs Hearthstone Tavern at TwitchCon
More Hearthstone at Thijs's TwitchCon Tavern
On top of the two tournaments, there was more Hearthstone action in Thijs' Tavern at TwitchCon. Perfectly lined with the next Murder at Castle Nathria expansion, it would have been a pity if we missed a live card reveal. 
Furthermore, and most important, Thijs' Hearthstone tavern at TwitchCon was an opportunity for the community to gather around the fire. Thijs himself commented on that at the end of the event.
"I just wanted to give back an amazing tournament to the Hearthstone community. We haven't had a LAN tournament for a long time. I'm very happy that Twitch and Blizzard were also very supportive of running this event here. It's been such a blast, the whole Hearthstone community came together in the Tavern. That was the highlight for me, to see so many happy faces there."
Thijs closing speach at Twitchcon
---
I hope we get to see more of these community and esports events for Hearthstone fans to enjoy. That's all for now but stay tuned to Esports.gg for more Hearthstone news and updates. See you next time at the tavern.