The Hearthstone Grandmasters Season 1 kicks off on April 9, 2021. Here's everything you need to know about the premier Hearthstone tournament.
The Hearthstone Grandmasters is the premier esports event of Blizzard's popular card game. The tournament is the culmination of several weeks of professional play and sends its champion to the Hearthstone World Championship 2021. The top competitors from each of the two seasons join two Gold Series champions from China to compete for the title of the Hearthstone World Champion. There are two seasons in the Hearthstone Grandmasters 2021. Each season has eight weeks of play and features a total of forty-eight players (sixteen per region).
What is the Hearthstone Grandmaster format and prize pool distribution?
The Hearthstone Grandmaster Season 1 features the Standard mode. The tournament features sixteen players per each of the three regions. The best players will compete against each other and try to secure a slot for the Hearthstone Championships later in the year.
The Hearthstone Grandmasters 2021 format
There are eight weeks in Season 1 of the Hearthstone Grandmasters 2021. For the first seven weeks, players will compete in weekly dual tournaments. All 16 players in each region compete against each other in Dual Tournament Group play on Thursday. The four decider matches take place on Friday to determine the top eight per region. The top eight players compete in a single-elimination knockout format on Saturday with the top four players advancing to Sunday. All matches will be live on the official Hearthstone YouTube channel. 
Week 8 - Playoffs
The first seven weeks of play lead up to the eighth week which will send one player to the Hearthstone World Championship 2021 at the end of the year. The bottom four players will be relegated.
The top 8 players advance to Playoffs.
Players (rank 9-12) will not advance in the tournament.
The bottom 4 players in each region face relegation.
The winner of the Playoffs from each region are given a chance to compete in the 2021 World Championship. Season 1 champions retain their invites to the World Championship if they are not relegated in Season 2.
What's the prize pool distribution?
The total prize pool for the Global Season is $486,000 with $34,500 going towards the playoffs. The rest of the prize money is split across seven weeks of events over 3 regions; Americas, EMEA and Asia Pacific. Each region offers $21,500 in prize money per week.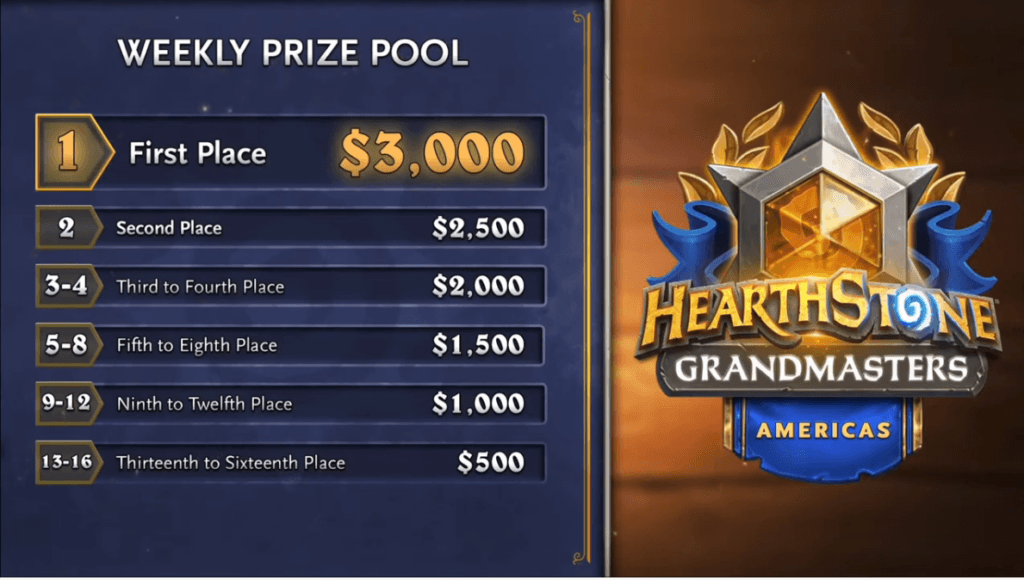 An example of the weekly prize money distribution
The top twelve teams receive a slot in the Grandmasters Season 2 while the last four players face relegation. The Hearthstone Grandmasters Season 1 kicks off on April 9. The game recently received a new expansion, Forged in the Barrens that coincides with the start of the Year of the Gryphon.