The NFL and FaZe Clan announced a partnership between through the 2022-2023 NFL season, starting with a star studded Flag Football game.
Right before the Super Bowl, the National Football League (NFL) and FaZe Clan announced a joint initiative to support the convergence of traditional sports and gaming. The historic venture brings together two engaged audiences.
The NFL and FaZe Clan plan to host events, create content, and activate new capabilities. First, the collaboration starts with a co-branded Flag Football game. FaZe Clan are no stranger to high profile partnerships, having worked on a content partnership with Macdonalds last year. The NA-based organization has also appeared on the cover of Sports Illustrated.
Expanding an existing partnership: NFL x Faze Clan
Together FaZe Clan and the National Football League (NFL) look to capitalize on an ever-changing audience. The two began working together in 2019. Now, the expanded partnership allows further integration between gamers and NFL fans.
Ian Trombetta, SVP, Social, Influencer & Content Marketing at the NFL said, "Teaming up with FaZe enables us to leverage our platforms to authentically engage with and celebrate the next generation of fans at the intersection of gaming, football, and culture."
The new deal between the organizations seeks to deliver new content that brings together the top gaming talent and NFL players. During the 2022-2023 NFL season, there will be new events that seek to capture a new, young generation of fans. The first event comes right before Super Bowl LVI.
FaZe vs. AMP Flag Football Game joins the NFL experience
Super Bowl week delivers NFL fans a variety of events, experiences, and fanfare to enjoy. Now, gamers, influencers, and creators join that gathering with their own competition. The FaZe x NFL Flag Football Game takes place on February 12th at 4 pm EST.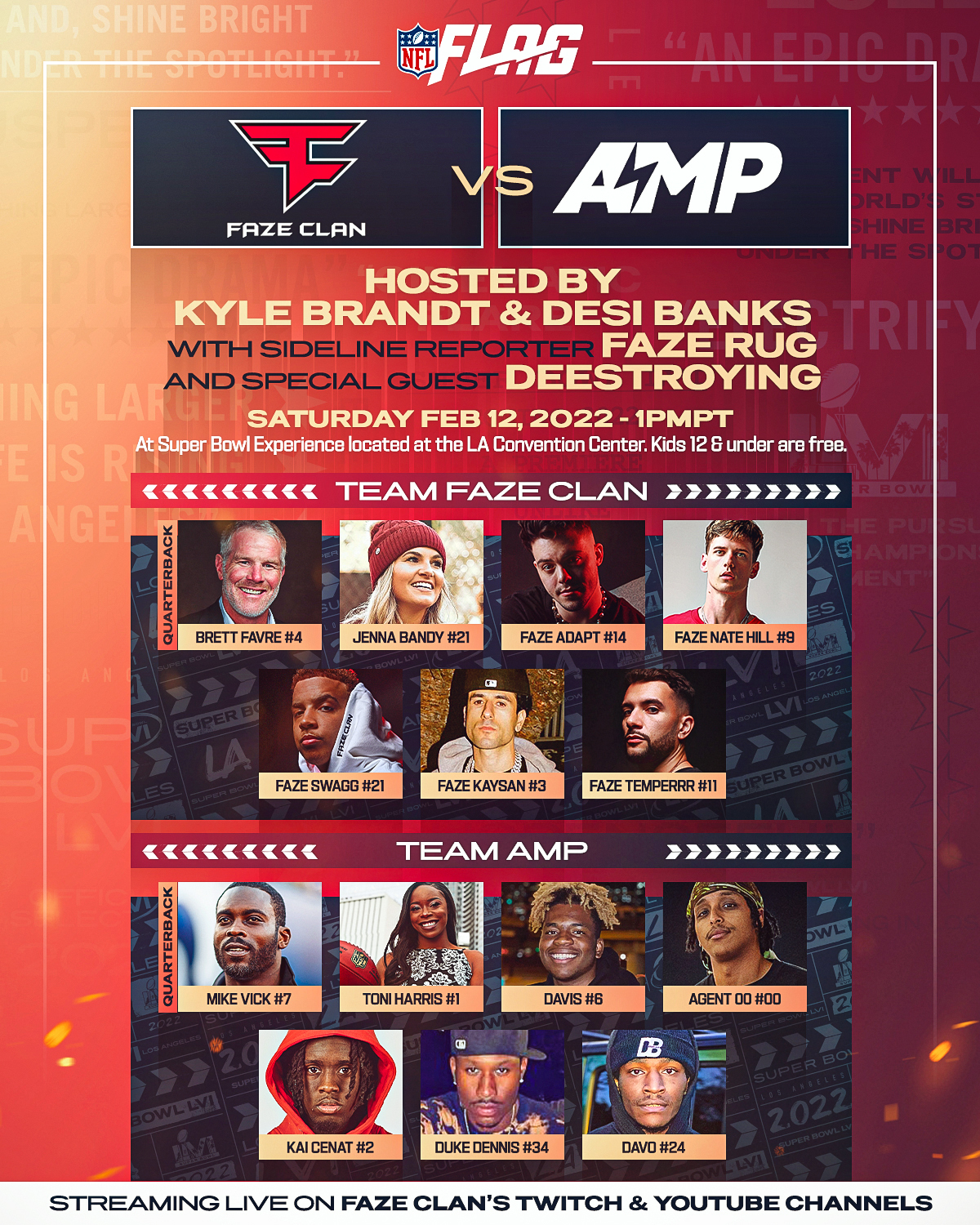 The event includes NFL legends Brett Favre and Michael Vick as quarterbacks for both teams. FaZe Clan competes against AMP, a sports and gaming focused group. Joining Team FaZe Clan are Jenna Bandy, FaZe Adapt, FaZe Nate Hill, FaZe Swagg, FaZe Kaysan, and FaZe Temperrr.
On the other side of the ball, the AMP line-up includes Toni Harris, Davis, Agent 00, Kai Cenat, Duke Dennis, and Davo. To add even more star power to the event, are Kyle Brandt, Desi Banks, FaZe Rug, and Deestroying are hosting or appearing in the flag football game.
Line-ups for the event
Team FaZe Clan
Brett Favre
Jenna Bandy
FaZe Adapt
FaZe Nate Hill
FaZe Swagg
FaZe Kaysan
FaZe Temperrr
Team AMP
Mike Vick
Toni Harris
David
Agent 00
Kai Cenat
Duke Dennis
Davo
This first event proves that this collaboration between FaZe Clan and the NFL is serious. They brought together gaming and football on the biggest weekend of the year for the NFL. It helps that all of this takes place in Los Angeles, where the Super Bowl is hosted. Fans of both organizations can expect much more from the NFL and FaZe as the year continues.