100 Thieves lost their Twitter verification after their iconic intern Jhb changed their official account name for a meme post. Was it a terrible screw up or a stroke of PR genius?
'Senior Intern' JhbTeam has a lot of explaining to do
100 Thieves is known for its social media prowess. In fact, just yesterday they reached the one million follower milestone on Twitter. However, along with this accomplishment came a bit of a mishap courtesy of the 100 Thieves intern Jhb.
Earlier this week the 100 Thieves social media manager left for vacation. The org's "Senior Intern" JhbTeam was left in charge for the week. However, only a few days into his reign he had an idea. He decided to change the @ on the official org Twitter account to get a quick screenshot. The idea was for the official account to read @100Jhbs. In addition to the @, he had the header and profile pic changed to feature, well, himself. Unfortunately, the 19-year-old 100 Thieves intern claimed he didn't realize when you change the @ you lose verification. Just as the prolific esports org hit one million followers, they also lost their blue checkmark.
A simple accident or a brilliant PR stunt?
While this may seem like an accident, keep in mind 100 Thieves has a brilliant marketing presence. In the past month alone they've announced partnerships with Gucci and Lexus. Furthermore, their 'Senior Intern' is actually just a content creator with an equally impressive social media mind. After all, the position of 'Senior Intern' isn't really a thing - especially for a 19-year-old. JhbTeam has about 90,000 subscribers on YouTube and almost double that on Twitter.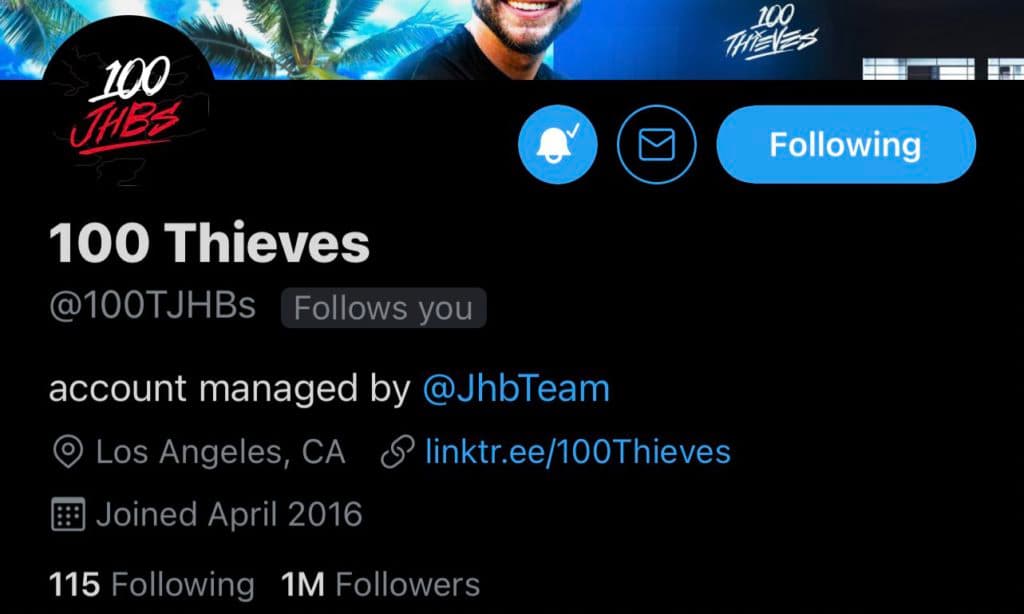 Many on Twitter called out 100 Thieves and Jhb for the move. Keep in mind this wasn't to criticize but to congratulate. On Twitter, Bryce Blum of Esports Law asked, "Anyone else think the mad lad did it on purpose?" The responses included Ryan Wyatt, YouTube's Head of Gaming, with a resounding "of course but still 10/10". Even the official Twitter Gaming account got in on the fun. When 100 Thieves intern Jhb tweeted "help @TwitterGaming" their response was simply, "no".
While this may have just been a clever marketing stunt, 100 Thieves now sits at one million followers on Twitter. All thanks to a 'Senior Intern'. Now if they can only figure out how to get re-verified.

100 Thieves' current Twitter header image after passing 1 million followers