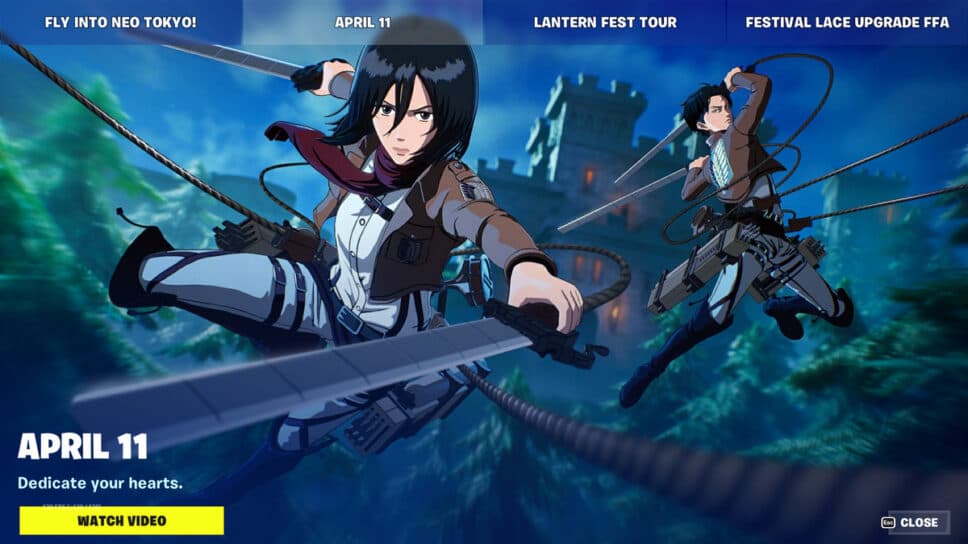 Fortnite x Attack on Titan: Mikasa and Levi release date revealed
Mikasa and Levi Ackerman are coming to Fortnite on April 11!
Ahead of Fortnite Chapter 4 Season 2, Epic Games revealed a collaboration with the popular anime property Attack on Titan. Since then, fans of the series have been awaiting Eren Jaeger's release as part of this season's Battle Pass. Today, Fortnite unexpectedly revealed that Mikasa and Levi Ackerman, also of AoT, would join the game soon. 
Here's everything we know about when and how you can unlock Mikasa and Levi in Fortnite. 
When and how can I unlock Mikasa and Levi Ackerman in Fortnite?
The trailer Epic Games posted today states Mikasa and Levi are coming to Fortnite on April 11 alongside fellow Attack on Titan character Eren Jaeger. However, unlike Eren Jaeger, Mikasa, and Levi Ackerman will be available via the Item Shop. 
Fortnite leaker ShiinaBR tweeted a loading screen featuring the two characters, indicating Epic's plans to release the new Fortnite x Attack on Titan set as a bundle. Unfortunately, there are no other details at this time. You can expect the usual offering of two outfits with alternate styles, a back bling, pickaxe, glider, and potentially some other cosmetic items. 
Who are Mikasa and Levi in Attack on Titan?
Mikasa and Levi Ackerman are relatives in the Attack on Titan universe. The two are closely allied with series protagonist Eren Jaeger as members of the Survey Corps. Mikasa and Eren have a particularly close relationship in the series. Mikasa, Levi, and Eren have appeared in most of the Attack on Titan media, and they'll add Fortnite to the list on April 11.
Fortnite has featured various anime characters, including Dragon Ball, My Hero Academia, and Naruto collaborations. Attack on Titan is another significant force in the genre, and there's no telling what more Epic Games and Fortnite have in the works. You can check out everything new in Fortnite's latest season here!