Marvel's Carnage headlines the Fortnite Season 8 Battle Pass, joining a cartoon fish and a majestic unicorn cereal mascot.
After the shocking season finale and some cryptic teases from Twitter, Fortnite Season 8 is upon us. The alien Mothership destroyed and a legion of glowing cubes has fallen from its wreckage all over the island. With Operation: Sky Fire in the rear view, let's take a look at what's new in Season 8.
Fortnite Season 8: The Battle Pass
The Fortnite Season 8 Battle Pass features seven brand new skins among its 100 tiers of content, a few of which stand out as early favorites. The animated Toona Fish is completely customizable by finding Color Bottles, just like Kymera and the Alien Artifacts in Season 7. That unicorn you see there is named Fabio Sparklemane, while JB Chimpanski is basically if a monkey launched into space came back a badass. Finally there's Charlotte the sword-wielding demon hunter, the red-and-black adorned Kor, and Torin the silver-haired warrior.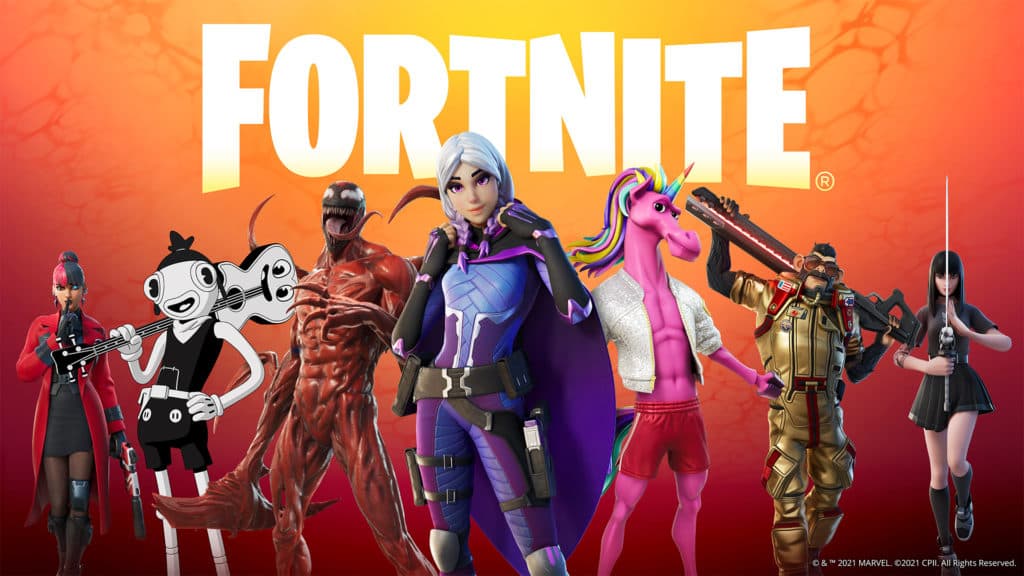 The Fortnite Season 8 Battle Pass. From left: Kor, Toona Fish, Carnage, Torin, Fabio Sparklemane, JB Chimpanski, Charlotte.
Oh, and yes, that is indeed Carnage from Marvel Comics standing alongside them. Carnage is Fortnite Season 8's final unlock, like Rick Sanchez was last season. The "secret skin," or a skin that is added to the battle pass about halfway through the season, is currently unknown. Previous secret skins include Season 5's Predator, Season 6's Neymar Jr, and Season 7's Superman.
Welcome To The Sideways
The biggest change to the island is the introduction of the Sideways, an alternate dimension filled with dangerous monsters. Portals to the Sideways will appear around the island, holding powerful weapons for anyone who braves them. Those portals work both ways, as some landmarks will become Sideways Zones where monsters take over for that match. Every match will see different Sideways Zones, so check before you drop.
Other than the Sideways the Fortnite Season 8 map will look very familiar to seasoned players, albeit with massive crash sites scattered around. While some of the changes made during Season 7 have reverted--welcome back Holly Hedges--others have not gone back to pre-Invasion status. The Swamp remains Sludgy, the Slurp-infused rivers of seasons past are still gone. The buildings of Coral Castle are still holes in the ground. Corny Complex is now just Corny Crops, a farm with little remnants of the IO base that once stood there.