The FNCS All-Star Showdown will showcase the top competitive players and provide fun opportunities for Fortnite around the world. It also has a combined $3 million prize pool.
The first-ever FNCS All-Star Showdown begins on June 11th. This premiere event sets up a combination of challenges, events, and a competitive tournament. Over the next few weeks, the top Fortnite players in every region battle throughout various events with a $3 million total prize pool. The FNCS All-Star Showdown filled most of the spot, but all players in Champions League can earn an opportunity to play.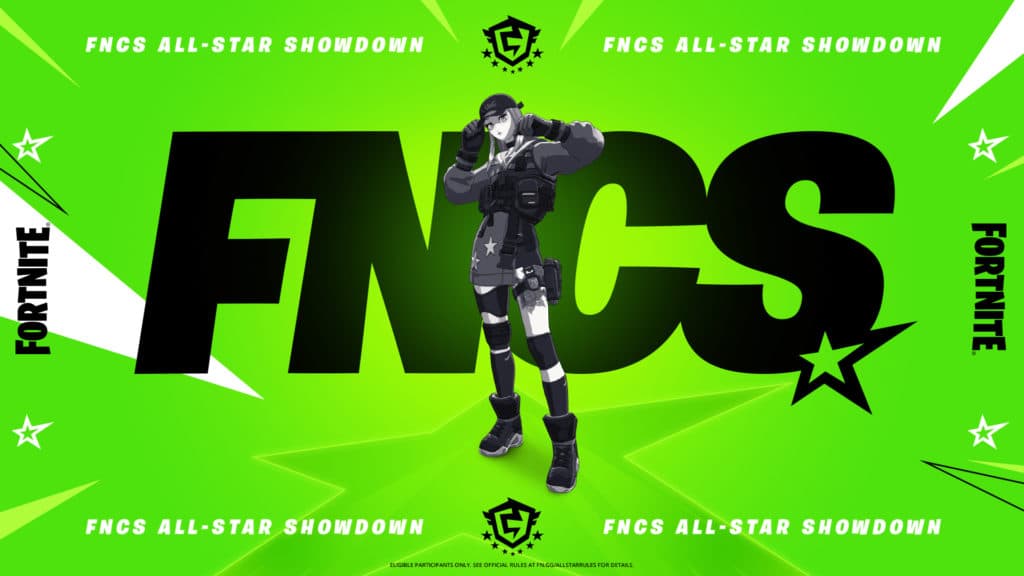 FNCS All-Star Solo Play In and Championship
The main event is the FNCS All-Star Solo Championship. Epic Games invited 90 players from each region to Solos. The event features top players such as Benjyfishy, Clix, Noahreyli, MrSavage, Cented, and many more! These players participated and performed well in the past two FNCS seasons. 10 spots remain in every region for players to win during the FNCS All-Star Solo Play In.
On June 18, the Solo All-Star Play In begins. Players compete over four rounds and four days. The format favors placement over eliminations with 30 eliminations equaling a Victory Royale. Additionally, most of the placement points are focused within the top 10. During Round 4, elimination points double to two points per elimination. Still, the matches remain placement-focused.
A week after the Play In, the Championship begins. The top 90 players, and those players who qualified, will battle in the first significant Solo tournament since DreamHack Open October in 2020. The event is poised to excite as players attempt to navigate a brand new season and meta.
Skills Challenge - Blueprint Battle, Bullseye Bonanza, High Tier, and Play for Keeps
Epic Games looks to add Creative games and maps to the All-Star event. In addition to the main solo tournament, there will be four separate Creative games. The games provide a variety of challenges from editing, to aiming, to building, and more. Players from each region were hand selected to participate in these games.
An example bracket for the skills challenge provide by Fortnite.
The top three trios from Season 5 and 6 FNCS also get to participate in this fun Skills Challenge. They must vote for a player to take on the invitees. Now, the top competitive players must prove themselves in creative modes. They take on the likes of Sway, Mongraal, Aqua, Bugha, and many more! A full list of events and players can be found here.
Map codes for the Skills Challenge:
Blueprint Battle (Creative Code: 3840-8537-4348)
High Tier (Creative Code: 3947-8128-3885)
Bullseye Bonanza (Creative Code: 9420-6335-1309)
Play for Keeps (Creative Code: 5892-6942-6261)
What are Hype Days?
Not all players can compete in these challenges. Fortnite knows that and worked with creators all over the world to add special events. Beginning on June 11, Fortnite Creators and Fortnite host both challenges and tournaments with a focus on the FNCS All-Star Showdown and Creative Skills Challenges. The exact details have yet to be released, but make sure to follow Fortnite on Twitter to keep up to date.
How to watch and broadcast details for the FNCS All-Star Showdown
Like last FNCS, Fortnite plans to broadcast the events in multiple regions. Both the Solo event and the Skills Challenge will be broadcast for EU, BR, NAE, and NAW. The European broadcast features four different languages (English, German, French, and Spanish). All broadcast can be found on the official Fortnite streaming channels, Official FNCS All-Star Showdown Live Stream, YouTube, and Twitch. Find the full stream schedule here.