The Red Bull Kumite invitational returns to Las Vegas to pit eight of the best Guilty Gear Strive players against each other!
What's the Red Bull Kumite Invitational? Games, format and prize pool
Fighting game fans rejoice as the Red Bull Kumite invitational kicks off this weekend in Las Vegas, Nevada. This stacked invitational will feature 24 players across 3 games, Guilty Gear Strive, Tekken 7, and Street Fighter V: Champion Edition. In the coming weekend, eight of the greatest Guilty Gear Strive players in the world will compete for a part of the $15,000 prize pool.
The Red Bull Kumite Invitational will consist of two phases. The first phase is the "group stage" where the eight players will be randomly drawn into two groups of four. The two groups will play a round robin amongst themselves.
The top two of each group will then move on to the final four stage. The top four will then play a single elimination bracket to decide who the winner will be.
Who's who
The eight players who are competing this weekend are some of the greatest Guilty Gear Strive players in the world. With players coming in from Japan, Korea, the United States, and Europe, this event is sure to be one to remember.
People to watch
Dominique "Sonicfox" McLean
Evil Genius's Sonicfox came out the gate sprinting, taking various events including LEVO, one of the first big international events. Since then, they've gone as far as placing second in Evo 2021 online in NA. They've proven time and time again to be one of the greatest fighting game savants to ever touch a control. While they haven't been too excited about the game recently, they're certainly not one to ever take lightly.
Daru I-no
Daru I-no is a name that is known and feared by the older Guilty Gear community. Getting win after win in the Xrd era, and winning many tournaments during the early days of Strive, this I-no master is definitely no slouch. He recently placed second in Evo 2021 Online Asia. Now with his character recently getting buffed, we're sure that the rush down witch is gonna be mixing up the competition.
Gobou
Widely considered to be the best Zato-1 player in the world, Gobou is a younger player on the scene at only 22. Although he became known because of his Zato-1 play, recently he's been playing more Goldlewis Dickinson. Can this dark horse come out with these under represented characters and bring out a win?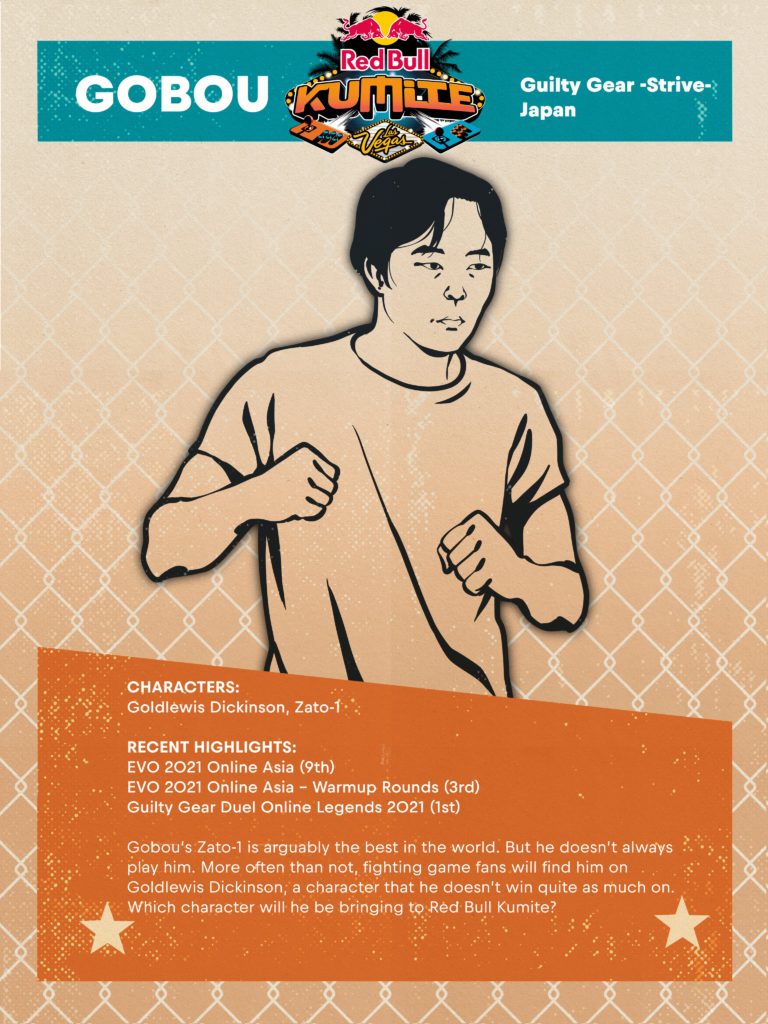 Diaphone
The winner of the online Last Chance Qualifier, Diaphone is another I-no player who is ready to mix up his opponents. Having placed within the top 20 of Evo 2021 online, he trained hard for the LCQ, doing multiple streams just to practice. Coming is as the underdog, he's got nothing to lose and everything to prove.
Something new?
Arc System Works has officially confirmed that during the event, the next character for Guilty Gear Strive will be revealed. With both Goldlewis and Jack-O having been positively received by the community, everyone is excited for what's coming next.
---
Red Bull Kumite Invitational 2021 will take place at Caesar's Palace in Las Vegas, Nevada on November 13th, 2021. Check out the fighting game action on Red Bull Gaming's official Twitch channel.
---
Be sure to keep up with esports.gg for more updates on the Red Bull Kumite and the FGC as a whole!