Talon Esports brought down Polaris Esports, one of Division 1 SEA DPC's top dogs last season, in an exhilarating 3-game series.
The first series of Division I SEA DPC Tour 3 has finally arrived and is opened by Talon Esports and Polaris Esports.
Polaris was one of the favorite teams last season which had a strong start at the beginning of the tour, but sadly lost their opportunity to attend Stockholm Major when they lost to T1 in a tiebreaker match.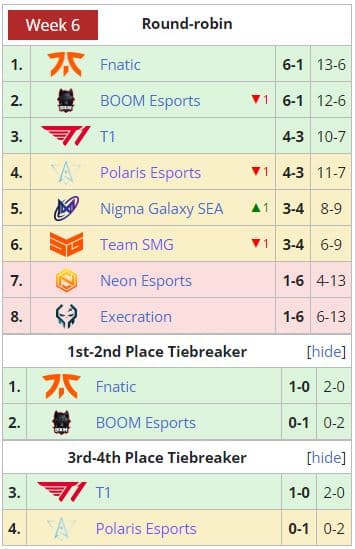 Division 1 SEA DPC Tour 2 Standings. Screengrab via Liquipedia.
On the other hand, Talon Esports came a long way to get to Division I from the lower division. They had a subpar performance in the first tour even with star players Fly and Gabbi, finishing fifth that season.
However, things changed completely for them in season 2 when they brought in 23savage and Q, placing second and securing their spot at Division I.
Division II SEA DPC Tour 2 Standings. Screengrab via Liquipedia.
Kpii thinks Polaris players are "not too disciplined"
"They have high skill but they like I would say they are not too disciplined. In their play you could see a little bit of like some random stuff sometimes."
Damien "Kpii" Chok
Before the start of the series, BTS tweeted an interview video of Xavius from Polaris Esports and Kpii from Talon Esports. Both players were asked about what they thought about each others' teams.
While there was mutual respect between both sides, Kpii went forward with a bold statement saying that the players in Polaris are "not too disciplined" and that he could see random inconsistencies in their gameplay.
That said, he mentioned that his biggest challenge was Polaris midlaner Mc "Lelouch" Nicholson Villanueva. Xavius confirmed as well that his team banks a lot on Lelouch.
All of our games it always comes from Mc. If he play like really bad we're gonna be having a hard game. But if he does really well especially in his lane we will have a really smooth game
Marvin "Xavius" Rushton
Talon Esports versus Polaris Esports lineup
| | | | |
| --- | --- | --- | --- |
| Player | Game 1 | Game 2 | Game 3 |
| 23savage | Monkey King | Bloodseeker | Medusa |
| Mikoto | Ember Spirit | Puck | Storm Spirit |
| Kpii | Mars | Viper | Brewmaster |
| Q | Snapfire | Tiny | Snapfire |
| Hyde | Bane | Bane | Enchantress |
| | | | |
| --- | --- | --- | --- |
| Player | Game 1 | Game 2 | Game 3 |
| Natsumi | Chaos Knight | Nature's Prophet | Juggernaut |
| Lelouch | Pangolier | Kunkka | Queen of Pain |
| Nevermine | Visage | Pangolier | Dragon Knight |
| Xavius | Tidehunter | Enigma | Grimstroke |
| Tmv | Witch Doctor | Treant | KOTL |
A slow burn by Talon Esports in the first game
The first match of the series was quite slow throughout. There were not many notable team fights that warrant excitement. However, Talon was pretty much in the driver's seat controlling the pace of the game.
Talon was able to secure an early 3k net worth advantage in the first 10 minutes, which only doubled at the 15-minute mark. They also managed to secure Roshan within 20 mins.
Polaris tried to shift the momentum into their favor by challenging Talon even after they just had aegis, and they almost did by forcing Talon to retreat after a well-executed ravage by Xavius' Tidehunter.
Sadly, it was not enough. The advantage never left Talon's side. In addition, the team's disciplined and patient approach to pushing high ground scored them their first score.
A complete switcheroo in the second game
There was a lot more action in the second game. The difference is night and day with more game changing team fights occurring.
Polaris managed to show that they are indeed the force to be reckoned with when they clapped back at Talon's lineup. Within 25 minutes, Polaris were already ahead by 14k gold with a score of 22 to 8.
And just when Polaris came knocking on the doors of Talon's high ground, Talon managed to pull off a showstopper surprise and teamwiped Polaris instead. Credits to Mikoto's Puck for an outstanding dream coil.
For a while, it seemed that Talon had the chance to overturn the game. However, after two incredible black holes by Xavius' Enigma, Talon's fate was sealed in game 2.
Another one-sided game
Despite some minor turning points, both games 1 and 2 were heavily one-sided. The same can be said for game 3. Talon Esports was back to dominating the pacing throughout the entire game.
23savage's Medusa was pretty much unstoppable. However, the biggest plays once again came from Mikoto's Storm Spirit.
After picking up an Aghanim's Scepter the game just started snowballing. Polaris smoke attempts were completely deterred by the Storm's electric vortex that had been fashioned into essentially a black hole.
Division 1 SEA DPC is off to a good start and was followed by another exciting series between Boom Esports and Team SMG. Be sure to check out our Dota 2 page for more updates on the DPC and all news related to Dota 2.