On the final day of Stockholm Major Group Stages, we'll witness one more elimination and a ton of tiebreakers!
Buckle up for a wild ride! The state of Stockholm Major is looking extremely spicy on the final day of Group Stage. One more elimination slot stands, a lot of Upper Bracket slots are still open, and there is a possibility of a 6-way tiebreaker!
Group A already has its set of Upper Bracket teams, consisting of high-performing teams in the Group Stage; Tundra Esports, BetBoom Team, and T1. In Group A, one more Upper Bracket slot stands empty. The coveted slot will either fall in the hands of OG, BOOM Esports, or beastcoast. Meanwhile, Evil Geniuses is standing in the pit of elimination with a slim chance of surviving. EG will have to win both matches against beastcoast to further their stay at the Stockholm Major.
As for now, the standings of Group A at the Stockholm Major are:
Today, there are several more matches that will finalize the standings of Group A. The upcoming matches of Group A at the Stockholm Major are:
T1 vs Tundra Esports
EG vs beastcoast
OG vs BetBoom Team
While Group A seems a little tamer, Group B is an extremely close contest. Team Liquid and Team Spirit both scored the same. On the other hand, the rest of the teams hold the same score 6-4. After two more series are done today, we might be able to see a 6-way tiebreaker!
However, unlike Group A, teams of Group B don't need to worry about elimination just yet. The bottom slot is already occupied by Mind Games which was disqualified from the tournament after continuing Visa issues.
As for now, the standings of Group B at the Stockholm Major are: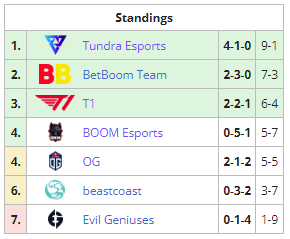 Upcoming matches for Group B at the Stockholm Major are:
Fnatic vs Gaimin Gladiators
Thunder Awaken vs TSM
Stockholm Major to bid goodbye to one more team
A lot of the matches in the Group Stage are just as hyped, but all eyes are definitely looking at the bottom of Group A. While Mind Games of Group B is officially out of the Major, we still have to conclude which team falls to the elimination spot at Group A. Evil Geniuses has a huge risk of dropping if they happen to lose this important series against beastcoast – in which will be a huge upset at the tournament.
The Stockholm Major Group Stages is currently live. You can find more details of the tournament including the schedule and where to watch it, here.
Stay tuned to Esports.gg for more Dota 2 news and updates!