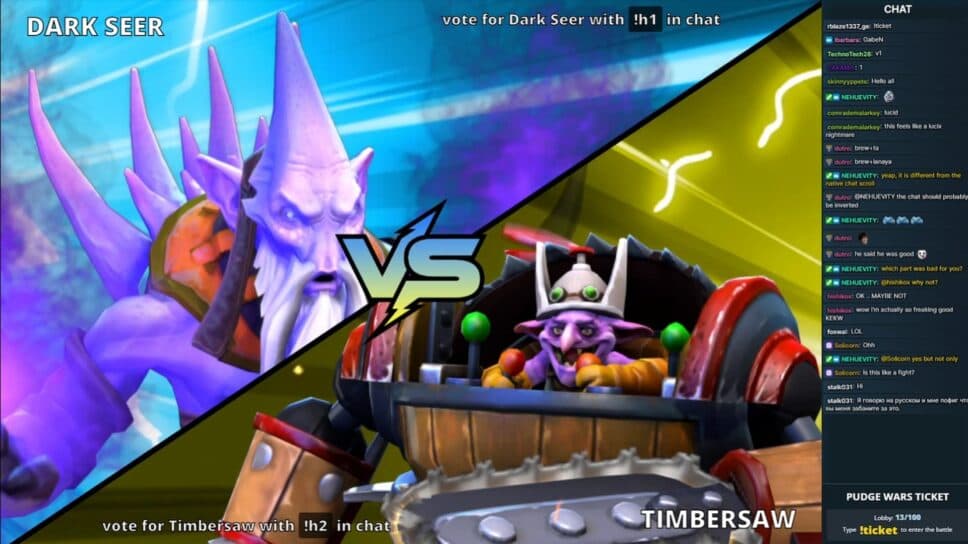 Robots are generating infinite Dota 2 content to support Ukraine
AI-generated Dota 2 content is being broadcast 24/7 on Twitch with its aim to support Ukraine and explore the possibilities of AI.
One of the curious trends of the current artificial intelligence revolution has been the rise of AI-generated entertainment channels. We're talking about things like AI Generated Family Guy, the now-defunct AI SpongeBob, AI Seinfeld, etc.
These channels have cashed in on the nostalgia and the endless need for new content to create bizarre, often nonsensical (although admittedly humorous) versions of their inspiration. And now Dota 2 has its own version, thanks to DOTA2ai.
What is DOTA2ai?
DOTAai generates fake patch notes including this one where Icarus Dive is renamed to "Icarus Rollercoaster due to reports of players getting motion sickness during gameplay" (Image via DOTA2ai)
DOTA2ai is a 24/7 stream of AI-generated entertainment inspired and informed by Dota 2. The programming features seven different series (or shows), including an Arcana Generator, AI-generated Hero Jokes, fake patch notes, Guess the Hero, True Story, a Versus battle between heroes with three rounds, and occasionally Pudge Wars. These rotate randomly, all day, forever.
The aim of the stream seems to be to support Ukraine, with the creators hailing from the embattled country. A "Support Ukraine" banner features on the bottom of the Twitch page.
The channel description for DOTA2ai further explains its aims: "We praise Dota 2 and possibilities of AI. Isn't that great to have a place where you always can have some fun with stories, lore and content from your favorite game?"
In the past, streams like AI SpongeBob and AI Seinfeld used donations as a way to insert variables and background characters into the streams. Currently, DOTA2ai offers subscriptions but doesn't gate elements like voting or Pudge Wars behind donations.
How does it work?
According to the creators, the text is generated by chatGPT's API for most of the content; stability.ai powers the Arcana Generator, while midjourney generates Guess the Hero. These presumably use training data from the same sources as their base API's, some of which are criticized for potentially infringing on copyright. The account also uses Valve's official Dota 2 models and images in its content.
This raises questions over how long DOTA2ai will last, given Valve's position on AI-generated content. In early July, Valve effectively banned Steam games from using AI-generated assets. This was done over concerns that the data sets the assets were generated with used copyrighted materials. Valve could be similarly bullish over protecting its own intellectual property.
But for now, DOTA2ai falls squarely into the category of harmless distraction. And it's seemingly raising money for a good cause. It currently pulls in around 200-300 concurrent viewers. It also occasionally generates comedy gold in the form of hilariously bad AI-generated Arcanas or ridiculous patch notes (One about Zeus now occasionally striking himself with Thundergod's Wrath definitely tickled us).
---
Stay tuned to esports.gg for more Dota 2 news