Australia's prolific caster duo, Ares and Danog, talk about their journey in Dota from humble beginnings to TI, and their hopes of achieving more.
Of the many Dota 2 caster duos we know and love, there's one pair that exudes the feeling of bromance like no other: Lachlan "Ares" Williams and Matt "Danog" Joyce. Hailing from Australia, they began their casting journey from a not so distant past, around 2018 for Danog, and 2019 for Ares.
Ares and Danog had their first gig together at the Oceanic Esports Dota League along with many prominent Australian casters such as David "Godz" Parker, Cameron "Basskip" Scott and Mike "MLPDotA" Le Phoenix. The two rose through the ranks and credited their success thus far to working numerous Chinese and Southeast Asian Dota tournaments. We had the chance to sit down with the duo on October 27, prior to the start of TI12 main event playoffs to talk TI, their careers, and the future of Dota.
Ares and Danog's Road to The International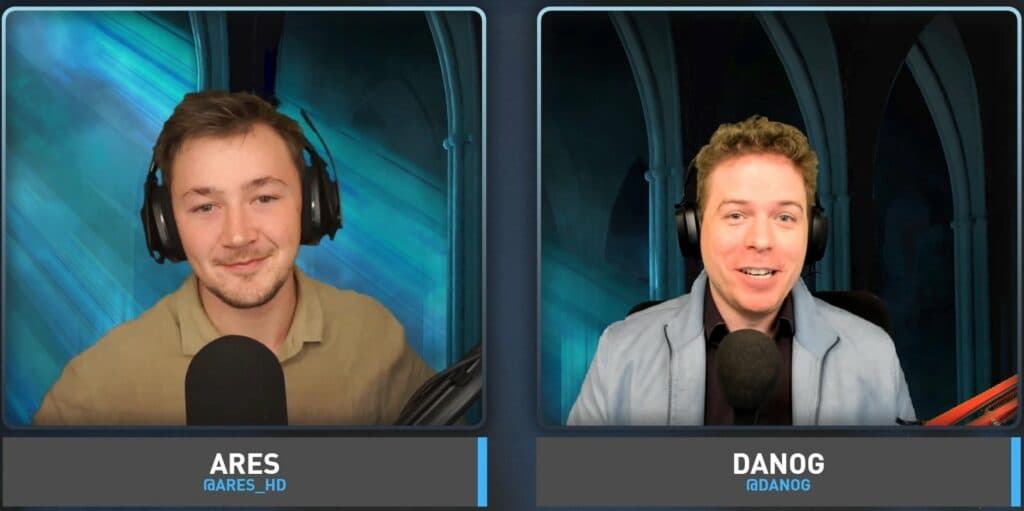 (Image via Valve)
Overtime Ares and Danog have casted many tier one tournaments including the now defunct Dota Pro Circuit (DPC). And in 2021, they casted their first TI (TI10). Since then, they went on to cast TI11 and the most recent TI12. Casting a TI was a huge deal, but they believe they still have ways to go and have yet to reach their peak.
It's been nearly six years since you first started casting Dota. Is casting TI a huge break for your careers?
Danog: "For us I still think it hasn't happened. Ares and I have never cast next to each other. Whether it be a studio or LAN cast. That's the thing that I'm really looking forward and hopefully having the opportunity to do. Remote casts can be good, but you can just jump up to another level when you are next to someone. There's non-verbal cues that you can make and the vibes are just different as well. While I'm very grateful for the opportunities that I've had in the past, I think the peak is still up there."
Ares: "Definitely. I think the peak hasn't been reached, which is exciting, though. That gives us something to work for and something to look forward to. At least for me, to be able to cast side by side in an arena or studio is, at the moment, my top goal. Being able to work on The Road to the International or a Major is very important, but they've been all remote so far. So, the pinnacle is yet to come which is very exciting."
The International being back at its rightful place in Seattle
It's been six years and finally TI returned to its "hometown" in Seattle. Despite the location being logistically much more challenging for an international audience to attend or view online, there is nothing quite like a TI in Seattle. Throughout all their casting jobs in 2023, Ares and Danog claimed Seattle to be the best in terms of production and event quality:
Fantastic job casting the Road to The International group stages. What do you guys think of the tournament now that it's back in Seattle?
Danog: "Everyone has always been saying about Seattle being the cathedral of Dota. The old Key Arena, now Climate Pledge Arena, looks amazing. This seems like the best event from top to bottom in terms of production, live viewing experience and caster quality in a long time. I've been enjoying it and I don't know how much of that is because it's so much easier for Valve to do it in their home city. But if it works, then I could see why they bring it back every single year that they can."
Ares: "The setup was was incredible. They did a really good job with the castle look and the barricades around the panel and player booths. That was nice because after the teams win or lose, they were still doing autographs and photos just before they went down to the break rooms. Plus I'm pretty sure [the fans] being able to take a photo with the Aegis is something that you'd never get a chance to do unless you actually go to the Valve offices."
Does the low prize pool affect the vibe of the tournament?
Anyone can claim that TI will always be the best esports tournament of all time. However, no one can deny that it may have lose some flair now that the prize pool suffered a huge drop. While they agree that the Compendium is simply not the most worthy replacement for the Battle Pass, Ares and Danog believe that TI is still the epitome of esports and that Dota has a healthy future ahead.
The prize pool is at its lowest since TI3. Do you think that has any impact to overall vibes and how people feel about the event?
Danog: "Everyone knows from the Dyrachyo interview that he would play for chips and a drink. But winning TI just meant that much in terms of prestige. I'm sure for some of these players, this is their big chance for a huge payday at the end of a long and grueling year. So it's a bit of a shame that there wasn't some way for the community to get a little bit more involved. I think the fact that the prize pool is lower doesn't necessarily mean that people only care about hats [from Battle Pass]. It has to be mutually beneficial, right? People aren't going to spend money on something [Compendium] that doesn't compare to what they had in the past."
Ares: "Matt said it pretty clear. The prestigious thing. That's what TI really is. Every year, everyone is looking at this event. Sure, the prize pool being able to topple that of other esports is probably a big reason. But now that we're in the 12th year of TI, it doesn't even matter how big the prize pool is. It's the event as a whole and what it means to the community and players. And anyone wants to win. You always want to be able to play the very best and be at the top of the game. That's what TI is at the end of the day."
Facing uncertainty with Valve's new approach to Dota
(Image via Valve)
You've had a lot of time to think about the future with Valve's new approach to Dota. Where do you see the scene going in the next 6 to 12 months?
Danog: "I wish I knew man. It was great to have the stability of DPC schedule because I knew if I'm hired for at least nine weeks guaranteed. I've heard rumblings of stuff like some previous tournament organizers coming back. I've heard stuff about completely new ones entering the frame. But you don't know how valid all of those things are. So it is just a lot more uncertainty, which has probably been my biggest issue with casting overall. Like you never want to just be waiting around for an opportunity that may or may never come. It makes it challenging and stressful for sure."
Ares: "The DPC had a little stability for casters, but it's really out of my control. If I constantly think about that, then it's just going to mess up my mentality. So I just kind of let it be. We'll see how next year goes. I am excited for it overall. I've also had a lot of good talks with people who know little bit more than me being excited for the future. It's going to be a scary year, but I believe in our abilities to get us some gigs. Hopefully they [Valve] are going to do a good job and I don't think we can really critique or say much about the change to DPC until we really see how next year plays out. So I think we just need to ride with Valve and trust their judgment."
Ares and Danog on the future of Dota 2
But would you say that Dota still has a healthy future ahead?
Ares: "Without a doubt. Valve have shown this year their willingness to improve the game through the many patches that came up. But I think the most important thing is the fact that are not letting it stagnant. Whether it was a good or a bad decision, they're still trying a different format and things like that, which is very important. With all those things being said, it seems like they still very much care about Dota and it's only going to be able to get better."
"Dota fans are f**king crazy, and it's the best kind of crazy, right? Whenever a big new game comes out, whether it be Elden Ring, Baldur's Gate or whatever it is, Dota's numbers don't change. People that play Dota will play Dota, and I don't think that's gonna change anytime soon."
Danog expresses his confidence in Dota's future
Danog: "And as long as you've got the Dota fans the game is going to be successful. Yes, the age bracket is probably ticking almost a year older every single year. There are fewer younger people coming into it. But Dota fans are f*cking crazy, and it's the best kind of crazy, right? Whenever a big new game comes out, whether it be Elden Ring, Baldur's Gate or whatever it is, Dota's numbers don't change. People that play Dota will play Dota, and I don't think that's gonna change anytime soon."
Events like Aghanim's Labyrinth get new players into Dota
Even though both of them have their concerns, Ares and Danog are quite confident and have an optimistic view regarding Dota's future. We also asked what is one way that they can improve the scene as a whole. The answer is simply to "just get more people interested in Dota, period." They quoted Aghanim's Labyrinth as one of the greatest examples that got a lot of new people through the doors.
They also think that Valve needs to take a page out of Riot's book in terms of marketing Dota. "I can't recall the last time I saw that for Dota outside of the Netflix stuff going on, whether it be the Free To Play documentary or the actual anime that was released. So I would love to see more of that to have more chances to interact with the mainstream," said Danog.
A walk down through Ares and Danog's casting careers
There are many co-casting duos Dota fans have come to known and love. Whether they are ODPixel and Fogged, Cap and SVG, johnxfire and MLP, or Ares and Danog, forming chemistry to build a solid casting partnerships is no easy feat. Brotherhood is apparently a key attribute to what makes the Ares and Danog pairing work.
You guys have been on the road together for quite some time and are one of the most consistent caster duos in Dota. What makes the two of you work well together?
Ares: "This sounds easy, but it's just nice having someone from your own country, which allow us to do similar tournaments logistically. And then we kind of just grew from there, I suppose. I mean, we've had this relationship where we're like brothers and we'll just banter a little bit back and forth."
Danog: "Probably the first time I cast with Ares was back in like some Oceania League called OEDL and it was like a draft league similar to the NADCL Turbo Mode but with a lot of Oz players. I've also seen Ares cast with a couple of like guest casters and I thought Ares had a lot of potential. I definitely could see some sort of a future and I think we've done reasonably well for ourselves."
TI12 had some of Ares and Danog's best works yet
Which is the best moment you've had in your casting careers?
Danog: "I'll be honest, I thought the Gaimin Gladiators versus Talon [TI12 group stage] series was one of the best casts we've ever had. I literally messaged Lachlan after and I was like, I think that might have been one of our best. So I'm happy."
Ares: "I 100% agree as well. I definitely think the Gamin and Talon series was the best. I think as a whole, the work we did for the Road to The International was some of our best stuff though. But to be able to top it off with a series like that?"
Opinions on the state of Oceania Dota
Danog: "It's deader than ever for the players. There's no opportunities man. But the thing is you're only going to get growth within a scene if there's like an official pathway to be able to go down. Back when there was the minor-major system, it would be great Oceania got a spot for like a minor. Just give us some kind of official pathway to get exposure, to build people's brands and to get an understanding of how different regions play."
Ares: "In regards to the Oceanic structure, it's just a little bit unfortunate that there's no scene. It also just comes down to the fact that there's no grassroots tournaments that really help out. Or people have tried but maybe it was just ran incredibly poorly or. And if you don't have a path to be able to get somewhere, or if there's no easy road or infrastructure, it's going to be very difficult. And it's also hard to justify that for Oceania because of how small it is."
Is Southeast Asia a stepping stone for prospective Oceania casters?
What about for casters? Is it true that Southeast Asia region offers the best jump start for prospective Oceania casters?
Ares: "There are a a lot of events in China and Southeast Asia. I mean that's where I got my start. At the moment it's kind of turned to South America. All of a sudden that region's getting a crap load of events. So I think where there are events going on in that region and you kind of just get lucky. So for us, we just got lucky that there were a lot of third party tournaments that were going on in Southeast Asia and China."
Danog: "And our time zone happens to suit it best. Obviously, there's still plenty of talented people within Malaysia and Singapore. You've also got someone like Xyclops of course who's been a staple of the Dota scene for quite some time from Thailand."
Unlike the previous year, Ares and Danog casted for the South American and Eastern European Division I DPC in 2023. They, however, still managed to cast for the Division II Southeast Asian and China DPC.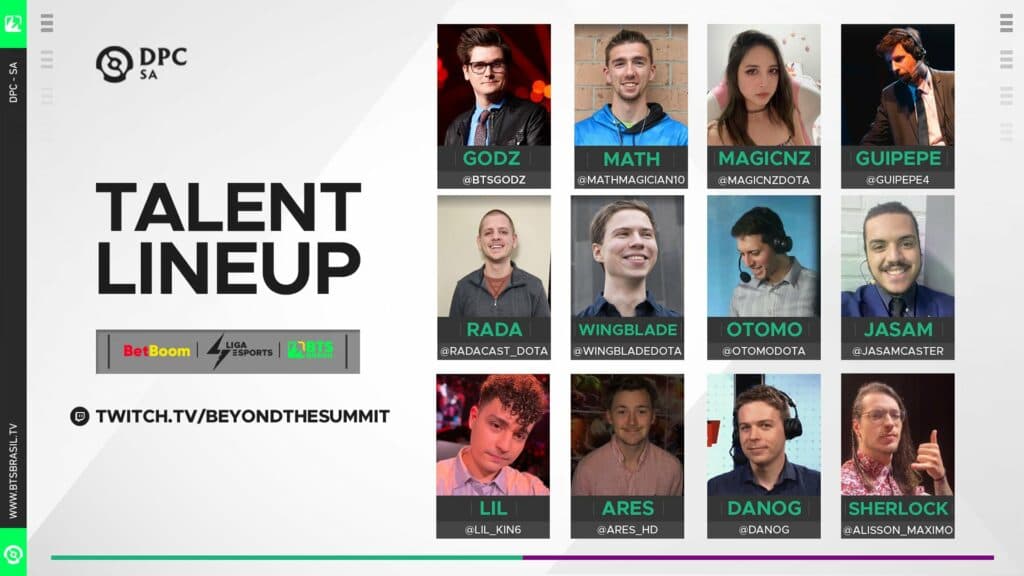 (IMage via BTS Brazil)
Advice for prospective Dota 2 casters
To wrap up the Dota 2 talking about careers, we asked Ares and Danog to share some tips for those who have interest following their footsteps:
What would be an advice that you two would give for prospective casters or those who are looking for a start in Dota esports industry?
Danog: "Don't start, you'll take my spot [laughs]. The reality of the situation, which you saw with the Road to The International as well as Riyadh Masters that there were about 20 different casting pairs. There is a lot of competition. And I think the overall quality is rapidly increasing. When you look back five years, you could see the people that were carrying the broadcast a lot of the time. Whereas these days that doesn't seem like the case anymore. Everyone is good at what they do and it just comes down to splitting hairs. And you've got to be the one to make it happen. Someone's not going to come to you with an opportunity. You have to make your own opportunity."
"Before anyone reaches out and give you your first official gig, you just need to stream a bunch on Twitch. Just stream to one viewer, then hopefully two and then hopefully five. Watch a lot of Dota as well and have a critical mindset on what you could do better."
Ares talks about what it takes to make it as a Dota 2 caster
Ares: "It's really similar to just about anything else you need to put the work in. You just need to grind. Before anyone reaches out and give you your first official gig, you just need to stream a bunch on Twitch. Just stream to one viewer, then hopefully two and then hopefully five. Watch a lot of Dota as well and have a critical mindset on what you could do better. Compare yourself to someone like Owen or Cap. Really you just got to put the work in at the end of the day."
Danog: "And it's not a shy person's gig, right? Like you need to have the guts to be able to cast solo. You have to have the guts to potentially cold call a lot of these organizers and then you've got to have the guts to reach out to potential more experienced people Owen or Cap like Ares mentioned. I know Ares has gone to Cap a couple of times because he is someone that he looks up to. You'd be surprised at how willing people are to give up just a little bit of their time to help. That's the sort of mentality that the talent scene has—is that if we're all better then it benefits all of us."
---
Find out what's next with Ares and Danog by following their socials on: