In an unexpected crossover, Honkai Star Rail will be sponsoring two Dota 2 teams at The International 12 in Seattle, LGD Gaming and Azure Ray.
For the first-time ever at an Dota 2 International, two teams will be sponsored by a game after MiHoYo - creators of Honkai Star Rail - announced the sponsorship of LGD Gaming and Azure Ray for TI12. Both of the Chinese organisations posted on their Weibo accounts of the upcoming sponsorship with the tag line "May this journey lead us starward!"
Honkai Star Rail is a hugely successful fantasy RPG from Genshin Impact developer MiHoYo
Honkai Star Rail is a fantasy RPG released by Chinese developer MiHoYo back in April. The game is estimated to have over 25 million daily players. MiHoYo are also the developers behind the mega hit Genshin Impact, which now enters its 4th year as a top-flight mobile game.
As part of the sponsorship, Honkai Star Rail will be giving away Stellar Jade depending on the best result between Azure Ray and LGD Gaming. Stellar Jade is the in-game currency used to make Warps with Star Rail Passes, a mechanic used to unlock new characters and weapons.
The prize will be given to all Honkai Star Rail players worldwide. The only way for players to not receive any benefits is if Azure Ray and LGD Gaming somehow are the only two teams eliminated in the group stage.
TI12 - LGD and AR free Stellar Jade based on placements
1st place - 1,000 Stellar Jade
2nd place - 700 Stellar Jade
3rd place - 600 Stellar Jade
Top 4 - 500 Stellar Jade
Top 6 - 400 Stellar Jade
Top 8 - 300 Stellar Jade
Top 12 - 200 Stellar Jade
Top 16 - 100 Stellar Jade
Honkai Star Rail sponsorships abroad
In terms of sponsorships and collaboration this is far from Honkai Star Rail's first rodeo. Honkai Star Rail has been involved in several collaborations abroad in the past, such as joining forces with tea shops such as Happy Lemon, KOI and Gong Cha in 14 different countries for their Cosmic Refreshment Supply global event.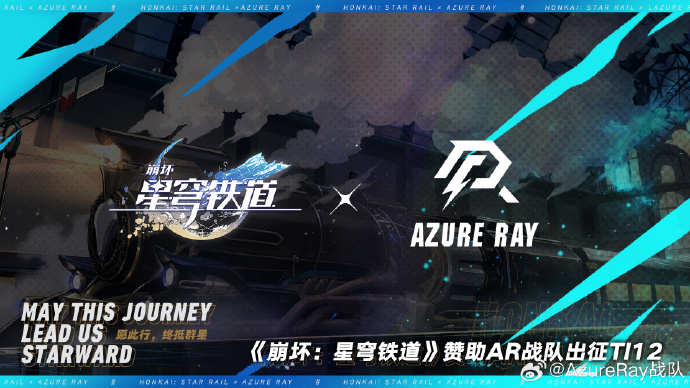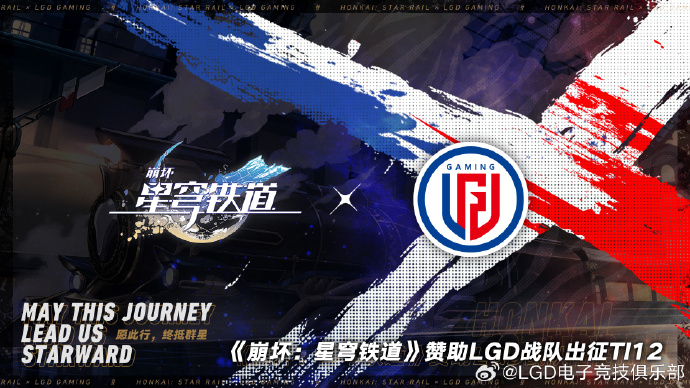 LGD Gaming and Azure Ray Honkai sponsorship
Neither LGD Gaming nor Azure Ray shared details of what the Honkai Star Rail sponsorship would involve, just that the sponsorship would be for The International 12 specifically.
The news of LGD Gaming being sponsored by Honkai Star Rail comes just over a week after they announced the end of a 5-year sponsorship from Paris Saint-Germain (PSG).
LGD Gaming head to Seattle led by Zhang "Y" Yiping, TI6 winner with Wings Gaming and runner-up at TI10. LGD Gaming were winners of Division 1 of the final DPC China Tour 3.
Azure Ray was only formed in May, however, it houses three very well-known faces from the Chinese Dota 2 scene; TI4 winner Xu "fy" Linsen, plus TI8 runners-up Lu "Somnus" Yao and Yang "Chalice" Shenyi. Somnus and Chalice were also on China's winning team at the Dota 2 Asian Games earlier this month.
Why are Honkai Star Rail sponsoring LGD Gaming and Azure Ray?
The specifics of the LGD Gaming and Azure Ray Honkai sponsorship were not disclosed. However, the start of TI12 coincides with the launch of version 1.4 of Honkai Star Rail, which could be one factor in the sponsorship. Version 1.4 drops on October 11, while the group stage of TI12 starts on October 12.
LGD historically ensures all sponsors appear on their jersey, so we can expect a Honkai Star Rail logo. Given the end of the PSG partnership, there is also potential for a Honkai Star Rail twist on LGD Gaming's jersey design specifically for TI12.